De wereld van decentralized finance (DeFi) is afhankelijk van tijdsgevoelige financiële data van hoge kwaliteit uit de echte wereld. Het grote probleem dat hierbij ontstaat is dat het soms lastig kan zijn voor DeFi-platformen om toegang te krijgen tot deze cruciale data. Het Pyth Network is in staat dit flagrante probleem op te lossen. Pyth bouwt namelijk aan een cross-chain markt van verifieerbare en betrouwbare data waar de DeFi-sector op kan gaan bouwen. Cruciale data die voorheen verborgen bleef in "walled gardens" van grote institutionele spelers wordt door Pyth voor eenieder toegankelijk.

Wat is Pyth?
Het Pyth netwerk is een gespecialiseerd oracle network. Een oracle network slaat als het ware een brug tussen real-world data en de blockchain. Dergelijke netwerken verzorgen de verbinding tussen smart contracts op DeFi-platformen met gegevens uit de echte wereld. Pyth wordt ontwikkeld door een team van grote namen binnen de DeFi-sector en heeft als doel om marktgegevens van institutionele kwaliteit aan het DeFi-ecosysteem bij te brengen. Zonder deze toegang tot data van hoge kwaliteit is het voor de DeFi-sector onmogelijk om succes te behalen op de lange termijn. 
Het Pyth netwerk is gebouwd op het Solana (SOL) netwerk. Door de hoge capaciteit van Solana kan het Pyth netwerk elke 400 millisecondes prijsupdates doorvoeren. Dat betekent elke dag meer dan 200.000 updates! Naarmate het Solana netwerk verder wordt opgeschaald, zal ook de capaciteit van het Pyth netwerk verder groeien.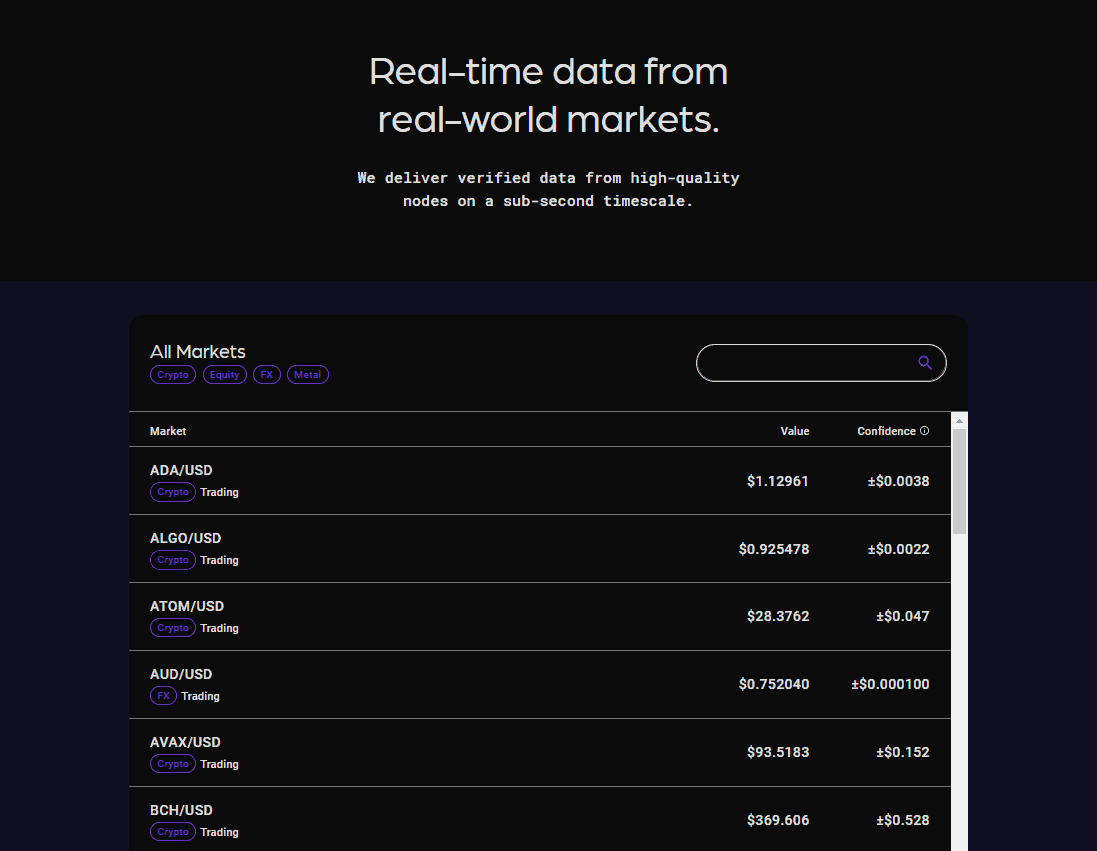 Pyth is het idee van Jump Trading Group dat gebaseerd is in Chicago. Het beheer van het netwerk is in handen van de Pyth Data Association dat gevestigd is in Zwitserland. Leden van deze organisatie zijn niet bepaald lichtgewichten in de wereld van finance. De bedrijven achter de Pyth Association verhandelen dagelijks vele honderden miljarden! Pyth lijkt op het eerste gezicht dus in goede handen.
Hoe werkt Pyth?
Het Pyth netwerk slaat dus een brug tussen DeFi-platformen en uiterst belangrijke data uit de financiële markten. Maar hoe gaat dit dan precies in zijn werk? Pyth weet dit te bewerkstelligen door deelnemers aan de markt, handelsfirma's, market makers en exchanges, een bepaalde stimulans te geven om on-chain financiële data te delen. Vervolgens wordt deze data door het netwerk samengevoegd en wordt het beschikbaar voor zowel on-chain als off-chain gebruik door consumenten.
Neem bijvoorbeeld een DeFi-uitleenplatform. Leners op dergelijke platforms willen vaak leningen in stablecoins, digitale munten die gekoppeld zijn aan traditionele valuta zoals de dollar. Om de lening te krijgen moeten de leners onderpand beschikbaar stellen. Vaak plaatsen ze het onderpand in een volatiele cryptocurrency, zoals bitcoin (BTC), in een pool van fondsen dat wordt gecontroleerd door een smart contract. Als de prijs van bitcoin crasht, liquideert het smart contract automatisch het onderpand. Dit zorgt ervoor dat de inleggers, de mensen die de stablecoins in de eerste plaats hebben verstrekt, geen schade zullen lijden.
Om dat allemaal te laten werken moet het smart contract de bitcoin koers in de gaten houden met behulp van een gegevensbron van een derde partij, het zogeheten "oracle". Met oracles kunnen smart contracts externe informatie krijgen die extreem belangrijk is voor transacties. Op dit moment worden oracles vooral gebruikt om crypto prijzen te streamen, maar ze zouden informatie over bijna alles kunnen leveren, van aandelenkoersen tot gegevens over het weer tot verkiezingsuitslagen.
PYTH token
Een crypto project is uiteraard niet compleet zonder een eigen coin of token. Het Pyth netwerk is hier geen uitzondering op en heeft de PYTH token. Deze token ligt aan de basis van de werkzaamheid van het Pyth netwerk. Binnen het Pyth netwerk zijn er drie soorten stakeholders. Uitgevers, ofwel de publishers, van data moeten de tokens bijvoorbeeld staken om hun data te kunnen delen. Dit zorgt er uiteraard voor dat zij een periodieke beloning voor hun diensten krijgen die evenredig is aan de hoeveelheid data die zijn uitgeven.
Opmerkelijk is het feit dat zij ook een 'straf' kunnen krijgen als de leveranciers van data afwijkende of foutieve data leveren. In dat geval wordt een deel van de tokens die worden vastgezet in het staking contract gebruikt om eindgebruikers te compenseren voor eventueel geleden verliezen. Delegators zetten tokens in op een specifiek product en uitgever om een deel van de data fees te verdienen in ruil voor het potentieel verliezen van hun inzet als het oracle onnauwkeurig is. 
De eindgebruikers, of consumers, lezen de prijs feeds die worden aangeleverd door de publishers en delegators, nemen gegevens op in smart contracts of dApps en zijn degenen die optioneel de data fees betalen. Consumenten kunnen zowel on-chain protocollen als off-chain applicaties zijn. Het is uiteraard ook mogelijk om meerdere rollen tegelijkertijd te vervullen. Een partij kan zowel een publisher als delegator zijn bijvoorbeeld. In eerste instantie zal 80% van de data fees worden uitgekeerd aan delegators en 20% aan publishers. Deze ratio kan in de toekomst door de governance van het netwerk worden aangepast.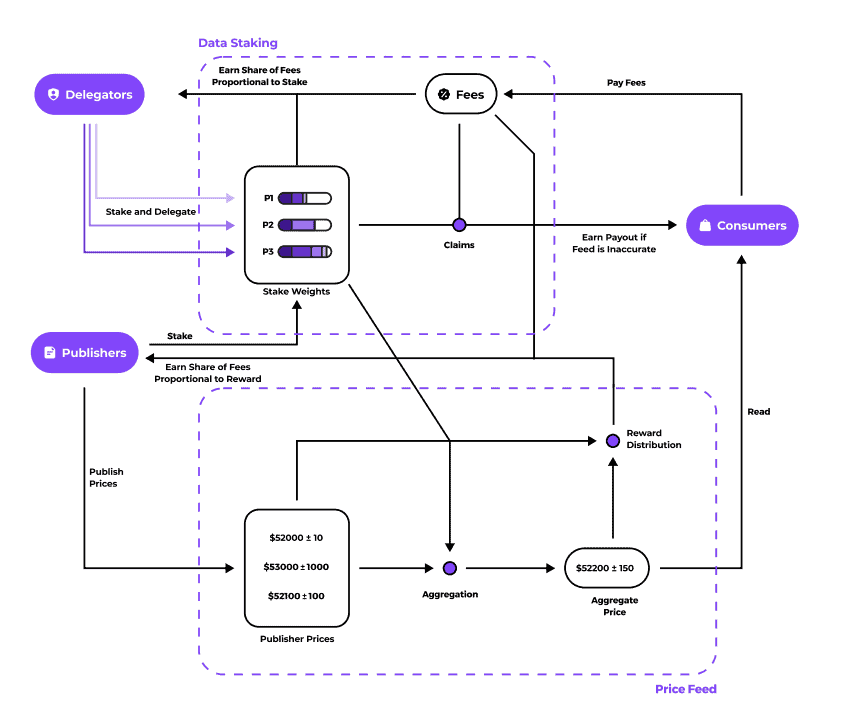 Daarnaast wordt de PYTH token gebruikt om het netwerk te beheren, het is dus ook een governance token. Parameters waarover gestemd kan worden zijn onder andere welke soorten tokens gebruikt mogen worden voor data fees, welke producten op Pyth worden opgenomen, het deel van de data fees dat wordt toegewezen aan publishers, het aantal PYTH tokens dat uitgevers moeten inzetten of waarmee claims kunnen worden ingediend tegen een product en nog veel meer.
Pyth vs. Chainlink
Het Pyth netwerk is niet een het eerste oracle netwerk dat real-word data levert voor on-chain applicaties. Een aantal andere platformen leveren al data aan DeFi-platformen. Het grootste oracle netwerk op het moment is zonder twijfel Chainlink (LINK). Naar eigen zeggen wordt Chainlink gebruikt bij zo'n $80 miljard aan activa dat in een grote verscheidenheid aan smart contracts zit vastgezet.
Pyth is bereid om de strijd aan te gaan met oracle netwerken zoals Chainlink. Pyth biedt namelijk een volledig anders bussiness model: De data van Pyth is gratis en Pyth biedt deze gratis data al sinds augustus van 2021! Consumenten die gebruik willen maken van de data die wordt geleverd door Chainlink betalen hiervoor. Uiteraard geeft dit Pyth een enorme voorsprong op Chainlink, consumenten houden er niet van om geld te betalen.
Daarnaast is de technologie waarop het Pyth netwerk gebouwd is, namelijk de Solana blockchain, simpelweg superieur aan de concurrenten. Het Pyth netwerk kan elke 400 milliseconden prijs updates doorvoeren. Concurrerende oracle netwerken die bijvoorbeeld op de Ethereum (ETH) blockchain draaien zijn in staat om dit slechts elke 15 seconden te doen.
De data zelf zou bij Pyth ook van hogere kwaliteit zijn. Deze belangrijke financiële data is namelijk afkomstig van de grootste namen binnen de wereld van finance. Zij hebben gezamenlijk decennia aan ervaring en know how. Op die manier wordt de lat voor data publishers enorm hoog gelegd. De lijst van aangesloten publishers is inmiddels ook al behoorlijk indrukwekkend.
Pyth heeft in het kort de potentie om de DeFi-sector een serieuze impuls te geven. De motor van DeFi is nauwkeurige financiële data van hoge kwaliteit. Pyth zorgt ervoor dat deze dat niet slechts beschikbaar is voor instituties, maar dat iedereen toegang kan krijgen tot de heilige graal van marktdata.