Afgelopen week was een leuke week! Er was weer actie te zien en de verwachte rally maakte haar entree. Nadat Bitcoin (BTC) haar laagste punt van de week noteerde op $3.280 begon de koers aan een flinke rally op maandag en haalde Bitcoin maar liefst de $3.744 die dag. In de dagen daarna haalde de koers een hoogtepunt van exact $4.300. Niet lang daarna werd ietwat terrein opgegeven om terug te vallen naar $3.900 waarna de optimisten in de markt de koers weer opdreven tot boven de $4.100 waar we – op het moment van schrijven – staan. De vragen die ik uit verschillende kanten krijg zijn uiteraard de welbekende. Op nummer 1 is dat de vraag of dit dan eindelijk de start is van een nieuwe bull run en op nummer 2 is dat of we nu eindelijk de bodem hebben bereikt. Ik weet dat ik afgelopen week een hint maakte naar een vergelijking tussen de cryptocurrency markten en aandelenmarkten, maar gezien het bullish momentum van afgelopen week richt ik mij vandaag hier op en laat ik een wat algemenere analyse voor een later moment. Ik zal dit echter spoedig met jullie delen. Maar goed, terug naar het speelveld en de vraag hoe we ervoor staan en de waarschijnlijkheid dat we de huidige rally kunnen vasthouden.
Zoals ik afgelopen week al aangaf verwachtte ik een rally als deze daar de momentum indicatoren een markt weergaven die flink oversold was. Na letterlijk weken van flinke verliezen is het niet meer dan normaal dat de markt terugveert. En, zoals dat binnen de crypto wereld gaat: wanneer iets 'terugveert' dan betekent dat we direct dubbele groene cijfers zien en meme's van de maan en Lambo's. Oh wacht, vergeet ook vooral niet de 'dit is nu echt de bodem' quotes van bekende personen.
De rally was sterk en het was duidelijk dat een hoop short-sellers hun stop-losses scherp hadden afgesteld. Shorts werden namelijk in een rap tempo gecovered en longs werden geopend. Toen de koers van Bitcoin de $4.200 behaalde (de eerste echte weerstand) gebeurde precies het tegenovergestelde. Longs werden gecovered en shorts geopend. Toch staan er nog steeds een hoop meer shorts open dan longs. In afbeelding 1 heb ik de hoeveelheid shorts (zwarte lijn) ten opzichte van de longs weergegeven (rode lijn). Hierop is goed te zien dat er nog ruim 8.000 Bitcoins meer short staan dan long. De markt is nog overwegend bearish.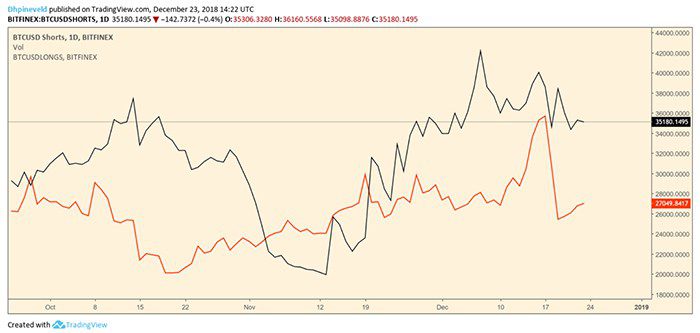 Afbeelding 1: Bitcoin shorts VS longs
Hoewel de rally sterk is en vrij overtuigend op het moment geloof ik niet dat we uit de huidige malaise zijn en kunnen spreken van een echte start van een bull run. Fundamenteel is er niet veel veranderd en zitten we volgens mij nog steeds in het proces van bewustwording waarbij de hele markt begint in te zien wat voor gekte we afgelopen jaar hebben meegemaakt. Zelfs de early hodlers beginnen nu pijn te voelen en dat was voorheen nog niet zo. Als je Bitcoins had gekocht voor $300 was er nog niet veel aan de hand toen de koers bleef hangen op $6.000. Nu de koers verder is gezakt en er een mogelijkheid bestaat voor sub 2k koersen begint dit te veranderen. Ja, er is meer aandacht voor Bitcoin en cryptocurrencies in het algemeen. Ja, er zijn meer startups dan ooit in de crypto-sphere, maar dat zegt niets over de situatie of we op dit moment wel of niet een bodem hebben bereikt. De rally waar we op dit moment in zitten is in mijn ogen een momentum play. Het kan zijn dat $3.000 een bodem zal zijn maar dan verwacht ik op zijn minst een re-test van dit niveau.
Wat betreft de technicals. De huidige rally is op de dagelijkse grafiek overbought maar begint langzaam op stoom te komen op de wekelijkse grafiek. Hoewel het tempo afzwakt is het zeer goed mogelijk dat we nog even door klimmen, maar ik geloof niet dat we zojuist het begin van een duurzame rally hebben meegemaakt. Zoals ik afgelopen week al aangaf heb ik geen interesse in deze rally vanuit een investeringsperspectief en heb ik ook geen posities geopend. Ik wil weten hoe de koers zich de komende weken gedraagt alvorens ik mijzelf klaar ga maken voor langere buy & hold posities. De eerstvolgende weerstand is – naast de $4.200 – de $4.500. Mocht die worden gebroken dan gaan we door naar de $5.000. De manier waarop deze weerstanden wel of niet worden verslagen zal ons een hoop vertellen. De echte muur ligt echter bij de $6.000. Dat sterke support van de afgelopen maanden is namelijk zeer waarschijnlijk een bikkelharde muur geworden en de kans is zeer groot – mocht de koers daar binnen afzienbare tijd überhaupt komen – dat de koers daarop zal afketsen. Een momentum play is in mijn ogen niet voldoende om dit te breken. Er zal echt wat moeten zijn veranderd in de markt en het optimisme moet dermate sterk zijn om er doorheen te breken. Dit is in mijn optiek nog niet gebeurd en daarom blijf ik overwegend bearish. Vooralsnog blijf ik op mijn handen zitten, ga genieten van de kerstdagen en blijf de markt aandachtig observeren.
Tot volgende week!
Wil je op de hoogte blijven van het laatste nieuws? Abonneer je dan op onze push-berichten, 
Facebook
– of Twitter.
[ci-widget-v2]