Afgelopen week was voor velen – die de koers van Bitcoin volgen – een bijzondere week. Op het moment dat de markt zich enigszins bullish begon te gedragen maakte de koers van Bitcoin een zeer snelle duik naar beneden. De koers ging van $7.400 bijna in één rechte lijn naar $6.900 om vervolgens verder door te zakken naar $6.300 en te stabiliseren rond het niveau van $6.450. Afgelopen week beschreef ik mijn ideeën dat de rally waarschijnlijk van korte duur was. Hoewel de daling niet onverwacht was, waren de kracht en snelheid dat wel. Wat zijn de implicaties en waar dienen we komende week naar te kijken? Laten we beginnen!
De 'correctie' van afgelopen week was krachtig en snel. Eigenlijk iets té snel, want hoewel de rally haar kracht aan het verliezen was rond de $7.400, was er in mijn optiek geen reden voor een dergelijke sell-off. Althans, niet van dit formaat. Terugkijkend op deze daling zie ik hiervoor twee mogelijke aanleidingen. Eén: de correctie was het gevolg van marktmanipulatie of twee: het vertrouwen van de bulls is (nog steeds) heel zwak en ze geven terrein bij de minste of geringste tegenslag.
Persoonlijk ben ik geen fan van theorieën omtrent marktmanipulatie. Ik wil niet ontkennen dat er manipulatie is in de markt, maar ik vraag mij ten zeerste af of manipulatie een dergelijk sterk effect heeft op de markt en tevens standhoudt. Daarnaast is de afgelopen maanden al gebleken dat het vertrouwen onder de bulls steeds zwakker wordt en na iedere mislukte rally wordt dit vertrouwen steeds kleiner. Mijn voorkeur gaat dan ook uit naar mogelijkheid twee. Toch kan marktmanipulatie niet volledig worden uitgesloten. Met dit in ons achterhoofd wil ik even kijken naar de grafieken.
Op de 4-uurs grafiek van Bitcoin (Afbeelding 1) is een bear flag formatie aan het ontstaan. Dit is een bearish patroon en eigenlijk een soort van pauze voordat de correctie wordt doorgezet.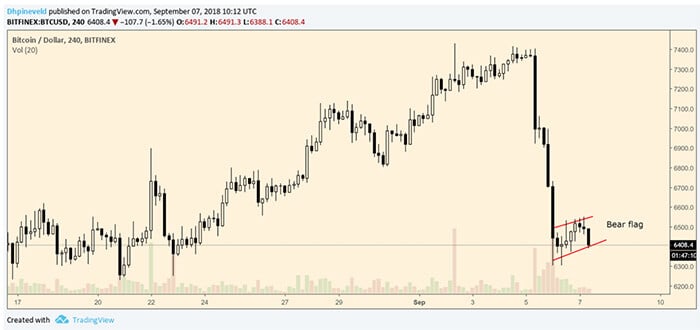 Afbeelding 1: Bitcoin 4 uur grafiek – bear flag formatie
Een bear flag geeft ons overigens ook een target. De lengte van de 'pole' wordt de target bij een verdere daling. In dit geval zou dat rond de $5.200-5.400 liggen (lengte van de pole is $1.100 en $6.300 – $1.100 = $5.200).
Op de wekelijkse grafiek zien we tevens hoe de descending triangle, die ik vorige week beschreef, nog steeds standhoudt en met de ontwikkelingen van afgelopen dagen wordt een break out naar beneden steeds aannemelijker. Daarnaast is er ook een Bearish Engulfing patroon zichtbaar.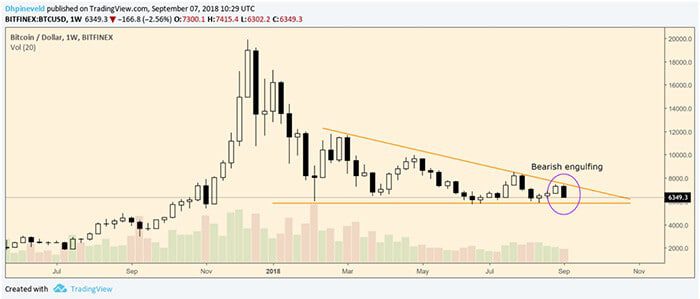 Afbeelding 2: Bitcoin wekelijkse grafiek – bearish engulfing
Aangezien de momentum indicatoren op zowel de dagelijkse als de wekelijkse grafiek nog voldoende ruimte laten zien voor een verdere daling dient men op dit moment zeer voorzichtig te zijn met long posities op Bitcoin.
In het begin gaf ik aan dat er echter ook een kans is dat er sprake is van marktmanipulatie. Manipulatie houdt naar mijn mening nooit lang stand en indien dit het geval is zou er spoedig een rally moeten plaatsvinden. Een break door de sterke weerstand van $6.800 zou nodig zijn om de bulls enigszins een kans te geven en een break door $7.400 zou een zeer positief signaal zijn. Aan de andere kant, een wekelijkse close onder de $6.000 zou zeer bearish zijn en mogelijk een nieuwe dimensie geven aan de huidige bear trend. Tot op heden heeft de grens van $6.000 namelijk als sterk support gefungeerd, maar indien dit wordt gebroken zal dit sterke support zich waarschijnlijk omzetten in een sterke weerstand. Mijn ogen zijn de komende week daarom vooral gericht op dit niveau. De bears hebben in de markt nog altijd de overhand en bij een break door de $6.000 zullen zij nog veel sterker worden.
Goed weekend allemaal!