Wat leven we toch in een turbulente periode! Waar je vandaag denkt 'Ah, zit dat zo!', moet je oppassen dat je morgen niet compleet de andere kant op denkt. Nog nooit in mijn leven heb ik zo ontzettend veel tegenstrijdigheden gezien als nu. Het nieuws heeft een gigantische invloed maar ook de 'kenners' zijn het niet met elkaar eens.
Een bullish markt laat zich makkelijk leiden. Dan is de ruime meerderheid het erover eens dat we doorstijgen. Enkel rest dan de vraag: tot welke hoogte? Op dit moment is het veelal totale chaos aanstaande of totale euforie. Dan is het des te fijner om wat afstand te nemen van de markt of in ieder geval wat conservatiever te zijn. De tijd van volle bak risico's nemen is hier linke soep.
Bitcoin heeft, zoals afgelopen week aangegeven in onze omgeving voor members, bijzonder veel potentie. Alleen als ik kijk naar wat ons nu wordt voorgeschoteld aan DeFi-projecten en overige scams die nog altijd actief zijn, dan hou ik mijn hart vast. Dan zou er nog weleens een wilde rit aan kunnen komen. Dit neemt natuurlijk niet weg dat Bitcoin fundamenteel niet stuk is. Dus op de juiste momenten gebruik maken van die paniek zal zeker zijn vruchten kunnen afwerpen. Allemaal leuk Michiel maar waar staan we nu dan?
Op dit moment heeft de koers van bitcoin een lastige zone bereikt. We zien wel wat bullish signalen ontstaan, maar het gevaar ligt ook op de loer. Als we nog een afdaling maken lijkt het gedaan. Zeker de hogere tijdframes zijn omgeven met donkere wolken.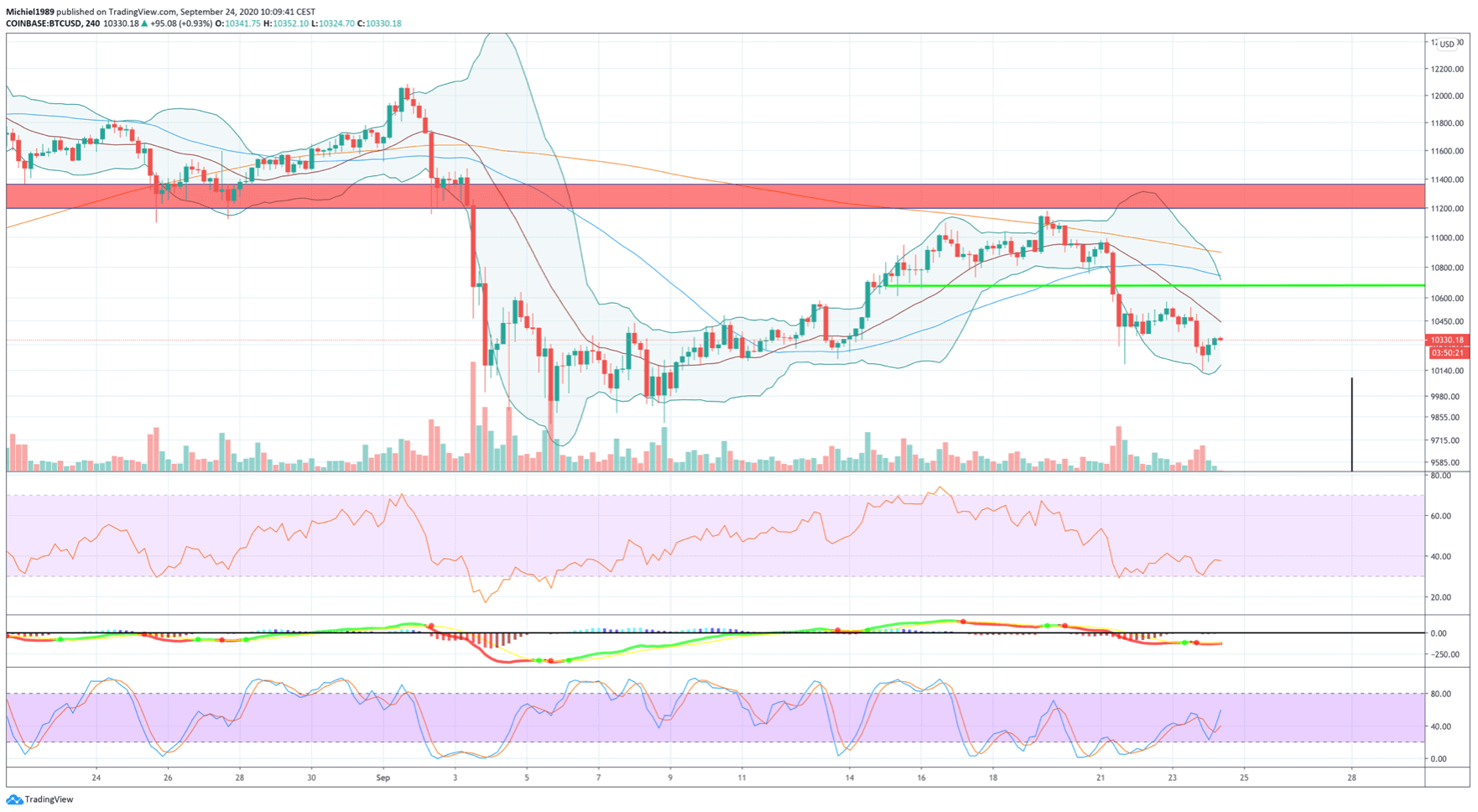 Afbeelding 1: 4-uurs grafiek van bitcoin (BTC) op cryptocurrency exchange Coinbase
Laten we hierboven starten met het bullish scenario dat vanaf hier zich kan ontvouwen. Op de recente dump zien we een bullish divergence ontstaan op zowel de Moving Average Convergence/Divergence (MACD) als de Relative Strength Index (RSI). Een stop-loss zou hierbij onder die laatste wick geplaatst moeten worden. Immers zou daaronder het signaal gebroken worden. Weerstanden die we tegen gaan komen onderweg naar boven stapelen zich ook op. Allereerst zullen we het complete blok $10.400-10.600 moeten slopen. Vervolgens komen we de hore van $10.800 tegen. Daarboven zou het pas echt enigszins bullish worden.
Bearish kijk op de zaak
Dan uiteraard ook als advocaat van de duivel; de rol die mij de afgelopen weken goed lijkt te passen. Ik probeer overigens zo zuiver mogelijk te kijken naar de data. Die data maakt enkel dat ik de afgelopen weken vooral veel buien zie hangen in plaats van regenbogen en stralende zon.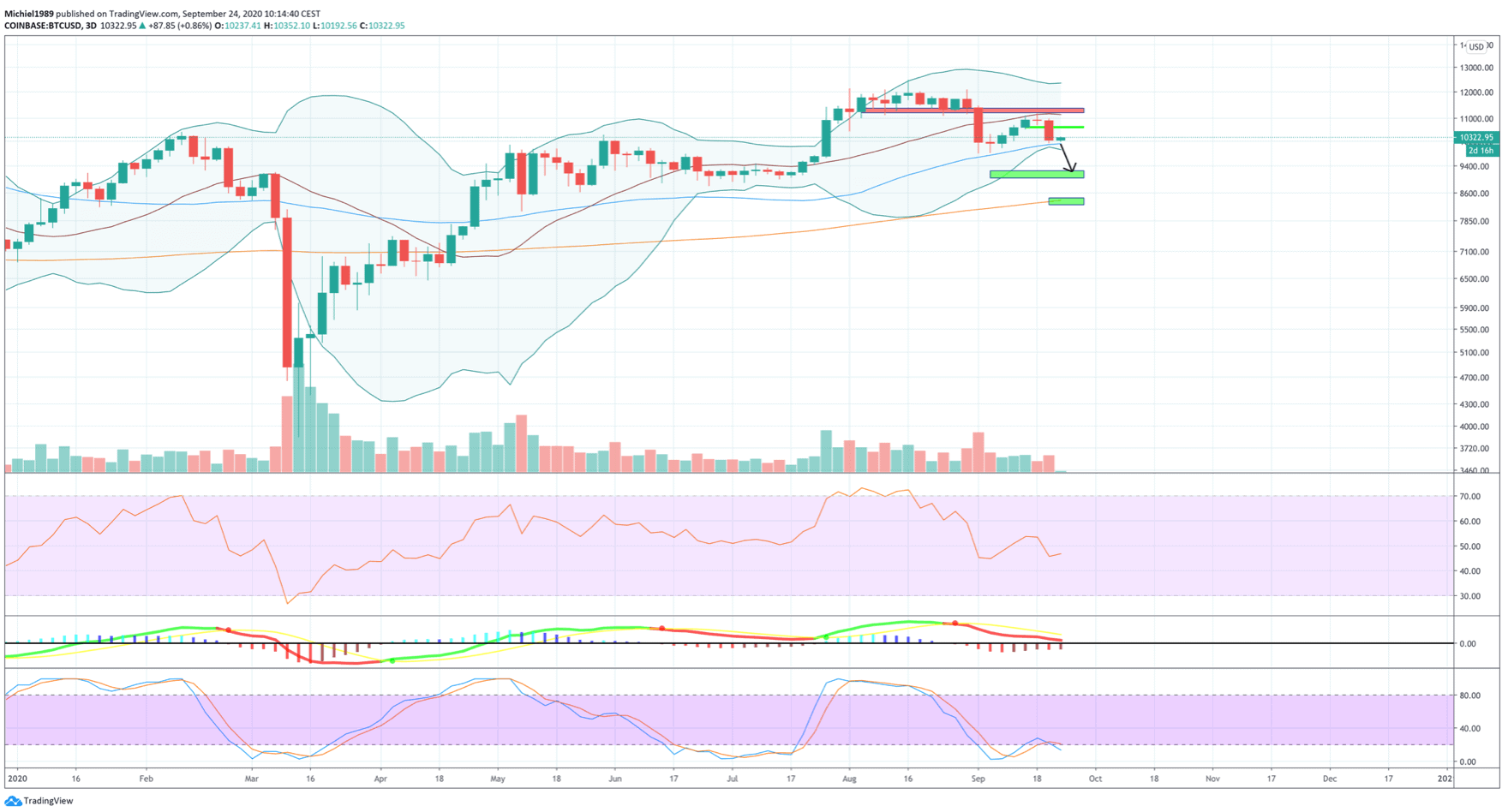 Afbeelding 2: 3-dagelijkse grafiek van bitcoin (BTC) op cryptocurrency exchange Coinbase
Indien we door de lokale bodem van $10.100 zakken lijkt het hek van de dam. Zoals hierboven te zien is zitten we akelig dicht op de 50 dagen moving average (MA, blauwe lijn). Onder die $10.100 ligt heel veel pijn en liquiditeit verborgen. Ik denk dat voor de bears het gouden ticket tot succes – het treffen van de bulls in het hart – daar ligt. All dreams shattered, zeg maar. Dan is het alle hens aan dek en zou $8.300 weleens de volgende halte kunnen zijn. Uiteraard liggen er onderweg nog andere support zones verscholen; de $9.200 of de $8.700 zouden de koers kunnen remmen.
Al met al denk ik dat we vrij dicht op een flinke squeeze zitten. Waar denk jij dat het heen gaat? Laat het ons weten in ons gratis discussiekanaal op Telegram! Volg je plan, maar vergeet niet je oogkleppen af te zetten en ook rekening te houden met de andere kant Ik wil je een heel goed, vervroegd weekend wensen en tot volgende week.