Altrady is zeer uitgebreid cryptocurrency handelsplatform waarop verschillende trading tools worden aangeboden. Altrady is simpel te begrijpen voor beginners maar ook zeker bruikbaar voor gevorderde handelaren. Wat Altrady met haar platform probeert te bereiken is het handelen in cryptocurrency zo uitgebreid mogelijk te maken, maar voor beginners tegelijk zo makkelijk mogelijk in gebruik. Dit doet de exchange door verschillende hulpmiddelen te bieden die de gebruiker kunnen begeleiden. Deze hulpmiddelen komen op deze pagina aan bod.
Altrady is in 2017 opgericht en heeft haar hoofdkantoor gevestigd in Den Haag. Het bedrijf heeft op het moment 6 werknemers die zich vol inzetten voor de ontwikkeling van het platform.
Meer lezen over onze ervaring met Altrady? Bekijk dan ook zeker de Altrady review!
Multi-exchange
Iets wat Altrady bijzonder maakt is het feit dat een gebruiker, vanuit hetzelfde scherm, cryptocurrencies kan verhandelen op verschillende cryptocurrency exchanges. Het is dus mogelijk om via één platform te handelen in cryptocurrency pairs die worden aangeboden op andere exchanges zoals bijvoorbeeld Binance of Huobi.
De gebruiker kan via Altrady verschillende accounts van verschillende exchanges toevoegen zodat alles duidelijk en overzichtelijk via één platform toegankelijk is. Zo is het niet meer nodig om verschillende tabbladen open te hebben om te kunnen traden. De gebruiker krijgt hierdoor dus ook de mogelijkheid om een breder assortiment aan verschillende coins te verhandelen dan dat hij zou hebben als hij slechts op één exchange zou handelen. 
Real-time data
Het platform biedt natuurlijk ook een manier aan om de koersen van de verschillende cryptocurrencies in de gaten te houden. Voor een trader is het van levensbelang dat hij up-to-date koersdata krijgt en kan inspelen op fluctuaties van enkele secondes. Met Altrady kan dat. Het platform biedt grafieken met real-time data. Onder deze grafiek wordt ook de level-2, ofwel het orderboek, getoond. Hierbij is snel en overzichtelijk te zien hoeveel koop- en verkooporders er open staan en voor welke koers. Op basis hiervan wordt de marktdiepte getoond.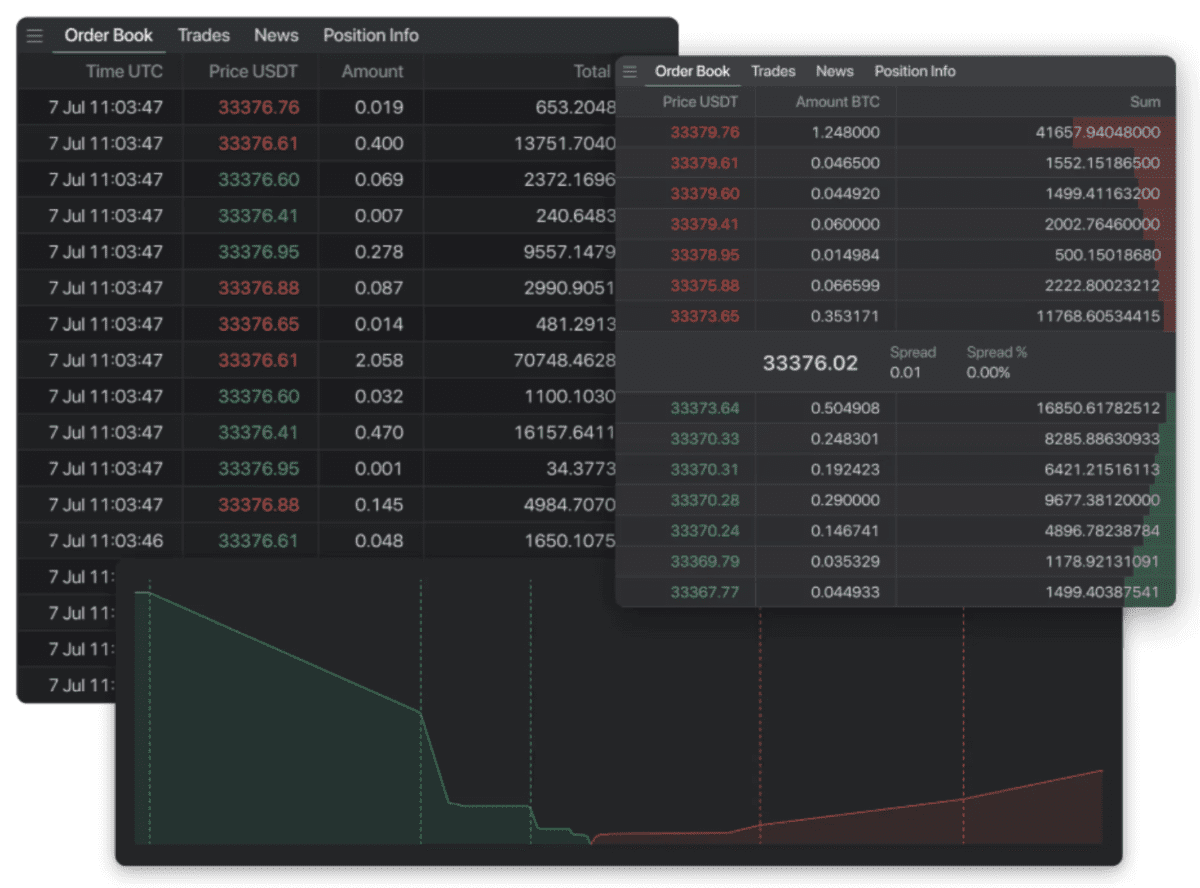 Veel gevorderde traders baseren hun keuzes in de markt op basis van technische analyse.  Zij zien een bepaald candlestick patroon en willen hierop anticiperen. Ook deze manier van handelen wordt ondersteund op het Altrady platform. De gebruiker krijgt de mogelijkheid om lijnen te tekenen op de grafieken. De trader kan hierdoor snel steun- en weerstandslijnen tekenen en direct hiermee handelen.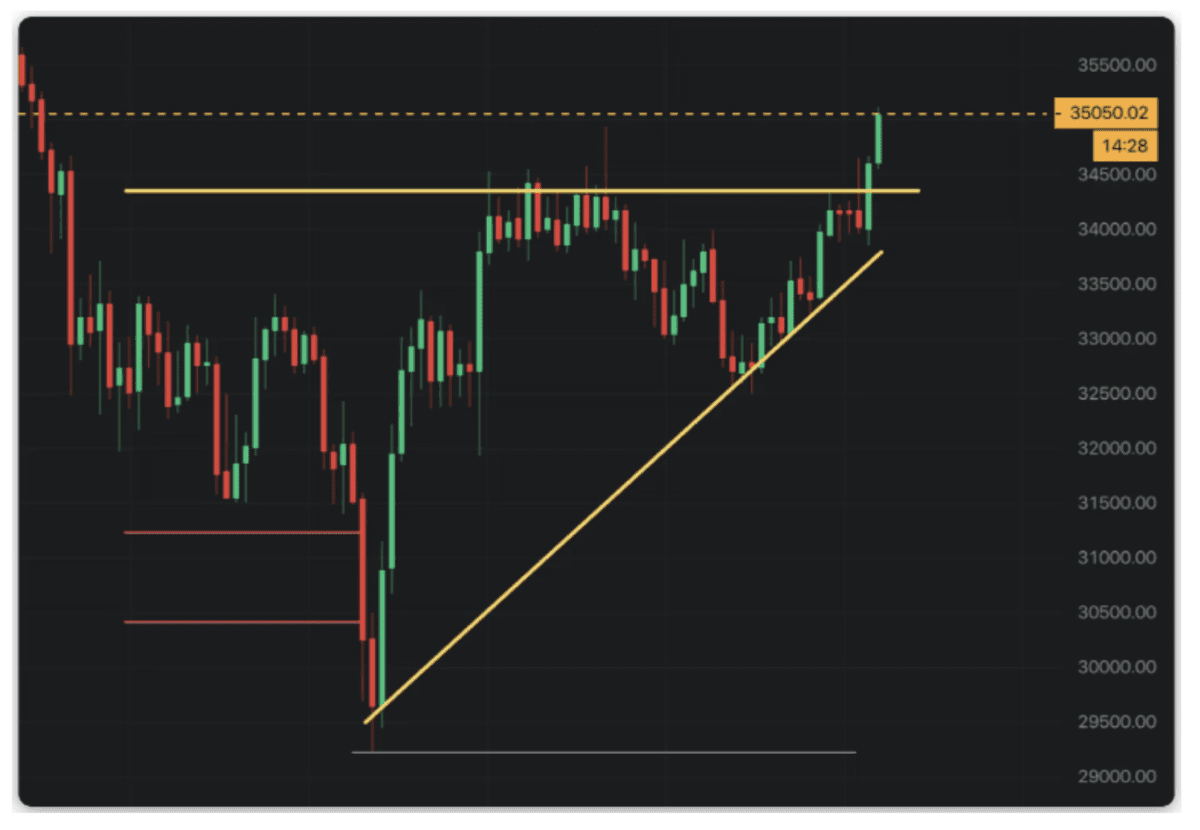 Crypto base scanner
Altrady biedt ook nog de 'crypto base scanner'. Dit is een tool die automatisch de hele markt afzoekt naar mooie investeringsmogelijkheden. Het algoritme van de tool zoek zelf per coin naar verschillende steunniveaus op de grafiek. Wanneer de prijs hard door dit niveau zakt, zal de gebruiker een geautomatiseerd bericht ontvangen. Het algoritme geeft dan ook weer aan wanneer de trader haar positie moet verkopen als de koers weer richting dit niveau stijgt. 
Een voordeel van deze tool is dat alle instellingen aan te passen zijn. Mocht je iets missen of mocht er iets niet helemaal fijn werken, dan kan je dit als gebruiker altijd zelf aanpassen. Zo is de tool voor elk type trader fijn te gebruiken. Zo vindt de ene trader het fijn om een bericht te krijgen in het geval van kleine dalingen en hier elke keer winst af te romen en de andere trader wil pas iets horen als de koers harder is gedaald om een grotere winst te behalen.
Een andere interessante toevoeging is dat de crypto base scanner ook te gebruiken is met bots van een derde partij. Het Altrady platform zal het signaal doorsturen naar de bot die de trades zal uitvoeren. Op deze manier is het voor de gebruiker ook mogelijk om rendement te genereren met deze strategie zonder zelf aan de knoppen te zitten. 
Quick Scanner multicharts
Soms zal je zelfs in de cryptocurrency te maken krijgen met een slome dag op de markt en is het erg moeilijk om zelf een goede trade mogelijkheid te vinden. Quick Scan kan je hierbij helpen en werkt naar eigen zeggen zelfs in de minder optimale markten. Quick Scan zoekt de markt voor je af op zoek naar coins die snelle harde bewegingen maken en zal een bericht geven als de tool iets gevonden heeft. Zo kan de trader snel gebruik maken van de volatiliteit van de coin. 
Overzicht van financiën en vaardigheden
Het platform biedt ook mogelijkheden voor het bijhouden van je financiën en het ontwikkelen van je vaardigheden. Zo kan je bijvoorbeeld live je portfolio bijhouden via je persoonlijke profiel. Hier zie je al je verschillende posities op alle verschillende cryptocurrency exchanges via een duidelijk overzicht. Ook kan een gebruiker verschillende portfolio's aanmaken en bijhouden. Zo kunnen de trades en de lange termijn HODL's gescheiden blijven.
Daarnaast is er een veelvoud aan statistieken beschikbaar die de gebruiker kunnen helpen een betere trader te worden. Kijk waar het goed of juist minder goed gaat en reageer hierop. Zo kan je bijvoorbeeld bijhouden welke exchange, cryptocurrency of strategie het beste voor jou werkt; elke markt is namelijk anders. Middels deze mogelijkheid kan je zien wat het beste bij jouw strategie past. Het analyseren van oude trades en je statistieken kan goed vruchten afwerpen bij je persoonlijke ontwikkeling als trader.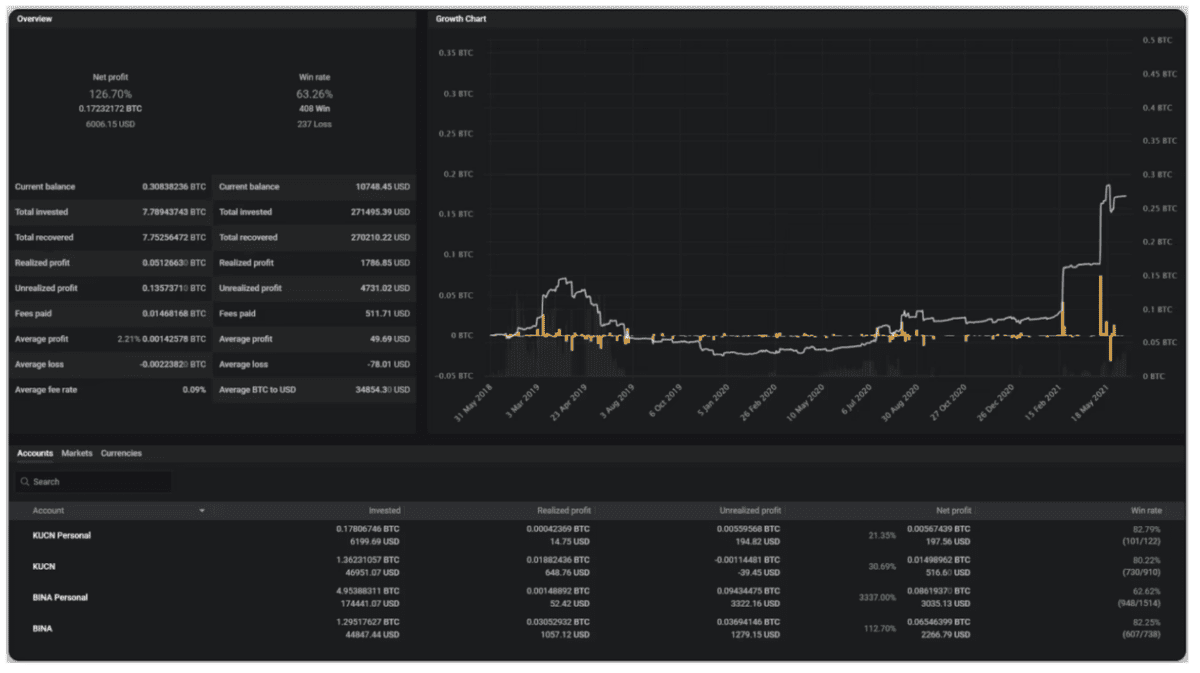 Hierop voortbordurend wordt er via het platform ook een notitieblok geboden. Hiermee kan je bijhouden waar je aan dacht bij het openen van een trade, tijdens de trade en waarom je een trade gesloten hebt. Dit wordt ook wel journaling genoemd. Journaling kan erg handig zijn als je je tradingstijl wilt ontwikkelen. Op deze manier kan je achteraf kijken waar je aan dacht, waar het goed ging en wat je eventueel kunt verbeteren. Zo kan je ook bijhouden wat je trading plan was en of je je hier wel aan hield. Veel traders verliezen geld doordat ze steeds maar dezelfde fouten blijven maken. Met deze functionaliteit kan je dit voorkomen!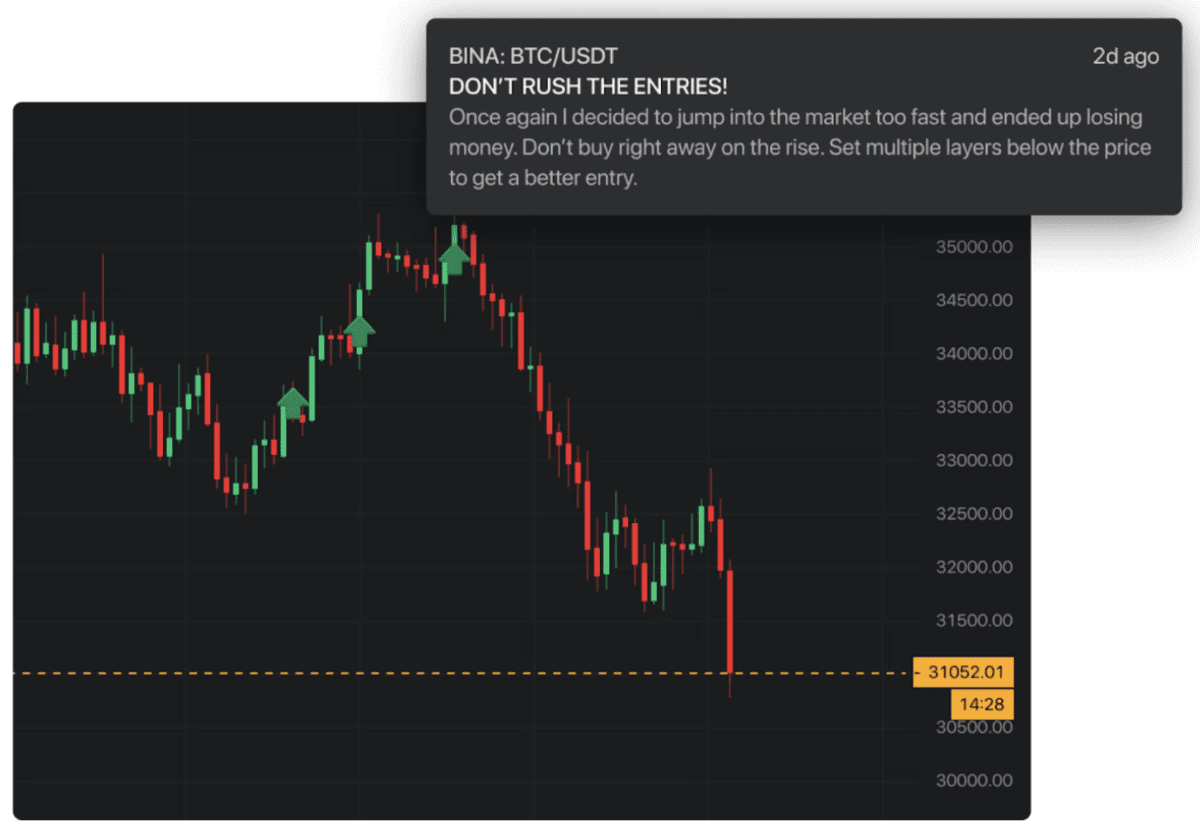 Kosten
Het platform biedt verschillende pakketten en daarbij is het platform 14 dagen gratis te proberen! Mocht het platform je na de proefperiode bevallen dan kan je kiezen voor een van de volgende pakketten: 
Basic, €24,95 per maand

Essential, €44,95 per maand

Premium, €79,95 per maand
Betaal je direct een jaar vooruit, dan geniet je van een korting van 30% op de hierboven genoemde prijzen. 
Via deze pagina is te zien wat het verschil is tussen elk pakket. Met Basic krijg je de minste mogelijkheden en met Premium de meeste. Let hierbij dus goed op wat je wel in je pakket wil hebben en wat niet! Zo zijn de Base scanner en Quick scanner functionaliteit die hierboven aan bod gekomen zijn slechts beschikbaar met het Premium pakket. 
Onderaan de pagina krijg je ook de keus om een Signals Only pakket te nemen. Dit kost €12,95 per maand wanneer je elke maand betaalt en €9,07 per maand in het geval je een jaar vooruit betaalt. Door middel van dit specifieke pakket kan je gebruikmaken van de signalen die de Crypto Base Scanner geeft. Deze scanner kan je via dit pakket alsnog verbinden met een trading bot van een derde partij. Dit is het ideale pakket als je wel mee wil doen met de cryptocurrencymarkt, maar er zelf geen tijd voor hebt om zelf aan de slag te gaan.