BingX is een hard groeiende crypto exchange, gevestigd in Singapore. Het bedrijf is in 2018 opgericht, als Bingbon, en is ondertussen beschikbaar in ruim 100 landen. Ook is het cryptocurrency aanbod groot, met honderden digitale munten die beschikbaar zijn voor hun gebruikers. Daarnaast kan men ook handelen in commodities, indices en Forex (valutamarkt). Transparantie en gemak staan ten alle tijden centraal en interactie tussen handelaren is ook belangrijk bij BingX. Op die manier weten ze handelen en crypto etc. boeiend en interessant te houden.
In welke landen zijn de diensten van BingX beschikbaar?
BingX biedt zijn diensten aan in tal van landen regio's wereldwijd. Het hoofdkantoor is gevestigd in Singapore, maar BingX heeft meer vestigingen in Azië. Het bedrijf is dus prominent aanwezig in dat werelddeel. De exchange en diensten zijn ondertussen beschikbaar in 100+ landen en regio's over de hele wereld. De meest opvallende afwezige is de Verenigde Staten.
Een account aanmaken op BingX
Dus jij wilt een account aanmaken op BingX? Dit is gelukkig vrij eenvoudig. Via de website of de app (zowel iOS als Android) heb je binnen enkele stappen een account. Het is mogelijk om met een e-mailadres of mobiel telefoonnummer te registreren. Wat dan nog rest is het verzinnen van een wachtwoord en het verifiëren via de e-mail/sms die je hebt ontvangen.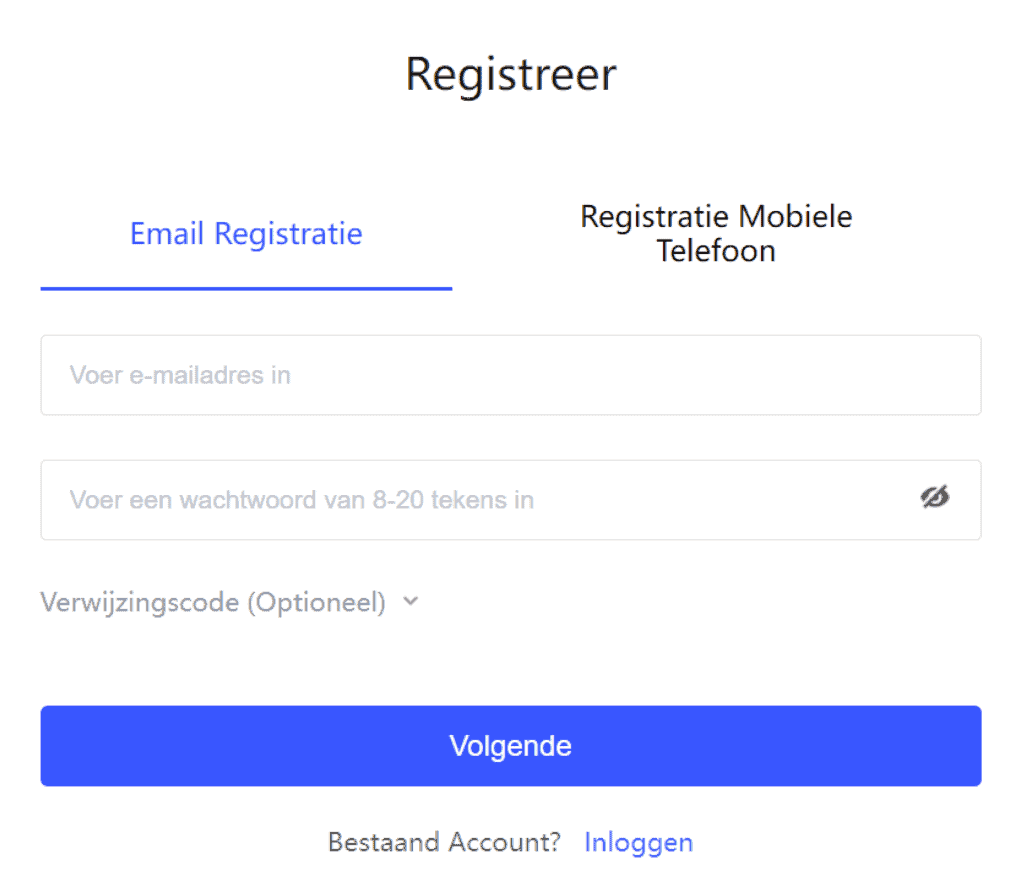 Daarna ben je good to go. Het inloggen doe je simpelweg met de eerder ingevoerde gegevens. BingX biedt tevens de opties om een extra Google-verificatie te koppelen aan je account. Die beveiligingsverificatie wordt dan gebruikt bij het inloggen en het opnemen van geld. De veiligheid van je account wordt op die manier extra gewaarborgd. Op de mobiele app is het ook mogelijk om in te loggen met Face ID/gezichtsherkenning, indien de telefoon die functie ondersteund. 
BingX handelsplatform
Het BingX (spot) handelsplatform is in onderstaande afbeelding te zien. Het is een vrij geavanceerde en tegelijkertijd standaard interface die de opties biedt die de meeste (ervaren) traders zoeken. Kopen en verkopen kan allebei door middel van markt orders en limit orders en ook is Grid Trading mogelijk bij BingX. Het heeft veel gelijkenissen met bijvoorbeeld een grote crypto exchange als Binance.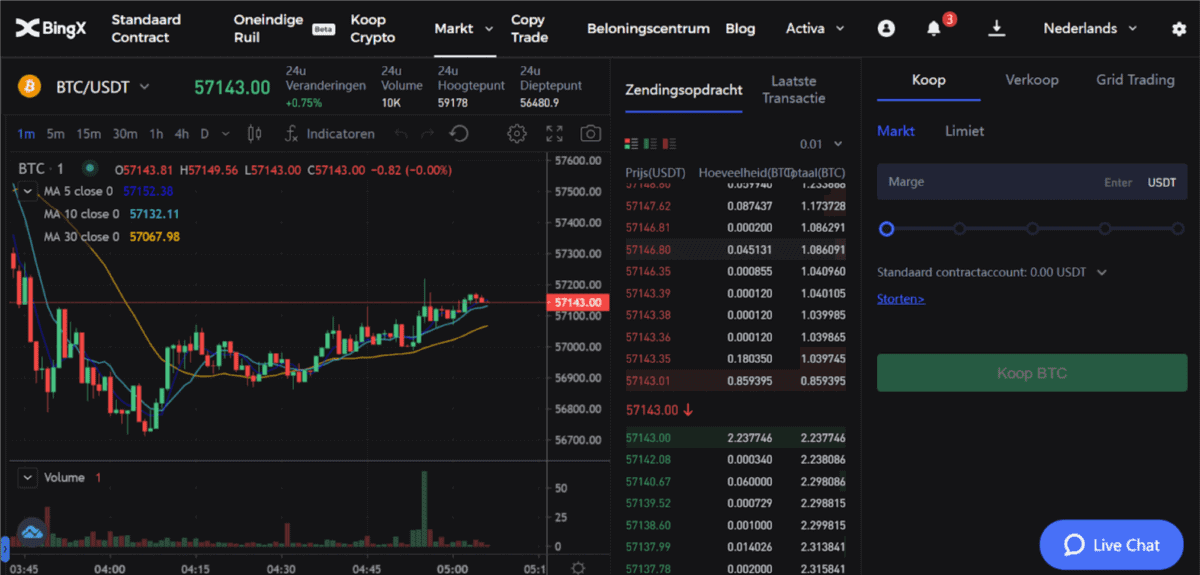 Cryptocurrency (ver)kopen op BingX
Cryptocurrency kopen op BingX is heel eenvoudig. In het spot trading overzicht hierboven is te zien dat cryptocurrencies gekocht en verkocht kunnen worden middels een marktorder of een limietorder. Take profit (TP) en Stop-loss (SL) levels zijn op vergelijkbare wijze te zetten als bij veel andere exchanges.
Het kopen van de cryptocurrencies USDT, ETH en BTC kan nog eenvoudiger. In de afbeelding hieronder is te zien dat men de drie genoemde cryptomunten snel kan aanschaffen met fiat-geld. Na het invoeren van het bedrag hoef je alleen nog maar de service provider te kiezen en wachten tot het geld of de cryptocurrencies in je wallet staan.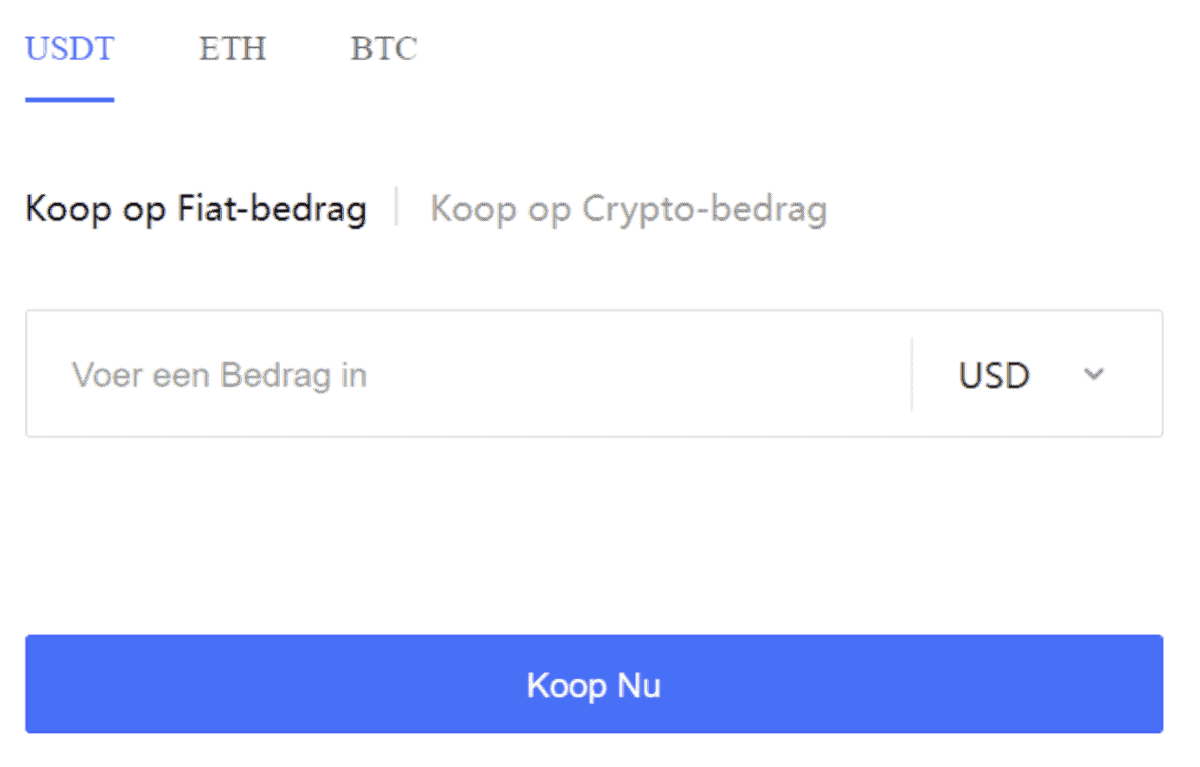 Privacy en veiligheid
Privacy en veiligheid staan bij BingX hoog in het vaandel, kijkend naar hun uitgebreide privacy statement. Persoonlijke gegevens zijn veilig en blijven privé, in de meeste gevallen. Het kan zijn dat gegevens gedeeld dienen te worden met derde partijen als bepaalde wetgevingen hiertoe verplichten of als de terms & conditions geschonden worden bijvoorbeeld.
Veiligheid van het account wordt onder andere gewaarborgd door de mogelijkheid tot extra beveiligingsverificatie bij het inloggen en opnemen van geld. Face ID/gezichtsherkenning op mobiele telefoons doen hetzelfde.
Support en bereikbaarheid
Op de website geeft BingX aan dat de ze over een klantenservice beschikken die 24/7 beschikbaar is. Vragen of problemen kun je kwijt aan [email protected]. Daar zal een klantenservicemedewerker naar kijken en de hulp bieden die nodig is. Ook hebben ze een live chat op de website. De hulp via deze chat zal een stuk sneller zijn dan per e-mail, dus bij dringende vragen kun je als gebruiker daar terecht.
BingX levert ook klantenservice in het Nederlands, wat wel zo gemakkelijk is. Het Nederlandse team van BingX bereik je via het Nederlandse Telegramkanaal, waar het team ondersteuning kan bieden.
Tevens heeft BingX een hele support sectie op de website, genaamd het ondersteuningscentrum, waar tal van handleidingen en andere uitleg te vinden is. De kans is aanwezig dat je daar zelf al (een deel van) de antwoorden vindt, waar je naar op zoek bent. 
Beoordeling
BingX krijgt in de Google Play store een goede beoordeling van zijn gebruikers, namelijk 4,5/5,0 sterren. Op moment van schrijven hebben ruim 2.100 mensen een beoordeling gegeven, dus de score lijkt betrouwbaar. De geschreven reviews zijn ook voornamelijk positief. 
Op Trustpilot is het echter wat minder rooskleurig. Met een score van 3,0/5,0 sterren scoort BingX (op Trustpilot nog Bingbon genoemd) weliswaar geen onvoldoende, maar ook lang niet zo goed als in de Google Play store. Na het lezen van een aantal reviews werd duidelijk waarom dit is; sommige gebruikers zien copy trading als een scam. Meerdere gebruikers schrijven bakken met geld te hebben verloren dankzij de copy trading feature van BingX. BingX waarschuwt echter wel voor de financiële risico's die (copy) trading met zich meebrengt, dus het kan zijn dat er een aantal slechte verliezers een review hebben achtergelaten. Feit is wel dat BingX er goed aan zal doen om het imago op dat vlak wat te verbeteren. 
Conclusie
BingX is een transparante crypto exchange die hun gebruikers hoog hebben zitten. Het handelen van cryptocurrencies (en andere producten) moet behalve transparant ook leuk, eenvoudig en boeiend blijven. Daar zorgen ze voor door hun interface die eenvoudig te gebruiken is, met name voor traders met enige ervaring. Bovendien kunnen gebruikers met al hun vragen 24/7 terecht bij de klantenservice. Ook staat de website vol met bruikbare informatie, waar de meeste vragen of problemen al opgelost kunnen worden.
BingX, wat eerder bekend stond als Bingbon, bestaat sinds 2018 en is sindsdien hard gaan groeien. Met innovatie features als copy trading zal deze groei ook aanhouden, is de verwachting. Zeker als ze een aantal negatieve views weten om te buigen naar positieve verhalen van klanten.
Een account aanmaken bij BingX doe je eenvoudig op de Nederlandse aanmeldpagina.