Bitget is een crypto exchange die in 2018 is opgericht en gevestigd is in Singapore. Bitget is ondertussen een grote naam en heeft dan ook gebruikers over de hele wereld zitten. 
Volgens Bitget is 'de toekomst van crypto sociaal'. Om die reden heeft de cryptocurrency exchange producten en diensten die de betrokkenheid en interactie met en van hun community vergroten. Dit sluit ook aan bij de missie en kernwaarden van Bitget. De missie is namelijk om mensen te inspireren om cryptocurrencies te omarmen en om te verbinden met de toekomst. De kernwaarden van Bitget zijn: transparantie, samenwerking en klantgerichtheid. Het stukje samenwerking is onder terug te zien in partnerships met stervoetballer Lionel Messi en Italiaanse topclub Juventus.
Bitget is actief op meerdere social media kanalen en heeft grote volgers aantallen opgebouwd op onder andere Twitter, YouTube en Reddit.

Account aanmaken
Een account aanmaken bij Bitget is een eenvoudige taak. Na het registeren wordt er een activatiecode gestuurd. Hierna hoeft een nieuwe gebruiker slechts akkoord te gaan met het 'P2P User Agreement'. Om van alle functies die Bitget biedt gebruik te maken is alleen registreren overigens niet voldoende. Hiervoor is een ID-verificatie vereist. Gelukkig is dit ook gemakkelijk. Na het uploaden van de voor- en achterzijde van de ID-kaart of paspoort en het uploaden van een selfie is het account binnen enkele geverifieerd en klaar voor gebruik.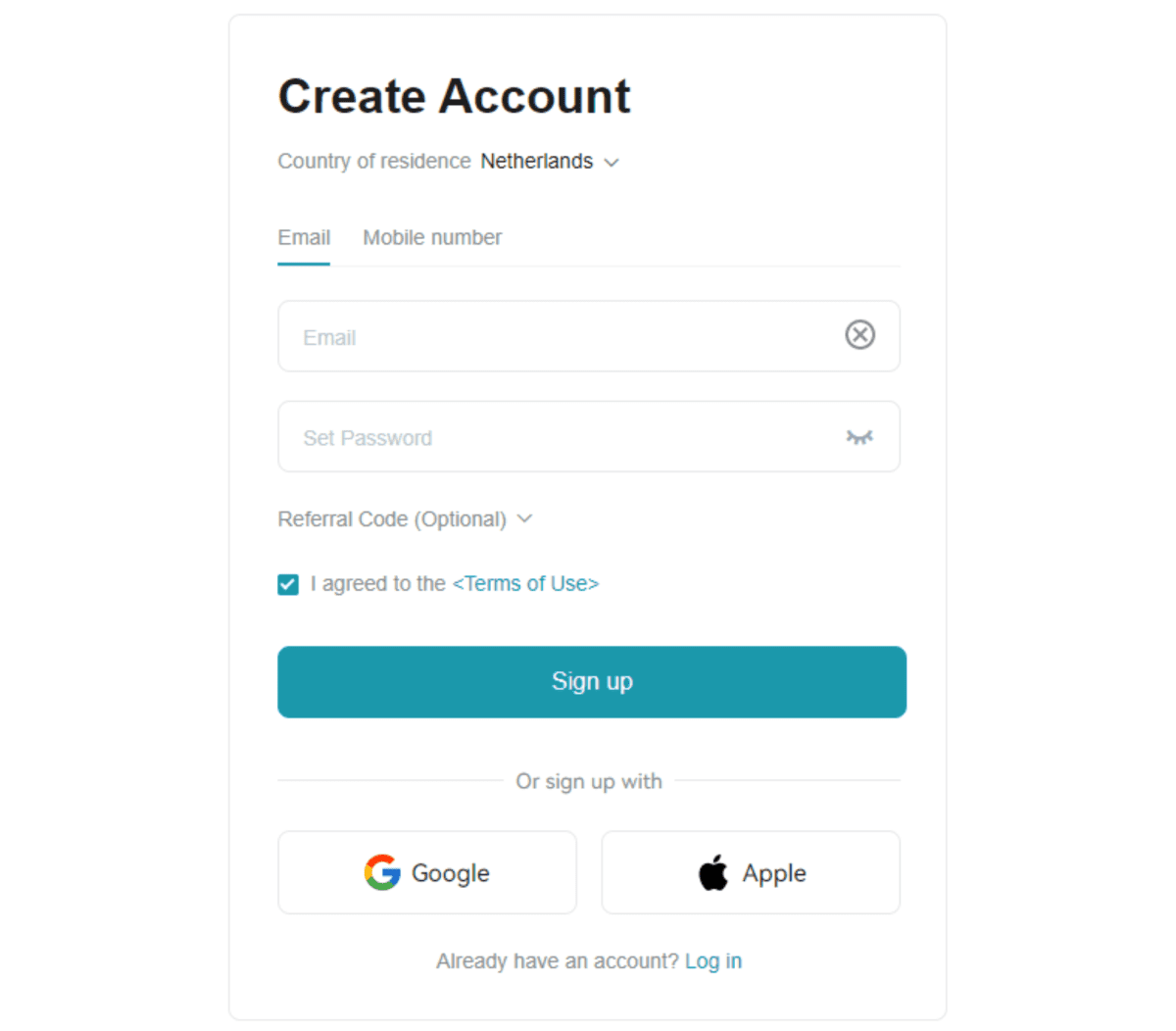 Bitget handelsplatform
Het handelsplatform van Bitget is precies wat je van een vooraanstaande crypto exchange mag verwachten; overzichtelijk en met opties voor handelaren van ieder niveau. Voor beginners is het wellicht iets te geavanceerd en is een simplistischer overzicht beter. Wanneer je enigszins thuis bent in crypto is een platform als dat van Bitget echter al gauw wat je zoekt. Bovendien is Bitget wel degelijk geschikt voor beginners, dankzij hun Copy Trading functie. Beginnen handelaren kunnen op die manier handig ervaren traders volgen en kopiëren.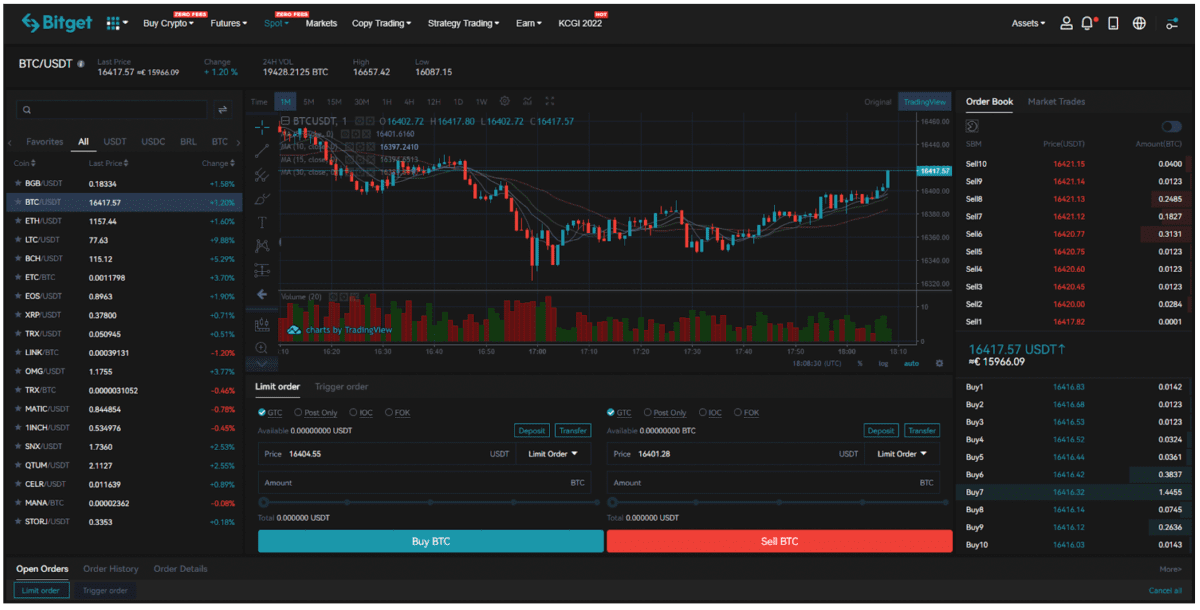 Bitget mobiele app
Bitget heeft een mobiel app die te downloaden is in zowel de Apple App Store en in de Google Play Store. De desktop versie wordt weergegeven op een groter scherm en hierdoor is er meer data zichtbaar bij de grafieken. Dat wil echter niet zeggen dat de mobiele app niet zeer geschikt is voor Bitget gebruikers. De functies die de website biedt zijn namelijk ook te gebruiken in de app. 
Bitget support
Een van de kernwaarden van Bitget is klantgerichtheid en dat vind je terug in de Bitget support. Op de Bitget support pagina kunnen gebruikers terecht voor onder andere tutorials van bijvoorbeeld Copy Trading en veelgestelde vragen. Bovendien is er een overzicht van tal van onderwerpen waarover informatie beschikbaar is.
Wanneer de juiste informatie niet terug te vinden is op de website is er nog altijd een heel support team die altijd klaar staat voor gebruikers van Bitget. Zij zijn per e-mail of via een live chat goed bereikbaar.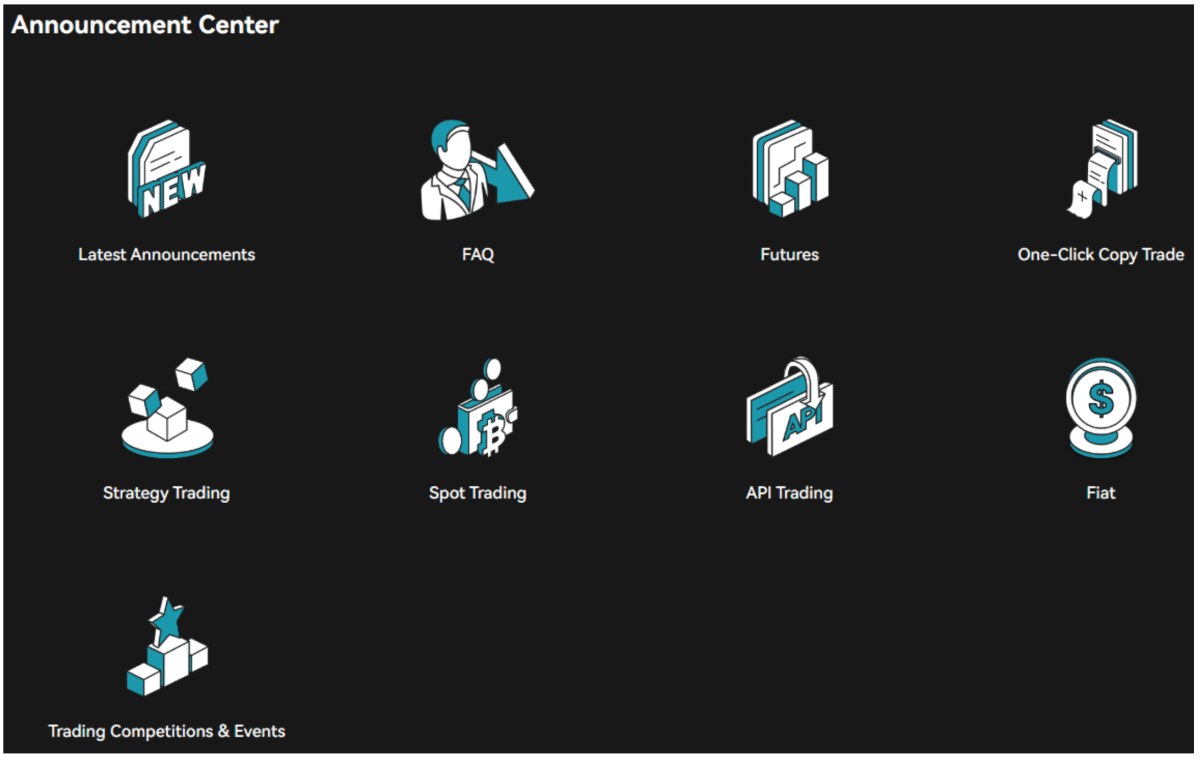 Bitget handelskosten
Zoals iedere exchange hanteert Bitget ook handelskosten. De tarieven zijn echter niet hoog en bij Spot Trading is het zelf helemaal kosteloos, zowel de maker fee als de taker fee. 
Fees voor onder andere het opnemen van cryptocurrencies zijn er wel. Dit verschilt per digitale munt. De withdrawal fee van bitcoin (BTC) bedraagt bijvoorbeeld 0,0002 BTC. Bitget biedt een handig overzicht van alle handelskosten die worden gerekend.
Conclusie
Bitget is gebouwd met een missie en dat stralen ze uit. Ze maken crypto eenvoudig, zijn transparant in wat ze doen en de klant staat centraal. De support is uitstekend en zowel de website als de mobiele app bieden veel tekst en uitleg over alle producten en diensten die Bitget te bieden heeft.
Niet alleen ervaren, maar ook beginnende crypto handelaren kunnen bij Bitget terecht en kunnen tevens veel van elkaar leren. Social Trading staat centraal bij deze crypto exchange en dat uit Bitget goed.
Benieuwd naar wat Bitget voor jou kan betekenen? Registreer je nu bij Bitget, ontvang een bonus en ontdek de mogelijkheden!