BLOX is een Nederlandse crypto exchange met een voorliefde voor bitcoin (BTC). Bij BLOX zien ze graag dat andere mensen die liefde gaan delen. Hoe ze dat doen? Door crypto en bitcoin zo simpel mogelijk te houden. Dat is de missie. BLOX weet bitcoin zo begrijpelijk en toegankelijk mogelijk te maken voor het grote publiek en dat is waar ze zich iedere dag voor inzetten.
Download nu de BLOX app en krijg je eerste €10 aan crypto van Crypto Insiders! 
BLOX is de exchange en crypto-app van het eveneens Nederlandse BTC Direct. Toen BTC Direct in 2013 begon was het aanschaffen van bitcoin en cryptocurrencies een moeizaam proces. Met BLOX is dit niet meer het geval. 
In welke landen is BLOX beschikbaar?
In welke landen is BLOX beschikbaar? Het is een Nederlands bedrijf dus BLOX was uiteraard het eerste in ons land beschikbaar. Ondertussen heeft BLOX ook een Belgische, Spaanse en internationale website. Na België en Spanje moeten er nog een hoop Europese landen volgen. In principe zou BLOX beschikbaar kunnen zijn/worden voor alle landen die aangesloten zijn bij SEPA (Single Euro Payments Area). SEPA is een initiatief van de Europese Unie en Europese banken om betalingsverkeer te harmoniseren in Europa.
Een account aanmaken op BLOX
Een account aanmaken op BLOX is een hele eenvoudige procedure. Ten eerste download je de app in de Apple Store of Google Play Store. Na het invullen van je persoonlijke gegevens en het bedenken van een wachtwoord kun je een bevestigingsmail en 3 vragen verwachten. Er wordt gevraagd naar je ervaring met beleggen, naar de herkomst van je stortingen (inkomen, spaargeld, lening etc.) en naar hoeveel je van plan bent maandelijks te sporten. Je selecteert bij iedere vraag een van de opties en daarna heb je je account. Vervolgens kun je via instellingen op de BLOX-app een 2FA (twee-factor-authenticatie) instellen. Iedere keer dat de app geopend wordt dien je dan een code in te vullen, om extra veiligheid te creëren.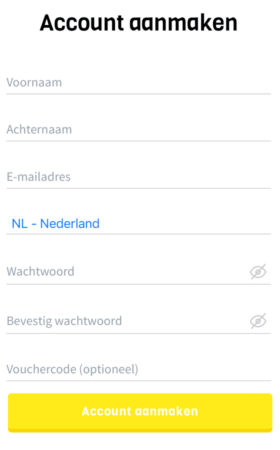 BLOX handelsplatform
Bij BLOX draait het om eenvoud en dat is ook terug te zien bij het BLOX handelsplatform. Het BLOX handelsplatform, of dashboard, is gemaakt voor het snel, simpel en veilig handelen waar BLOX voor staat. Bij ieder van de 37 cryptocurrencies op de BLOX-app is een grafiek van de koers te zien van het afgelopen het afgelopen uur, de afgelopen 24 uur, de afgelopen 7 dagen, de afgelopen maand en het afgelopen jaar. Dat was het. Het is een simplistische interface die toch de essentiële informatie en opties biedt. BLOX heeft geen geavanceerde dashboards, zoals bij veel andere grote crypto exchanges wel te zien is. Voor het echte 'traden' kun je beter verder kijken dan BLOX. Voor al het andere is BLOX dé crypto-app die je nodig hebt.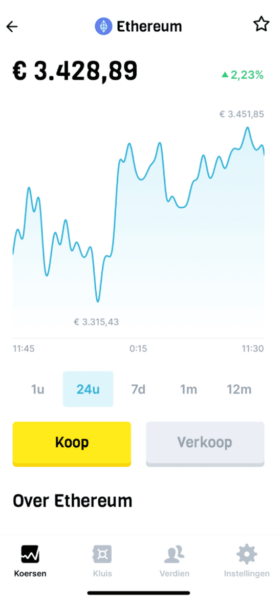 Privacy en veiligheid bij BLOX
Privacy en veiligheid bij BLOX zijn erg belangrijk. Sinds 25 mei 2018 is de Algemene verordening gegevensbescherming (AVG) van kracht. AVG is een Europese verordening die de privacywetgeving moet moderniseren. BLOX gaat voorzichtig met de gegevens van zijn gebruikers om en handelt uitsluitend volgens de AVG.
Om op BLOX cryptocurrencies te kunnen kopen en verkopen is het wel zaak dat jezelf kunt identificeren. Dit valt onder het 'know-your-customer' beleid van BLOX. De cryptomarkt wordt (nog) niet gereguleerd dus identificeren is nodig om fraude en witwassen te voorkomen. Persoonsgegevens zullen nooit verwerkt worden zonder toestemming van de gebruiker.
Bovendien is BLOX officieel geregistreerd bij De Nederlandse Bank (DNB). Ze staan geregistreerd als aanbieder van cryptodiensten. De Nederlandse Bank is er om toezicht te houden op onder andere fraude en witwassen.

Support en bereikbaarheid
Het is eenvoudig om met BLOX in contact te komen. Voor vragen kun je het supportteam bereiken en binnen hun openingsuren zullen ze zo snel mogelijk antwoord geven. De openingstijden zijn:
Maandag t/m vrijdag van 09:00 – 22:00

Zaterdag en zondag van 12:00 – 17:00
Een vraag of klacht kun je kwijt bij [email protected] of via het contactformulier op hun website. Daarnaast zijn er op de website een hoop veelgestelde vragen terug te vinden, dus de kans is groot dat je vragen op die manier al beantwoord kunnen worden. Ook is het mogelijk om een vraag in te dienen voor hun Q&A video's op YouTube.
Beoordeling BLOX
Om een goed beeld van de algemene beoordeling van BLOX te krijgen is het handig om bekende recensiewebsites zoals Trustpilot erbij te pakken. De beoordeling van BLOX op Trustpilot is 3,8 sterren (van de 5) op basis van ruim 1.600 reviews. De beoordeling valt hiermee in de categorie 'goed'. De recensies die klanten hebben achtergelaten zijn overwegend positief. De snelheid en handigheid van de app worden hierbij regelmatig aangekaart. Bij klachten, vragen, of simpelweg een compliment op Trustpilot zit het team van BLOX er kort op en geven ze snel een reactie.
Conclusie BLOX
BLOX heeft als missie crypto zo simpel, toegankelijk en laagdrempelig mogelijk te maken voor iedereen. En daar zijn ze aardig in geslaagd. De eenvoud van de BLOX-app is waar ze in uitblinken en zich in onderscheiden. Bitcoin wordt dankzij BLOX opeens een begrip die iedereen kan begrijpen.
Voor de ervaren crypto handelaar of day trader is BLOX niet geschikt. Het minimalistische dashboard op de app is ideaal voor beginners of 'hodlers', maar tegelijkertijd zijn er veel mensen gebaat bij geavanceerdere opties. 
Feit is wel dat deze mooie Nederlandse exchange de beloftes op de website waarmaakt. Het team doet er alles aan om klanten tevreden te houden en ze zijn over het algemeen goed bereikbaar. Bovendien zijn ze constant bezig hun aanbod in cryptocurrencies uit te breiden en staan ze open voor suggesties.
Wil je de gecompliceerde wereld van crypto op simpele wijze ontdekken? Dan ben je bij BLOX echt aan het juiste adres. Via de website kun je vandaag nog beginnen.
Download nu de BLOX app en krijg je eerste €10 aan crypto van Crypto Insiders!