BTC Direct is een Nederlands crypto platform, opgericht in 2013. Ten tijde van de oprichting was het kopen van bitcoin en andere cryptocurrencies een heel moeizaam proces. Daar kwam de missie van BTC Direct uit voort; cryptocurrency voor iedereen veilig en toegankelijk maken. In het kort draait het bij BTC Direct om 3 key words; eenvoudig, veilig en instant. 
BTC Direct is alleen te gebruiken via hun website, een mobiele app hebben ze niet. BLOX is echter wel een mobiele crypto app en onderdeel van BTC Direct.

In welke landen is BTC Direct beschikbaar?
BTC Direct is op moment van schrijven in alle SEPA landen beschikbaar. Onder SEPA vallen alle EU-lidstaten plus Noorwegen, IJsland, Liechtenstein, Zwitserland, Monaco en San Marino. SEPA (Single Euro Payments Area) is een initiatief van de Europese Unie en een aantal Europese banken. Het moet betalingsverkeer binnen Europa vereenvoudigen. Wellicht dat de diensten van BTC Direct in de toekomst ook nog in andere landen beschikbaar zullen zijn.
Een account aanmaken op BTC Direct
Een account aanmaken op BTC Direct stelt niet veel voor. Je laat je gegevens achter, zoals in de afbeelding hieronder staat aangegeven, en verzint een wachtwoord. Daarna volgen nog 3 vragen alvorens het account is aangemaakt. De vragen gaan over je ervaring met beleggen, hoeveel je maandelijks wilt gaan beleggen en over de bron van je stortingen (inkomen, spaargeld, lening etc.). Om vervolgens toegang tot alle functies van BTC Direct te krijgen dienen gebruikers zich wel te identificeren, met een paspoort, ID kaart of rijbewijs. Tot die tijd kun je ook al bitcoin (BTC) of andere cryptocurrencies kopen, maar wel maar tot €250.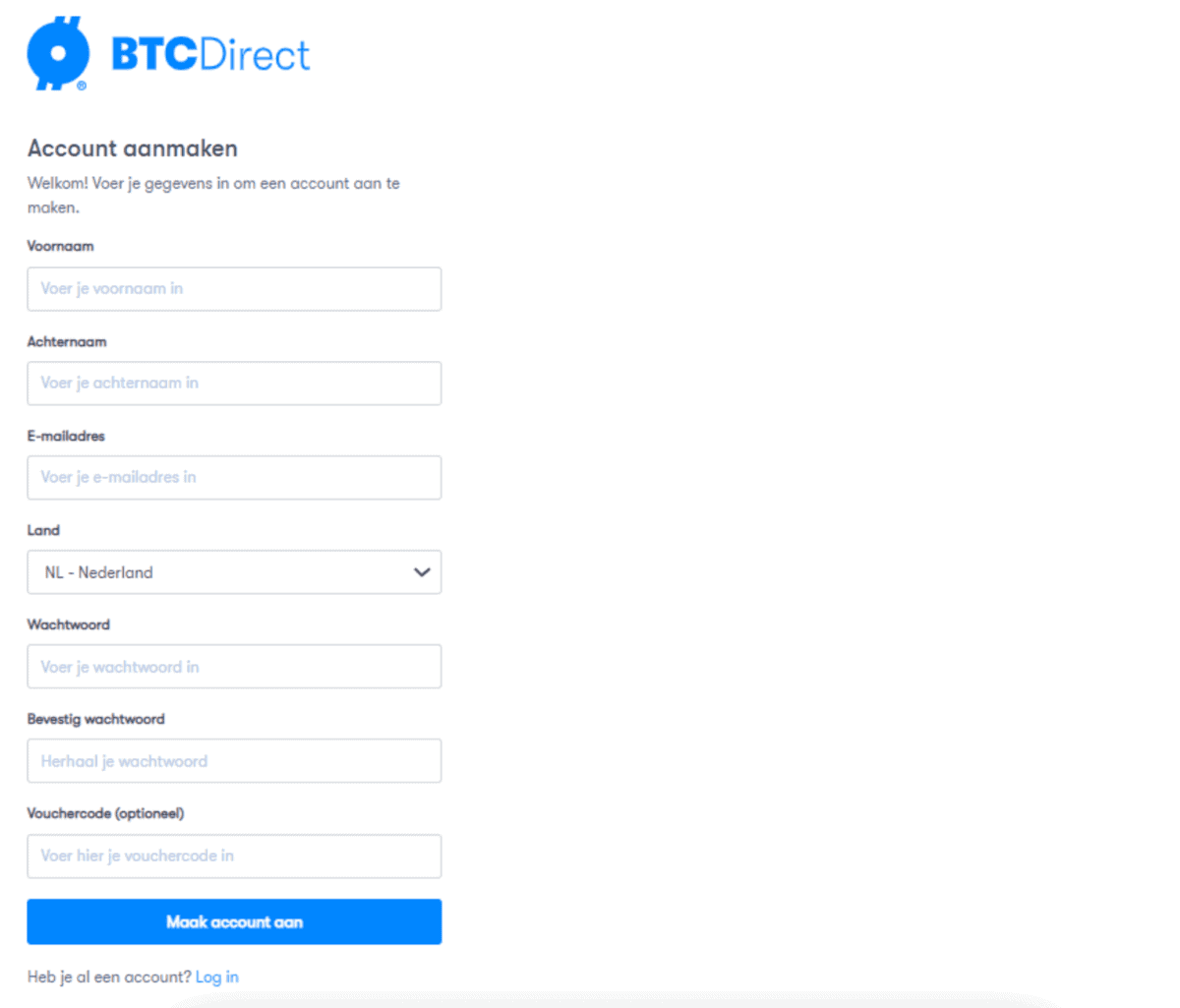 Crypto kopen en verkopen op BTC Direct
Crypto kopen en verkopen op BTC Direct is, zoals bij het crypto platform past behoorlijk eenvoudig. Je kiest een bedrag wat je wilt storten naar je portfolio, met een van de betaalmethodes. Nu kun je bij 'koersen' een van de 37 beschikbare cryptocurrencies selecteren en kopen.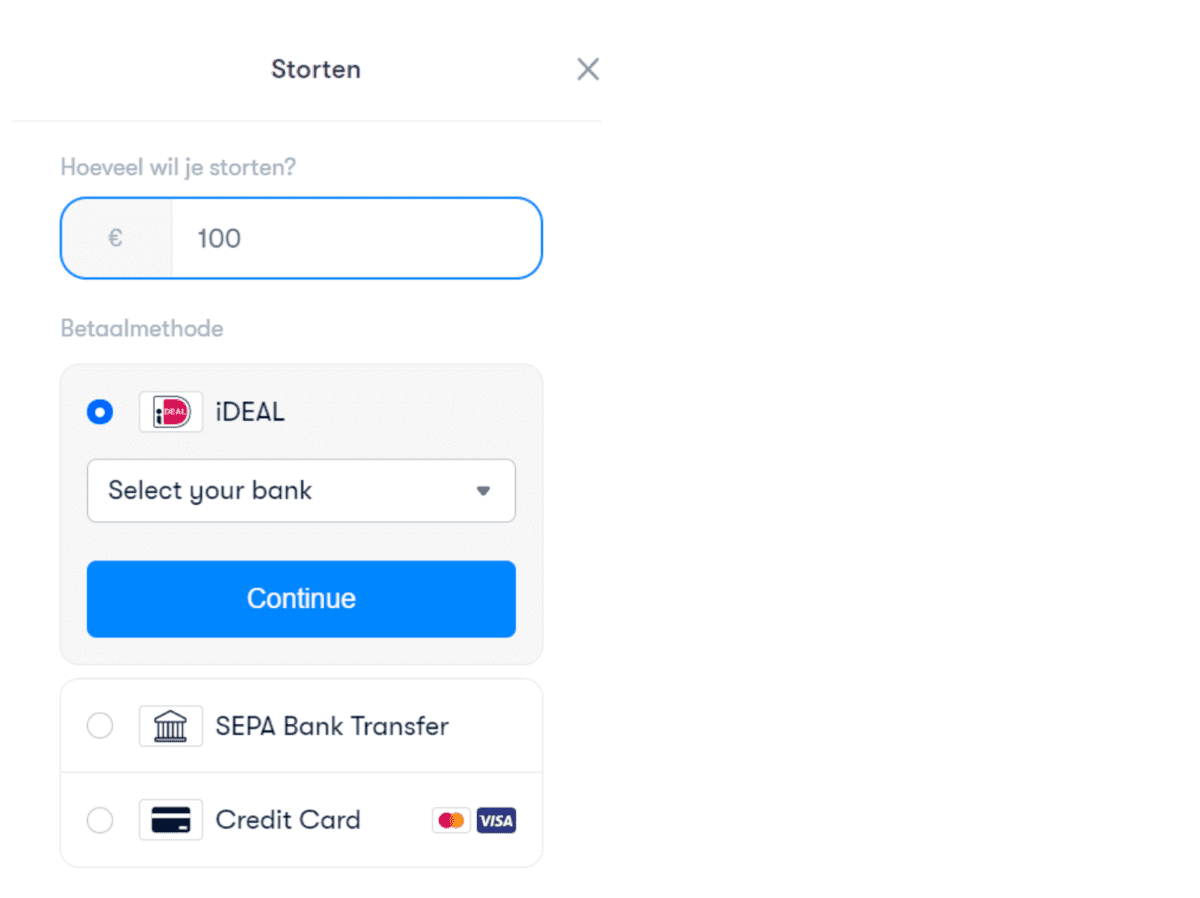 Als je crypto wilt kopen (of verkopen) op BTC Direct kom je, na het selecteren van een cryptocurrency, op een overzicht uit zoals hieronder is weergegeven. De key words eenvoudig, veilig en instant komen hier duidelijk naar voren. Het plaatsen van een order is heel simpel en veilig en je zult het vrijwel meteen terugvinden in je portfolio. Termen als limit order en stop loss bestaan niet bij BTC Direct, om de eenvoud nog maar eens te benadrukken.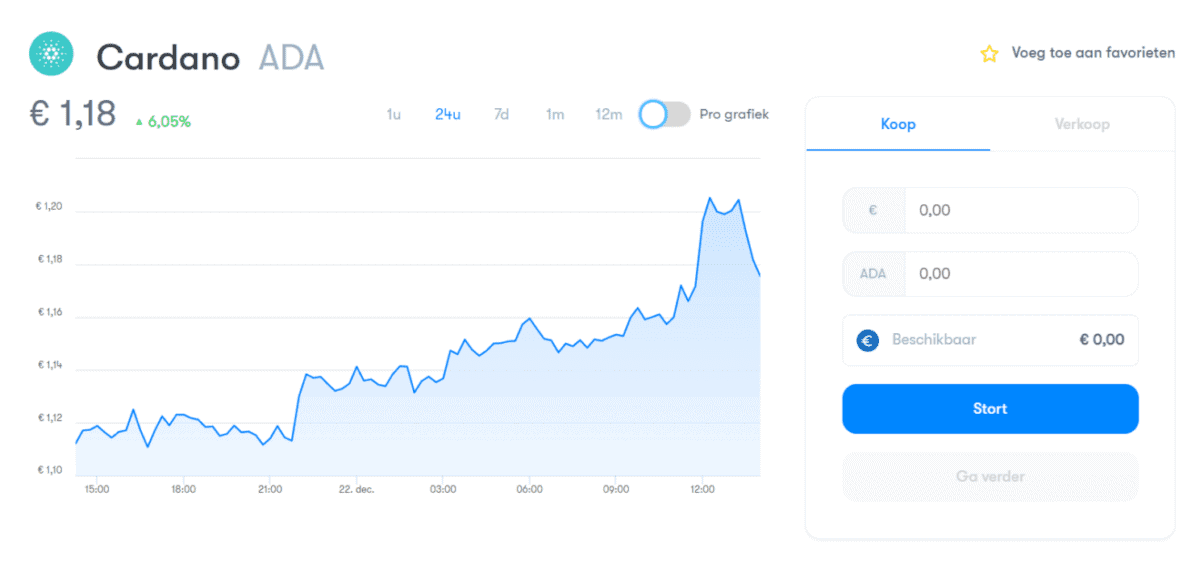 Privacy en veiligheid bij BTC Direct
Privacy en veiligheid zijn bij BTC Direct belangrijke begrippen. Sinds 25 mei 2018 zijn de bepalingen van de Algemene Verordening Gegevensbescherming (AVG) van toepassing. Deze Europese verordening is in het leven geroepen om de privacywetgeving flink te moderniseren. BTC Direct handelt dus via de AVG en gaat volgens die richtlijnen om met persoonsgegevens. 
Wanneer je crypto wilt kopen of verkopen is het zaak dat je je kunt identificeren. Dit is onderdeel van hun 'know your customer' beleid. Persoonsgegevens zullen nooit verwerkt worden zonder toestemming van de gebruiker, maar identificeren is wel essentieel in het voorkomen van fraude en witwassen.
Daarnaast is BTC Direct officieel geregistreerd bij de Nederlandse Bank (DNB). Ze zijn toegevoegd aan het cryptoregister van DNB, wat toezicht houdt op ondere wistwassen en het financiëren van terrorisme.
Support en bereikbaarheid
Laten we vooropstellen dat het handelen via BTC Direct 24/7 mogelijk is. Bij vragen kun je terecht bij het supportteam, maar dit moet wel binnen de openingstijden zijn. Die openingstijden zijn:
Op werkdagen: 09:00 – 22:00

Weekenden: 10:00 – 18:00

Feestdagen: 10:00 – 18:00
BTC Direct is bereikbaar per e-mail, via een aanvraagformulier, of via de chatfunctie op de website. Op die manier kun je in live contact komen met een van de medewerkers van het supportteam.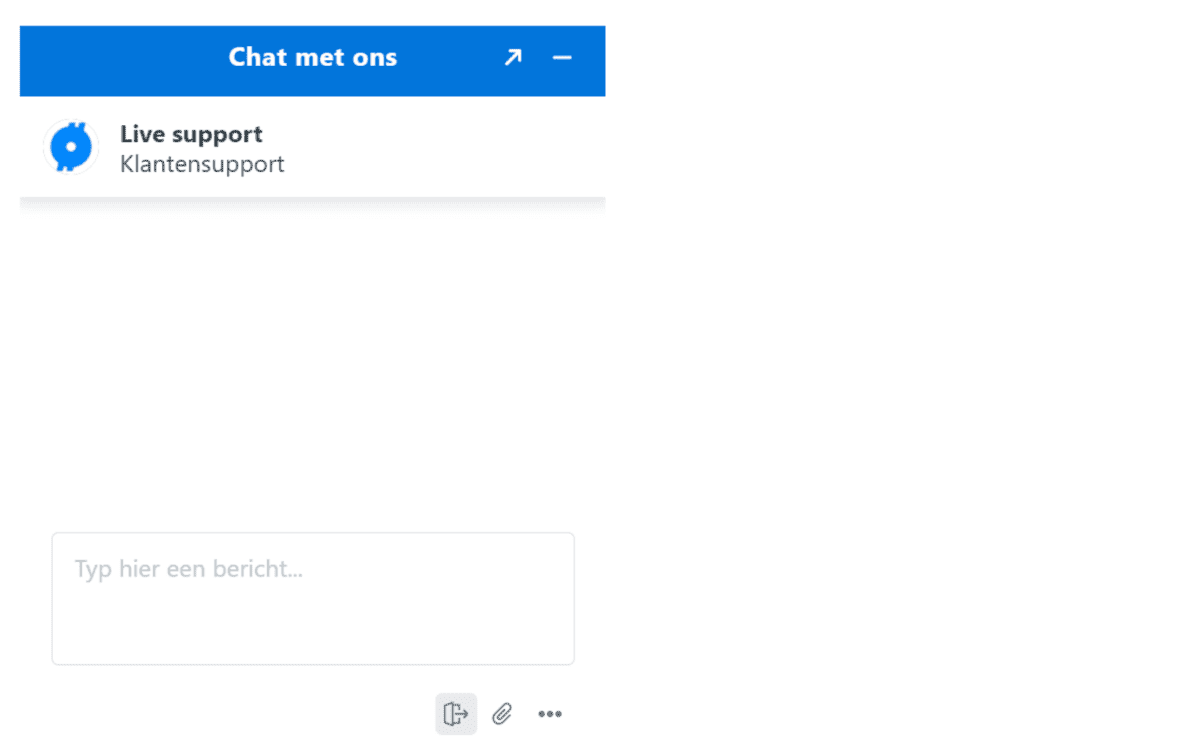 Beoordeling BTC Direct
Om een duidelijk beeld te krijgen van de beoordeling van BTC Direct is er gekeken naar de reviews op recensiewebsite Trustpilot. Op moment van schrijven waren er bijna 10.000 beoordelingen, met een gemiddelde score van 4,3 van de 5,0 sterren. De beoordeling van BTC Direct valt hiermee onder de categorie 'uitstekend'.
Mensen zijn overwegend positief over de snelheid en service onder andere. Als er toch klachten zijn reageert BTC Direct daar op, om de problemen zo snel mogelijk te verhelpen.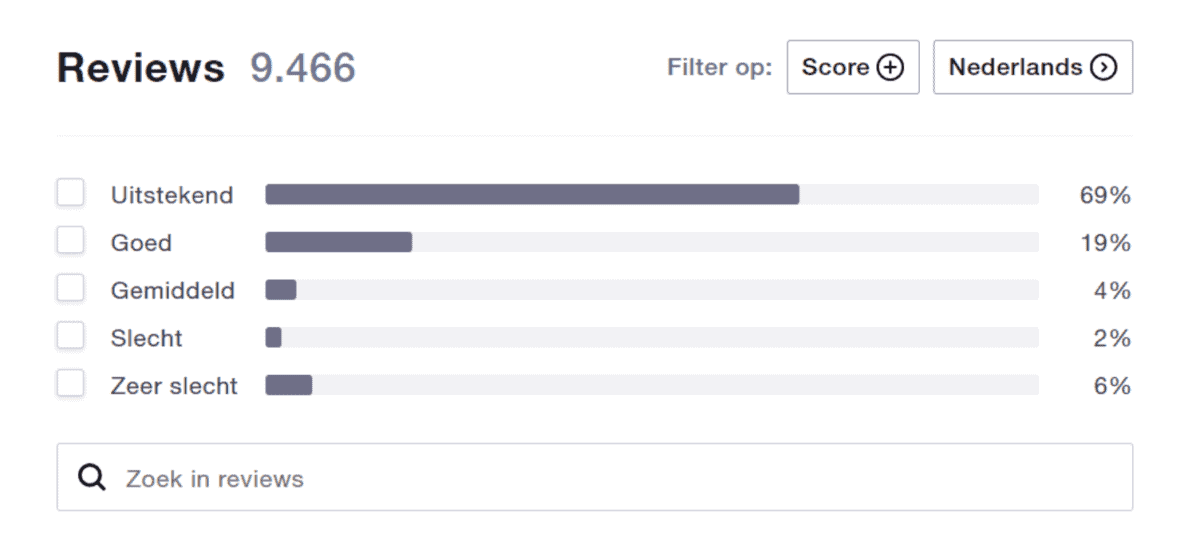 Conclusie
Crypotcurrency veilig en toegankelijk maken voor iedereen is de missie van BTC Direct. En dat is ze aardig gelukt. Dankzij BTC Direct is de soms intimiderende wereld van crypto en bitcoin opeens een stuk eenvoudiger geworden voor veel mensen. Het handelen van crypto is met BTC Direct eenvoudig, snel en dus veilig.
De eenvoud van BTC Direct is terug te zien op de website, op de dashboards en bij het aanbod. Om die reden is het crypto platform met name aantrekkelijk voor beginners of hodlers. Voor day traders of mensen die simpelweg een groter aanbod willen wat betreft cryptocurrencies of opties is het aan te raden om op zoek te gaan naar een andere exchange.
BTC Direct doet echter wel gewoon wat het belooft. Ze hebben een mooi team en zijn goed bereikbaar voor vragen of klachten. Ze staan open voor suggesties en voorzien gebruikers bovendien van een uitgebreide kennisbank en dagelijks nieuws.
Geïnteresseerd in BTC Direct? Lees dan ook de BTC Direct exchange pagina op Crypto Insiders