KuCoin is een welbekende crypto exchange gevestigd in de Seychellen. De exchange werd in 2017 opgericht en biedt inmiddels al enkele jaren aan gebruikers de mogelijkheid om te handelen en te investeren in vele honderden verschillende cryptocurrencies. Met een grote variëteit aan functionaliteiten en aantrekkelijke handelskosten is KuCoin voor menig crypto investeerder een overweging waard.
KuCoin biedt gebruikers spot trading, margin trading, P2P fiat trading, Futures trading, Staking, leningsdiensten en meer. Het handelsplatform heeft meer dan 10 miljoen gebruikers, verspreid over meer dan 200 landen en wordt veelal gezien als een van de beste exchanges ter wereld. Meld je aan nu aan op KuCoin en ontvang tot 500 USDT aan welkomstbonussen. 
Een account aanmaken op KuCoin
Het aanmaken van een nieuw gebruikersaccount is op KuCoin een fluitje van een cent. Nieuwe gebruikers krijgen de optie om te registreren met een e-mailadres of een telefoonnummer in combinatie met een wachtwoord naar keuze. In beide gevallen krijgen nieuwe gebruikers een verificatiecode toegestuurd en zodra deze is ingevuld is het aanmaken van het account eigenlijk al voltooid. Een kind kan de was doen.
Wel is het belangrijk om op te merken dat KuCoin zogeheten Know Your Customer (KYC) eisen hanteert. Dat betekent dat gebruikers gevraagd worden om aanvullende informatie ter identificatie aan te leveren. Hoewel dit op KuCoin niet verplicht is om direct te beginnen met handelen of investeren zijn de opties voor gebruikers zonder voltooide KYC een stuk beperkter.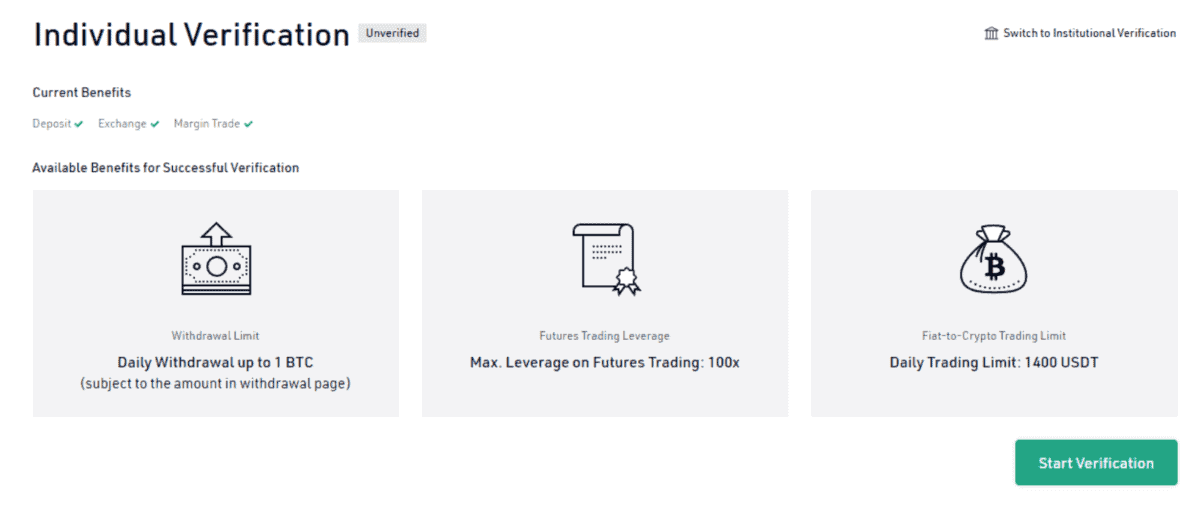 Uiteraard biedt KuCoin ook de mogelijkheid om een account nog beter te beveiligen door bijvoorbeeld de Google two-factor authentication (2FA) toe te voegen. 
KuCoin handelsplatform
Een crypto exchange valt of staat met het daadwerkelijke handelsplatform. KuCoin doet eigenlijk op dit gebied totaal niet onder voor de concurrentie. Het platform is bijzonder uitgebreid, maar door de enorme hoeveelheid aan ingewikkelde tools en functies kan het voor beginners in het begin wellicht wat overweldigend zijn. Voor gevorderde handelaren zijn deze functies uitermate geschikt om de gebruikerservaring precies af te stemmen op de persoonlijke voorkeur.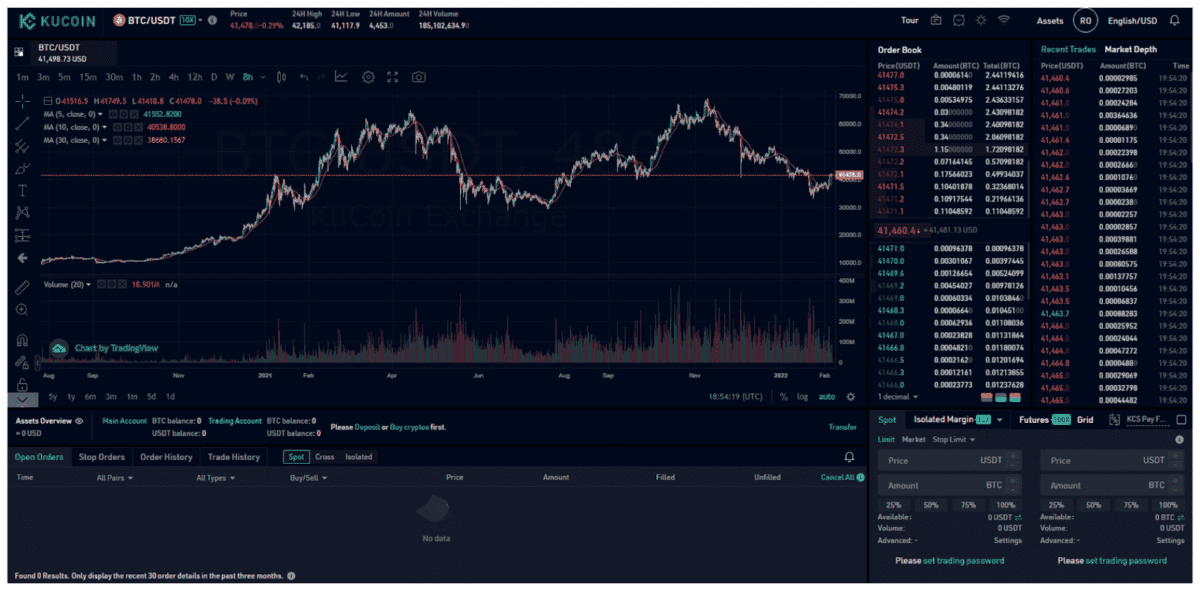 Het kopen en verkopen van cryptocurrencies is op KuCoin kinderspel. Het kan voor nieuwe gebruikers even zoeken zijn naar de juiste knoppen, maar al gauw wordt duidelijk dat alle benodigdheden geordend aanwezig zijn. 
KuCoin biedt ook een mobiele app om onderweg te kunnen handelen. De app biedt eigenlijk dezelfde functionaliteiten als de desktop versie en is gratis te downloaden voor zowel Android als iOS smartphones. 
Leverage trading
KuCoin biedt naast spot trading ook het handelen met leverage, of een hefboom, aan van maximaal een 100x. Zowel Futures trading als Margin trading wordt op KuCoin aangeboden waarmee gebruikers met relatief weinig geld behoorlijke rendementen kunnen behalen.
Belangrijk om te realiseren is dat leverage trading niet is weggelegd voor beginners. De kans bestaat dat er enorme winsten geboekt worden, maar het tegenovergestelde geldt ook. Handelaren kunnen plotsklaps hun volledige inzet kwijtraken.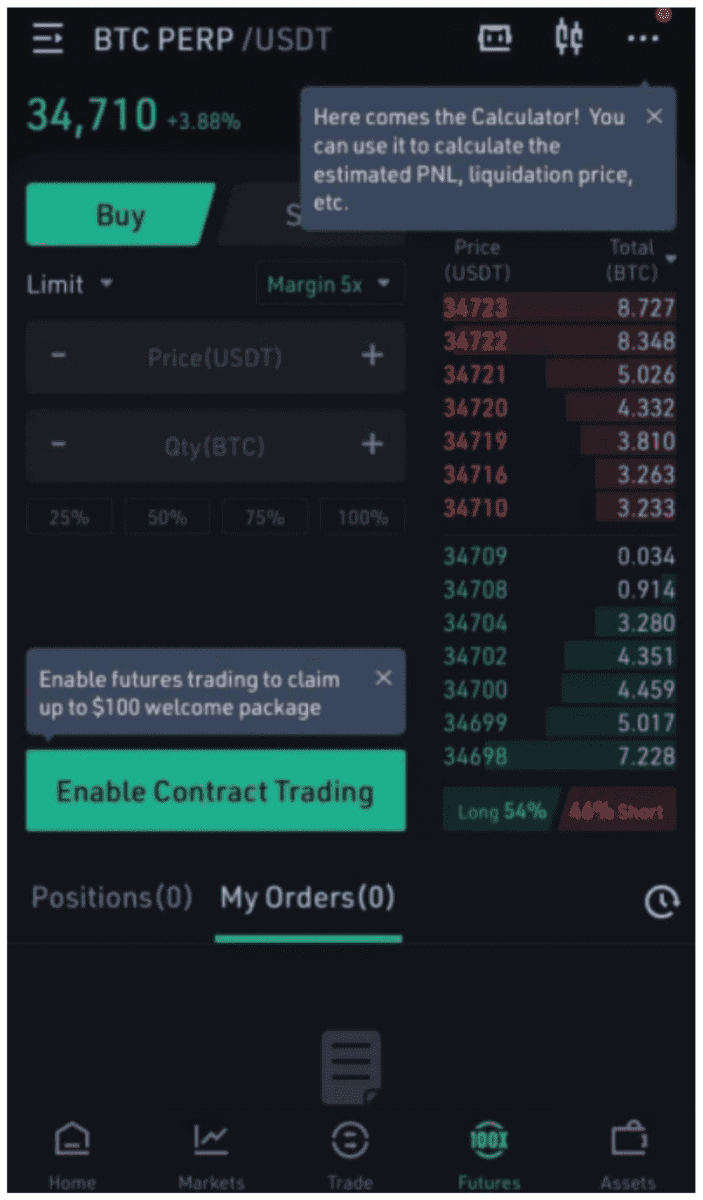 Voor gelouterde handelaren kan het echter een groot voordeel zijn dat KuCoin ook leverage trading aanbiedt. KuCoin is op deze manier namelijk een exchange waar vrijwel alle soorten investeren en handelen met cryptocurrencies wordt aangeboden. Een soort alles-in-1 platform dus. Om gebruik te maken van Margin en Futures trading op KuCoin moeten gebruikers wel eerst voldoen aan de aanvullende identificatie.
Passief inkomen
KuCoin biedt naast het handelen en investeren in cryptocurrencies ook de mogelijkheid om passief inkomen te vergaren. KuCoin Lending zorgt ervoor dat gebruikers 90 verschillende cryptocurrencies kunnen uitlenen. In ruil voor de moeite krijgen zij hiervoor een leuke rente.
Ook door middel van het bezitten van de KuCoin Token (KCS) krijgen gebruikers periodiek een leuke beloning. Elke gebruiker met meer dan 6 KCS kan genieten van dit passief inkomen door een deel van de gemaakte transactiekosten op het platform uitgekeerd te krijgen. 
KuCoin handelskosten
Een van de belangrijkste redenen voor de populariteit van KuCoin als crypto exchange zijn de handelskosten. Deze zijn namelijk in vergelijking met de concurrentie erg laag. KuCoin hanteert een vast percentage van slechts 0,1% per gemaakte transactie.
Deze kosten kunnen zelfs nog lager uitvallen als gebruikers handelen met de KuCoin Token (KCS). Naarmate gebruikers meer KCS bezitten of een hoger handelsvolume behalen worden de transactiekosten lager. Iemand met een maandelijks volume van 2000 BTC kan zelfs genieten van een 0% maker fee en een 0,07% taker fee.
Deze kosten zijn voorspelbaar, transparant en zelfs beginners kunnen begrijpen hoe dit simpele systeem werkt. Al met al zijn de handelskosten één van de sterkste punten van KuCoin als crypto exchange.
Ook de withdrawal fees zijn enorm laag. Elke kaar als een gebruiker bitcoin (BTC) opneemt dan wordt slechts 0,0004 BTC aan transactiekosten betaald. Dit is in vergelijking met vrijwel elke andere crypto exchange erg laag.
KuCoin cryptocurrency aanbod
Nog een sterk punt van KuCoin is het aanbod van cryptocurrencies. KuCoin heeft een enorm aanbod van vele honderden cryptocurrencies. Uiteraard zijn de beroemde cryptomunten zoals bitcoin en ethereum (ETH) te vinden op het platform, maar ook aardig onbekende coins met weinig media aandacht zijn te vinden op KuCoin. In totaal biedt KuCoin meer dan 1100 verschillende trading pairs. Voor ieder wat wils dus.
Het team van KuCoin staat er ook om bekend om snel te reageren op feedback van de gebruikers. Mocht er een grote vraag zijn naar een bepaald crypto project, dan is de kans groot dat het team van KuCoin ook stappen neemt om dit project te noteren op de exchange.
Een volledige lijst van alle ondersteunde cryptocurrencies is te vinden op deze pagina. 
SEPA betalingen
Sinds kort is het bij de KuCoin exchange ook mogelijk om met de zogeheten SEPA-betalingen geld op het gebruikersaccount te storten. Voor veel Europese crypto investeerders is dit verreweg de gemakkelijkste manier om geld van en naar exchanges te sturen. SEPA betalingen kunnen gedaan worden door gebruikers uit alle 36 landen die aangesloten zijn bij de SEPA.

Voor het storten van euro's op KuCoin door middel van een SEPA betaling hoeven gebruikers geen transactiekosten te betalen. Wederom laat dit zien dat KuCoin in vergelijking met de concurrentie erg aantrekkelijk is op het gebied van handelskosten.
Betrouwbaarheid en veiligheid
Bij het kiezen van een crypto exchange is het enorm belangrijk om zeker te weten dat het platform veilig te gebruiken is en dat het team achter de exchange betrouwbaar is. Gebruikers hoeven over het algemeen niet bang te zijn dat ze worden opgelicht, maar KuCoin valt niet onder specifieke regulatie van een overheid ergens op de wereld. Over het algemeen wordt KuCoin daarom als iets minder veilig gezien dan andere grote crypto exchanges.
KuCoin gaat wel tot het uiterste om de geldmiddelen van gebruikers veilig te stellen. Het zorgt er zelfs voor dat een groot deel van de crypto activa van gebruikers in cold storage, ofwel losgekoppeld van het internet, worden opgeslagen. De rest wordt bewaard in hot wallets zodat opnames en transacties vrijwel direct kunnen plaatsvinden.
Helaas werd in 2020 KuCoin toch het slachtoffer van een grootschalige hack. Destijds werd er voor $280 miljoen aan cryptocurrencies gestolen. Gelukkig was KuCoin uitstekend tegen een dergelijke diefstal verzekerd bij Lockton en was het team van KuCoin volledig transparant in de mededeling over dit incident. Desalniettemin is er een behoorlijk som buit gemaakt door kwaadwillende hackers en dit is natuurlijk niet goed voor de reputatie van een crypto exchange.
Conclusie
KuCoin is een crypto exchange die qua functies niet onder doet voor de concurrentie. Gebruikers kunnen op elke denkbare manier investeren en handelen in een gigantische hoeveelheid verschillende cryptocurrencies. Het handelsplatform is van alle gemakken voorzien en zelfs leverage traders kunnen aan hun trekken komen op KuCoin.
De handelskosten zijn enorm laag en dit is wellicht het sterkste punt van KuCoin. Dit is waar de exchange zich echt onderscheid van de andere gevestigde crypto platformen. In het kort is het begrijpelijk waarom KuCoin is uitgegroeid tot een van de grootste crypto exchanges ter wereld. 
Meld je aan nu aan op KuCoin en ontvang tot 500 USDT aan welkomstbonussen. 
Helaas is door het gebrek aan regulatie het gebruik van de exchange wel minder veilig te noemen dan van veel andere exchanges. Hoewel KuCoin er alles aan doet om geldmiddelen van gebruikers veilig te bewaren blijkt dat in het verleden dit niet altijd is gelukt.