Bitcoin (BTC) is al geruime tijd de meest dominante crypto valuta in de industrie en is moeilijk van haar troon te stoten. Ondertussen zijn sinds het ontstaan van Bitcoin vele altcoins op de markt gekomen die (ook) de ambitie hebben om een dominante crypto valuta te worden op de markt. Ethereum (ETH) heeft zich al geruime tijd bewezen en is momenteel de tweede grootste crypto valuta. Echter, wellicht is het mogelijk dat in een volgende bull cycle een andere altcoin Ethereum van haar troon stoot.
Op dit moment zijn er meerdere projecten die ambiëren om de plek van Ethereum als dominante altcoin over te nemen. Projecten zoals Solana (SOL) en Cardano (ADA) worden op dit moment gezien als de twee grootste kanshebbers om de altcoin markt in de toekomst te domineren. Echter, om voorbij Ethereum te streven moeten we veel adoptie en ontwikkeling zien op netwerken zoals Solana, Cardano of andere altcoins om het investeren in crypto gemakkelijker, begrijpelijker en waardevoller te maken.
Hier valt ons oog op een underdog DeFi ("Decentralized Finance") coin in de crypto markt. Gnox token (GNOX) maakt het investeren in crypto erg makkelijk. Door simpelweg GNOX tokens te bezitten en vast te houden heeft een crypto investeerder direct toegang tot een divers crypto portfolio en passief inkomen. Dit is vergelijkbaar met een Indexfonds of ETF, waarbij het Gnox platform investeert in een groep verschillende crypto zonder dat de investeerder zelf het werk hoeft te doen. Vergelijkbaar met dividend ontvangen alle GNOX token houders passief inkomen over hun investeringen. Gnox noemt dit yield farming as a service. In dit artikel nemen we een verdere kijk in Gnox token.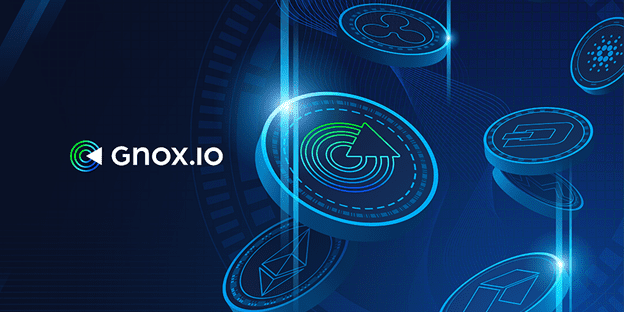 GNOX Token, een uniek project
GNOX token heeft een aantal unieke features ten opzichte van andere crypto projecten. Door deze unieke features wordt GNOX token gezien als een mogelijke concurrent voor de top 10 positie in de crypto markt. Hiervoor is massa-adoptie nodig. Hier bespreken we kort waarom dat mogelijk is.
Ten eerste heeft Gnox een tool ontwikkeld die gegevens verzamelt over verschillende passieve inkomstenmogelijkheden binnen de crypto-industrie. De passieve inkomsten worden gegenereerd uit verschillende blockchains en DeFi-platforms. De gegevens worden geanalyseerd door een team van professionele DeFi-investeerders/analisten die werken in het team van Gnox. Alle GNOX houders kunnen vervolgens stemmen op de lijst met potentiële investeringen die zijn voorgelegd door het analistenteam van Gnox. De winst wordt vervolgens eenmaal per maand herverdeeld over alle GNOX houders. Dit gebeurt via een combinatie van airdrops en token burns.
Een andere unieke feature is een zogenaamde doorverkoop royalty. Dit betekent dat elke keer als iemand GNOX op de open markt verkoopt, ze 10% van hun GNOX tokens moeten uitbetalen aan een gemeenschappelijke schatkist. De gemeenschappelijke schatkist wordt vervolgens weer hergebruikt voor investeringen waarvan de winst als passief inkomen wordt verdeeld over alle GNOX houders. Hoewel dergelijke doorverkoop royalties gebruikelijk zijn in de NFT-wereld is deze feature uniek voor DeFi-tokens zoals GNOX. Het maakt verder niet uit of we ons in een bull– of bear-markt bevinden, elke keer als iemand zijn tokens verkoopt groeit de gemeenschappelijke schatkist en daarmee het passief inkomen. Hierdoor wordt lange termijn investeren van GNOX tokens aangemoedigd.
Een andere innovatie is de manier waarop de GNOX-voorverkoop wordt uitgevoerd. Tijdens de ICO worden maandelijks GNOX tokens "geburned". Dit zorgt ervoor dat de eerste investeerders een mooie winst kunnen zien voordat het platform half augustus wordt gelanceerd. De eerste investeerders hebben ondertussen de waarde van hun investering al met meer dan 60% zien stijgen.
Aan het einde van de ICO (token lancering) worden alle onverkochte tokens verbrand en worden er nooit extra tokens uitgegeven. Dit kan positieve invloed hebben op de koers van de GNOX token en zorgt tegelijkertijd voor een eerlijker verloop van de ICO.
Al deze functies laten zien hoe GNOX token de juiste features heeft voor potentiële massale-adoptie. Wellicht zien we een kans voor GNOX om in korte tijd door te breken tot de crypto top 10. U kunt meer te weten komen over het Gnox-platform en zijn innovatieve nieuwe DeFi-token en deelnemen aan de voorverkoop op de Gnox.io-website.
Meer informatie over GNOX is te vinden hier:
Presale: https://presale.gnox.io/register
Website: https://gnox.io
Telegram: https://t.me/gnoxfinancial
Discord: https://discord.com/invite/mnWbweQRJB
Twitter: https://twitter.com/gnox_io
Instagram: https://www.instagram.com/gnox.io/
---
Dit is een featured artikel. Crypto Insiders is niet verantwoordelijk voor de koers of resultaten van de besproken producten/crypto's. Beleggen brengt risico's met zich mee. Onze analisten zijn geen financieel adviseurs. Raadpleeg altijd een adviseur bij het maken van financiële beslissingen. De informatie en tips die op deze website worden verstrekt dienen alleen voor educatieve doeleinden.