De market cap van de crypto-markt is de afgelopen 24 uur met $11 miljard gestegen. DIt werd veroorzaakt door een korter-termijnmomentum van Bitcoin, Ethereum en Bitcoin Cash.
Nog steeds een laag volume van Ethereum en Bitcoin
Gisteren werd in de markt een 'downtrend' verwacht wegens het lage volume van digitale activa zoals Bitcoin, Ethereum en Bitcoin Cash. Vandaag 8 juli is het dagelijks volume van Tether (USDT), een 'stablecoin' die wordt afgedekt door de Amerikaanse dollar, twee keer zo groot als dat van Ethereum.
Ondanks de lage volumes hebben de grote cryptocurrencies dermate momentum weten te bereiken dat de markt zich enigszins kon herstellen met 6,5%.
Zoals te zien is in de 1-dags grafiek van Bitcoin is de waarde van Bitcoin stabiel tussen de $6.300 en $6.800 sinds 30 juni en lijkt Bitcoin te worstelen om een grote koersverandering te initiëren. De stabiliteit die de cryptocurrency-markt in de afgelopen negen dagen heeft gezien is vergelijkbaar met de periode van begin juni, waarin de crypto-markt relatief stabiel bleef in de regio van $7.300 tot $7.800, voordat er een massale verkoop werd geregistreerd waardoor de prijs van Bitcoin hoog in de $5.000-regio eindigde.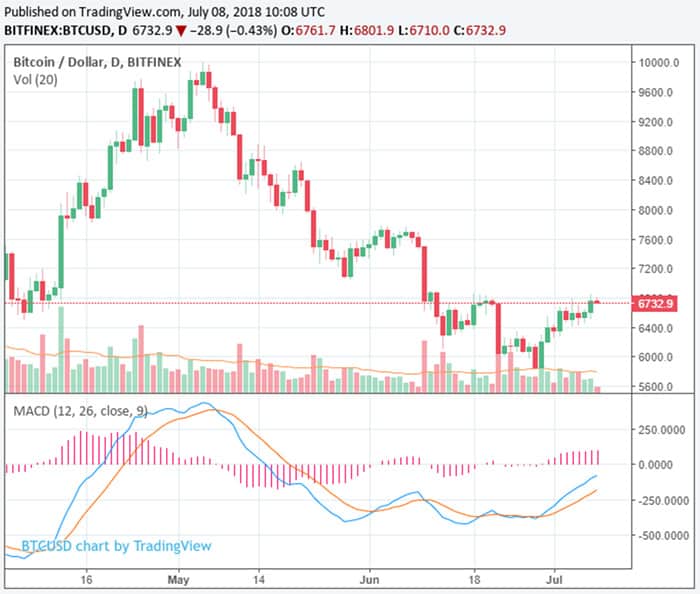 De huidige Bitcoin markt blijft identiek aan die van eind juni. Als Bitcoin een plotselinge groei in volume doormaakt en de beurswaarde door de $7.000 beweegt, is een kortetermijn-rally een mogelijkheid.
Als Bitcoin er niet in slaagt om het $7.000-niveau herhaaldelijk te testen, is een kleine correctie waarschijnlijker dan een kortetermijn-rally in de komende dagen. Het is op dit moment waarschijnlijker dat de koers van Bitcoin zich beweegt naar de mid-$6.000 regio dan dat het door het $7.000-niveau breekt. Dit komt door het lage volume en gebrek aan momentum. Technisch gezien is een optimistische 'take home message' van de afgelopen correctie dat de 'Relative Strength Index' (RSI) neutraal is met een waarde van 53.
Eén beslissing zou de markt kunnen keren
De crypto-markt heeft sinds 29 juni geen grote bewegingen meer meegemaakt en vanwege de lage volumes van digitale activa hebben we te maken met een 'bear-cycle' sinds december. In een periode als deze zou één enkele belangrijke beslissing omtrent regulering de bear-cycle kunnen omkeren en een sterke rally kunnen starten.
Bovenstaande beslissing zou kunnen komen in de vorm van goedkeuring van een 'Exchange-Traded Fund' (ETF) of door de invoering van gunstige regulatie omtrent crypto en blockchain door de 'Securities Exchange and Commission' (SEC).