Polygon (MATIC) is met meer dan 40% gedaald als we kijken naar de all-time high van de cryptocurrency. Deze piek werd op 27 december 2021 gehaald en staat vooralsnog op $2,92. Maar als we naar een bepaalde technische analyse kijken dan zou de koers zelfs nog wel verder weg kunnen zakken.  
De koers laat een bearish patroon zien.
De recente prijsactie van MATIC heeft ervoor gezorgd dat de coin van erg bullish naar bearish is gegaan. Deze prijsactie was de oorzaak van een cup and handle patroon, een klassiek technisch patroon. Dit patroon is te zien in onderstaande grafiek.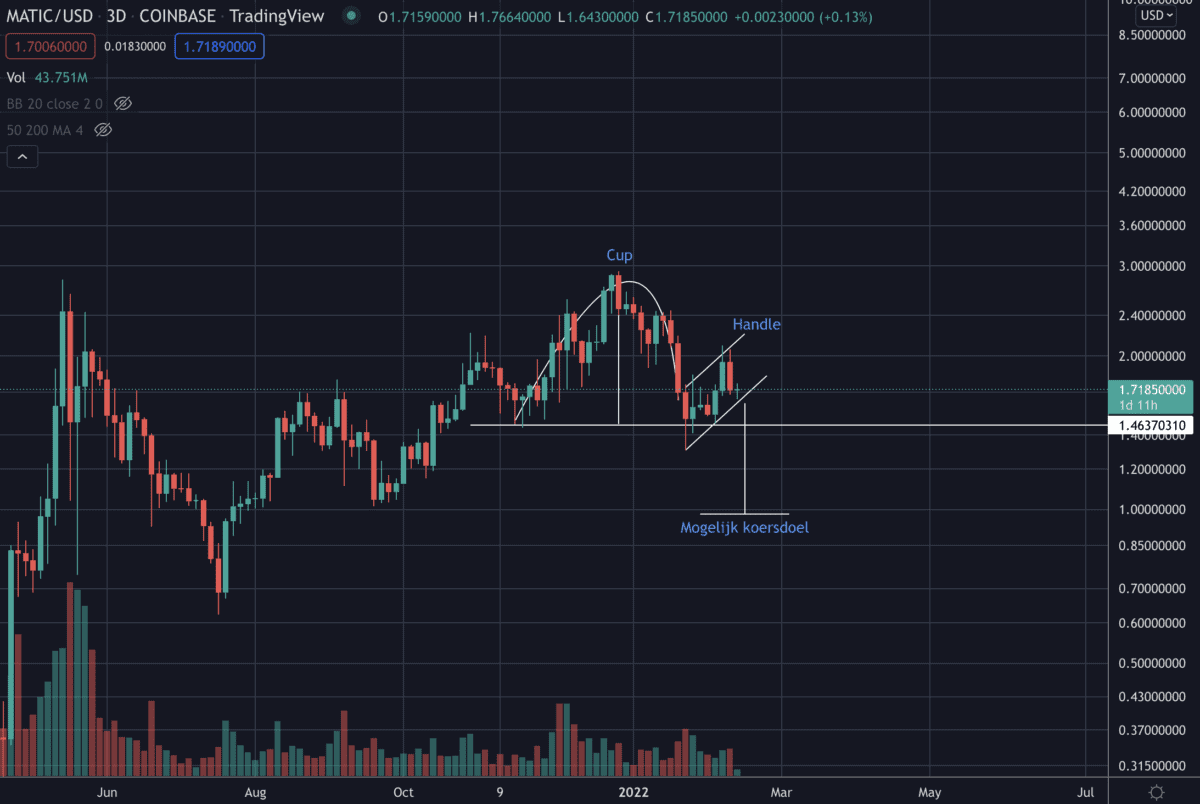 Als het patroon verloopt zoals de theorie voorschrijft komt een omgekeerde cup and handle patroon voordat er neerwaartse prijsactie komt. Bij dit patroon is ook een koersdoel te tekenen. Dit koersdoel kan bepaald worden door de lengte tussen de piek van de cup te meten en deze naast de neklijn van het patroon te leggen. Zo weten we ongeveer waar de koers kan eindigen.
Daarom kunnen we stellen dat wanneer het patroon daadwerkelijke aan de onderkant zal uitbreken dat een eerste koersdoel rond de $1 komt te liggen. 
Een bullish scenario
MATIC's bearish patroon was gevormd door de correctie die we een paar weken geleden over de gehele markt zagen. Waar de topspelers in de markt bitcoin (BTC) en ethereum (ETH) hun waarde hard zagen dalen vielen andere coins zoals polygon mee. Toch hielden een aantal steunniveaus MATIC in leven.
Zoals op de onderstaande grafiek te zien is fungeert de 200-dagen exponential moving average als een lange termijn steunlijn. In de afgelopen maanden bleek dit een niveau waar de koers vaker op of onder kwam maar altijd weer boven schoot. Dit niveau heeft ervoor gezorgd dat de correctie minimale impact had op MATIC.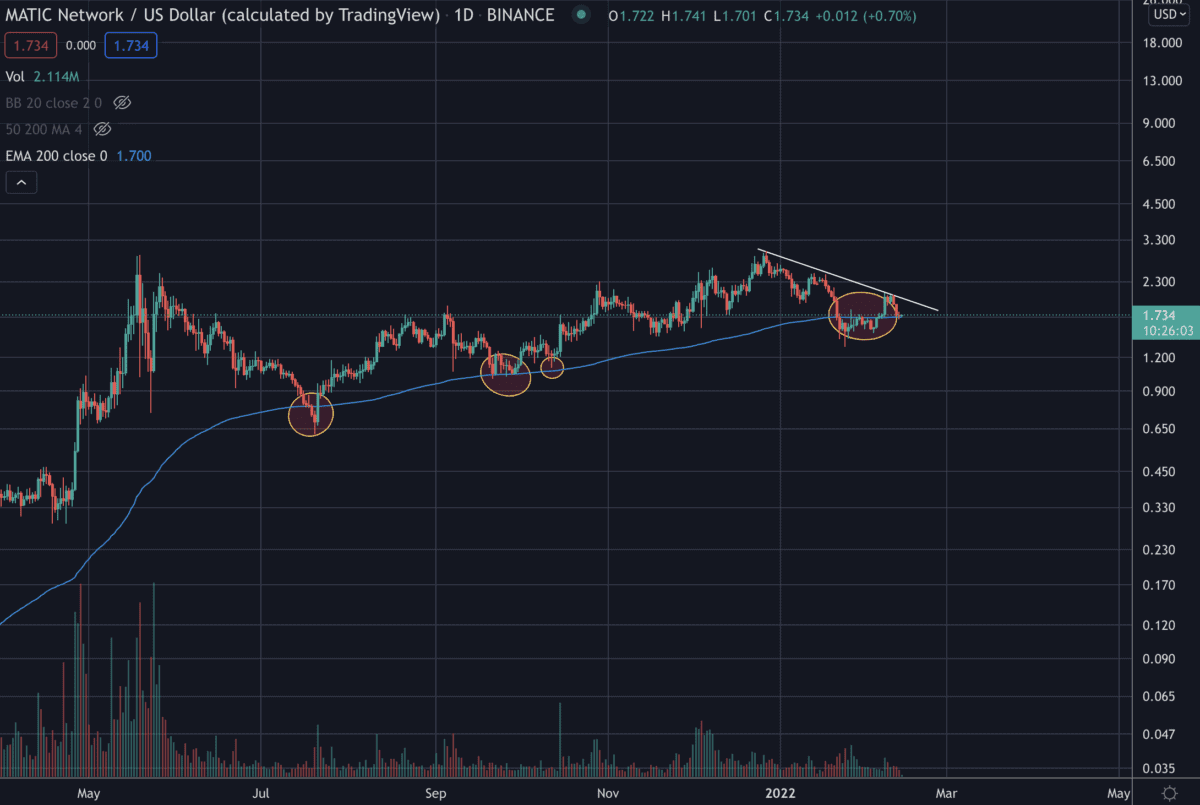 En opnieuw zien we in de afgelopen weken dat de koers van MATIC dit niveau uittest. Echter bij een nieuwe opwaartse beweging zal de koers ditmaal te maken krijgen met een neerwaartse weerstandslijn. Dit niveau zou voor extra moeite kunnen zorgen voor de koers om een opwaartse uitbraak te maken.
Wat kunnen we nog verwachten?
De koers zit nu dus vast tussen een soort symmetrische driehoek wat op papier een neutraal patroon is. Dit in combinatie met een omgekeerde cup and handle patroon lijkt het eerder aannemelijk dat een neerwaartse beweging eraan zit te komen.