Geruchten, je kan er niet omheen. Er doen elke dag wel weer nieuwe geruchten de ronde op de cryptomarkt en op de aandelenmarkt. Vaak blijft het bij geruchten, maar dit is een Monster van een gerucht uit de wereld van aandelen. Wij van AlphaStocks smullen ervan en schreven onderstaand artikel over een mogelijke fusie en daarmee wellicht een hele interessante investeringsmogelijkheid! 
Fusie
Er zijn berichten opgedoken dat Monster Beverage Corporation (NASDAQ: MNST), dat Coca-Cola als grote aandeelhouder heeft, de mogelijkheid wil onderzoeken om te fuseren met Constellation Brands Inc. (NYSE: STZ). Constellation Brands is de fabrikant van populaire biermerken zoals Corona en Modelo en wordt op dit moment gewaardeerd op zo'n $44 miljard, net iets minder dan de $47 miljard waar Monster Beverage op wordt gewaardeerd.
Monster, dat recent is uitgeroepen tot het meest succesvolle aandeel van de afgelopen twintig jaar op de S&P 500, heeft naar verluidt de deal besproken met haar adviseurs. Tot nu toe is er geen indicatie of de deal een volledige of een gedeeltelijke fusie zou omvatten. Analisten hebben er al snel op gewezen dat de twee bedrijven niet echt goed bij elkaar passen. Monster wordt gezien als een topmerk in de energiedranken-sector. Een stap naar alcoholische dranken, zou kunnen leiden tot problemen met het merk en de regelgeving die Monster liever vermijdt.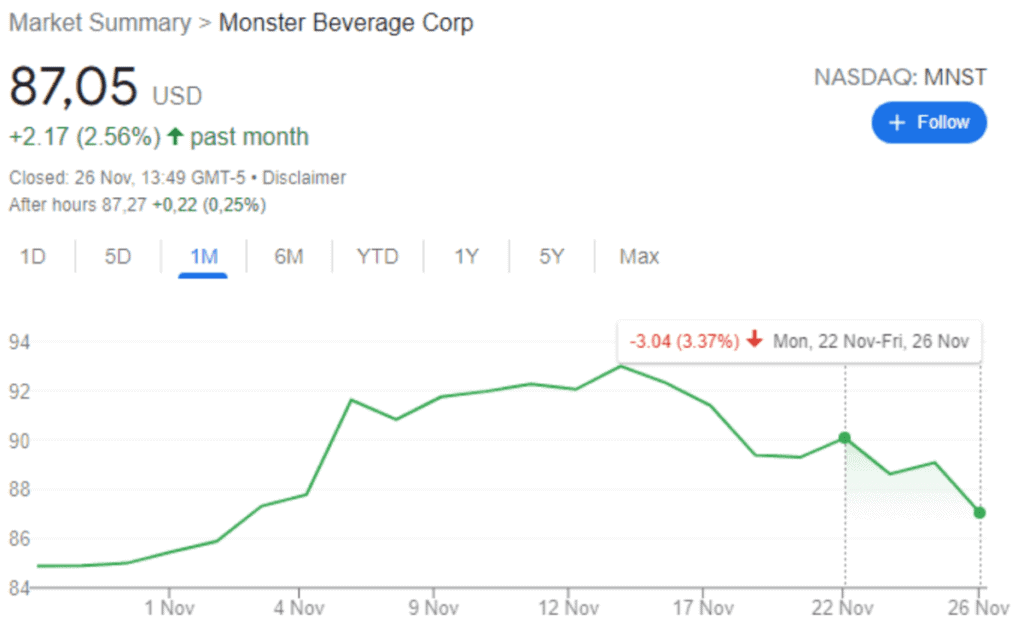 Het is mogelijk dat Monster door deze fusie een stap wil zetten in de markt van met cannabis geïnfuseerde dranken, aangezien Constellation een belang heeft van bijna 40% in het Canadese marihuana bedrijf Canopy Growth. Sinds dit nieuwsbericht is het aandeel Monster Beverage Corp met iets meer dan 3% gedaald.
Investeren in Monster?
Monsters heeft zich over de afgelopen 20 jaar bewezen en is sindsdien met maar liefst 514% gestegen. Monster is een ijzersterk merk en je zou kunnen zeggen dat het bedrijf een moat heeft in de energiedranken sector. Monster Beverage zou deel uit kunnen maken van elke beleggingsportefeuille op de lange termijn.
Monster heeft twee problemen. Het eerst probleem is de groeiende concurrentie. De grootste concurrent is natuurlijk marktleider RedBull. De tweede grote concurrent is Rockstar Energy, een merk van PepsiCo. Het tweede probleem is potentiële groei. De dranken van Monster worden op dit moment al verkocht in meer dan 100 landen. Monster heeft op dit moment een marktaandeel van 39% en om verder te groeien zullen ze marktaandeel van andere grote spelers moeten innemen of hun huidige assortiment uitbreiden. Dit zou het gerucht kunnen verklaren.
Een fusie zoals deze zou precies kunnen zijn wat nodig is om de groei weer op gang te brengen en Monster te lanceren op nieuwe markten. Monster Beverage Corporation is te koop bij verschillende brokers, zoals: DEGIRO, eToro of BuxZero. Eén aandeel van Monster (NASDAQ: MNST) kost op dit moment zo'n $87. Indien dit teveel geld is, kunt u ook fractionele aandelen kopen bij Trading 212.
Dit artikel is geschreven door AlphaStocks. Ben jij benieuwd hoe je jouw beleggingen (crypto, aandelen en edelmetalen) beter kunt tracken? Neem dan een kijkje op AlphaStocks. Naast het feit dat je jouw investeringen gratis kunt tracken, lees je er ook uitgebreide aandelen analyses en diverse blogs!
Bron: https://www.bloomberg.com/news/articles/2021-11-21/monster-beverage-said-to-explore-deal-with-constellation-brands