DOGE is in een korte tijd met maarliefst 30% gestegen. In dit artikel kijken we naar mogelijk redenen waarom deze coin zo hard heeft kunnen stijgen en analyseren we de koers zodat je een weloverwogen beslissing kunt maken om DOGE te kopen of verkopen.
Helaas is het, zoals je vast al gemerkt had, een sombere dag op de cryptocurrencymarkt. Toch zijn er leuke uitschieters, waaronder Dogecoin (DOGE). De koers is in het afgelopen uur met ongeveer 30% gestegen. Dit maakte het verlies goed van de afgelopen zeven dagen. In deze periode staat de coin nu met 4% in de plus. DOGE staat door de stijging nu op de 9e plaats op basis van marktwaarde.
Wat is Dogecoin?
Dogecoin is gemaakt op basis van de 'doge' meme van een aantal jaar terug. De makers van DOGE zagen dit project als een grapje die door de meme meer publiek zou trekken dan Bitcoin (BTC) zou kunnen. Verder is DOGE opgezet als betaalsysteem. 
Waarom stijgt DOGE in waarde?
Doordat er weinig veranderd aan de fundamentals van de coin moet DOGE het hebben van bepaalde gebeurtenissen in de markt. Dit jaar werd de coin ontdekt door Tesla CEO, Elon Musk. Musk vond de coin erg grappig en heeft er in het verleden veel over getweet en gepraat. 
Vandaag was het weer raak. Musk heeft een tweet geplaatst waarin hij aangeeft dat Tesla merch te koop is met DOGE. Doordat de cryptocurrency weer genoemd wordt door de rijkste man ter wereld, stijgt de koers direct. Waar de coin vandaag eerst rond de $0,16 hing, schoot de koers in een paar minuten naar $0,20. Dit is een stijging van bijna 30%. 
Technische analyse
Dit is echter wel het zetje dat DOGE hard nodig had. De koers was vanaf begin november enkel in een neerwaartse trend aan het zakken. Door deze stijging breekt de koers uit het neerwaartse trendkanaal. Nu is het nog maar de vraag of DOGE ook echt deze stijging vol blijft houden of dat we direct terug het kanaal in zakken. Doordat het nieuws verder geen fundamentele veranderingen met zich meebrengt aan het project zelf is dit moeilijk te zeggen.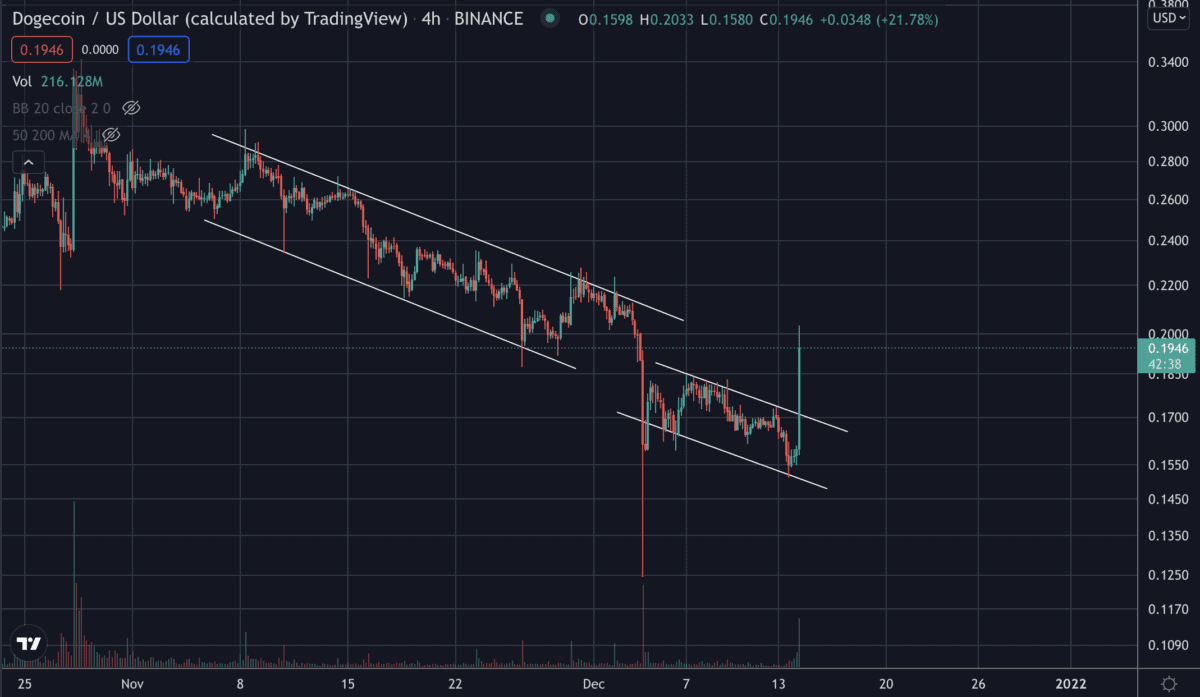 Wat zijn de verwachtingen voor de komende periode?
Het zal leuk zijn om de ontwikkelingen rondom de Tesla merch shop in de gaten te houden. Het zou ervoor kunnen zorgen dat mensen weer hun DOGE gaat verhandelen of uitgeven alleen om het te proberen. Mocht jij meer willen weten over DOGE, in het crypto-insiders Discord kanaal voor leden bespreken we cryptocurrency gerelateerd nieuws en zullen we updates met je blijven delen. Je komt hier eenvoudig in contact met onze analisten en crypto coaches, zij helpen je graag een weloverwogen beslissing te maken.