In de premium omgeving van Crypto Insiders worden dagelijks actuele technische analyses gedeeld door ervaren analisten. De afgelopen periode kwam Polygon (MATIC) hier regelmatig ter sprake. In dit artikel blikken we terug op deze technische analyse en brengen we de recente ontwikkelingen en verwachtingen voor de komende periode in kaart. Mocht je na het lezen van dit artikel nog vragen hebben, kun je deze eenvoudig stellen in onze Discord community. Hier worden onze technische analyses doorgaans 48 uur eerder gedeeld met onze leden.
MATIC is over de afgelopen 24 uur met ongeveer 23% gestegen. Over de afgelopen zeven dagen wist MATIC een nog beter resultaat te laten zien, namelijk een stijging van ongeveer 32%. MATIC staat op het moment van schrijven op de 18e plaats qua grootste cryptocurrencies op basis van de marktwaarde.
Wat is Polygon?
Polygon is een zogeheten layer-2 netwerk voor Ethereum (ETH) en probeert verschillende problemen op te lossen waarmee Ethereum kampt. Denk hierbij aan bijvoorbeeld de hoge transactiekosten en de lage transactiedoorvoer op Ethereum. Polygon biedt dus een schaaloplossing voor het Ethereum netwerk om grote hoeveelheden transacties mogelijk te maken tegen lage kosten en weinig verbruik.
Laatste Polygon nieuws
Veel crypto konden de laatste dagen, na het dieptepunt van afgelopen weekend, iets herstellen. De MATIC koers trekt relatief al een stuk sterker aan. Dat heeft mogelijk te maken met de lancering van Polygon ID,  een "zelf-soevereine identiteitsoplossing aangedreven door ZK-cryptografie die een enorm potentieel biedt voor DAO-governance." Daarnaast trok Polygon gisteren de aandacht tijdens het NFT evenement in New York. Wat nog sterker meespeelt, is wellicht de nieuwe samenwerking met KlimaDAO om NFT's via het Polygon netwerk compleet "groen" te maken.
Dat zorgt ervoor dat er veel interesse en vertrouwen in het project is, vooral onder de grote MATIC houders. Grote investeerders, die tussen de 10.000 en 10 miljoen MATIC in bezit hebben, oftewel de whales en sharks, hebben de afgelopen tijd flink ingeslagen. Terwijl de MATIC koers in de laatse zes weken met bijna 50% is gedaald, hebben zij hun bezit met 8,7% vergroot. Deze investeerders geloven dus dat MATIC op de langer termijn nog hard kan stijgen.
🦈🐳 $MATIC sharks and whales have been in a pretty big accumulation trend for about six weeks. The tiers of holders ranging from 10k to 10m coins held have collectively added 8.7% more to their bags in this timespan. 📈 https://t.co/oasCn72rxt pic.twitter.com/lm4au2fWkn

— Santiment (@santimentfeed) June 22, 2022
Technische analyse MATIC
Wat onze analisten bij MATIC opviel, is dat de koers een omgekeerde hoofd-schouders patroon heeft gevormd. De koers breekt uit op het moment dat de neklijn wordt doorbroken. Het koersdoel wat we hieruit kunnen opmaken, is de afstand van de piek van het hoofd tot aan de neklijn. Deze kunnen we vervolgens bovenop de neklijn plaatsen om het mogelijke koersdoel te vinden. In het geval van MATIC, zal het koersdoel voor dit patroon rond $0,593 liggen. Hierbij zien we echter dat de koers al is uitgebroken. We houden de koers in de gaten om te zien of dit koersdoel wordt behaald.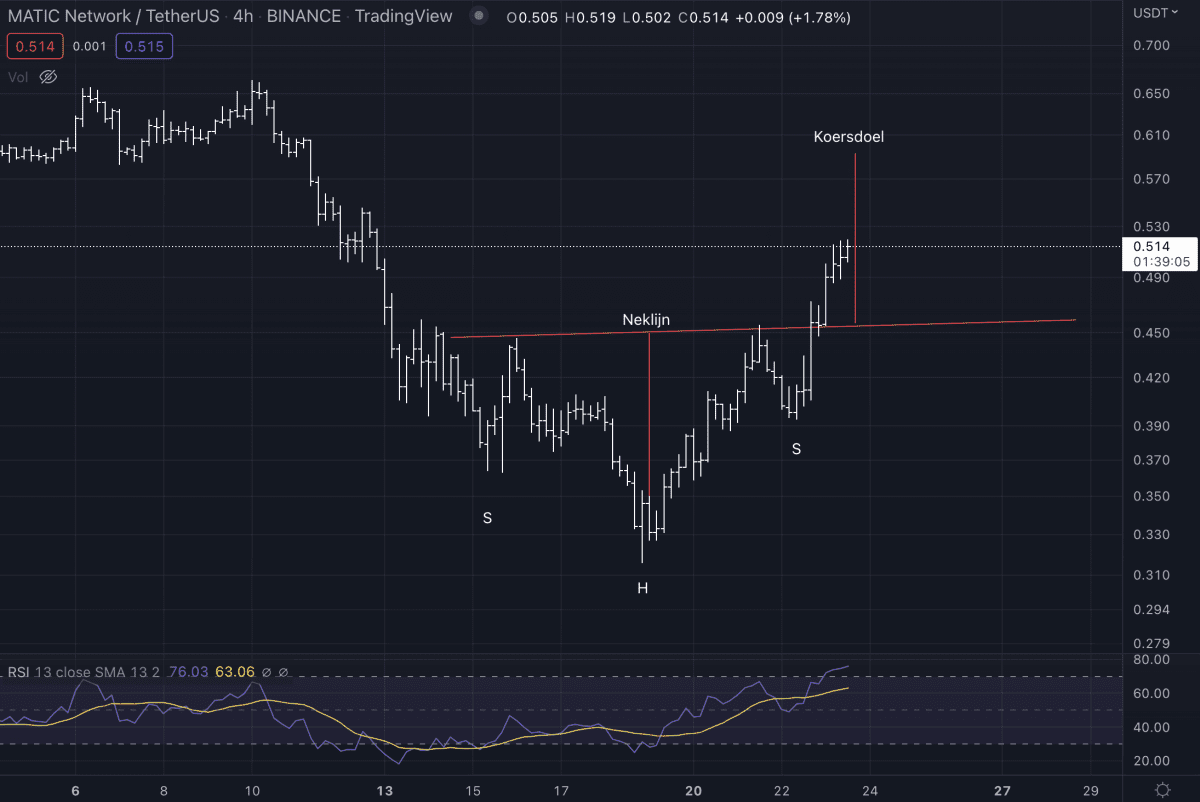 Meer en vroeger crypto koersanalyses zien?
Wil jij graag dit soort koersanalyses van cryptocurrencies eerder zien? Dan verwijzen wij je graag door naar onze Discord community voor leden. Hier bediscussiëren ervaren analisten en handelaren dagelijks hun eigen handelsplannen. Ook delen we hier regelmatig aanvullende koersanalyses en updates van projecten die we eerder in deze rubriek hebben behandeld. In de Premium omgeving kunnen we 24/7 kennis met elkaar delen en proberen we samen met onze leden de markt voor te blijven.
Disclaimer: Beleggen brengt risico's met zich mee. Onze analisten zijn geen financieel adviseurs. Raadpleeg altijd een adviseur bij het maken van financiële beslissingen. De informatie en tips die op deze website worden verstrekt zijn gebaseerd op eigen inzichten en ervaringen van onze analisten en dienen alleen voor educatieve doeleinden.