In de premium omgeving van Crypto Insiders worden dagelijks actuele technische analyses gedeeld door ervaren analisten. De afgelopen periode kwam THORChain (RUNE) hier regelmatig ter sprake. In deze rubriek blikken we terug op deze technische analyse en brengen we de recente ontwikkelingen en verwachtingen voor de komende periode in kaart. Mocht je na het lezen van dit artikel nog vragen hebben kun je deze eenvoudig stellen in onze Discord community, hier worden onze technische analyses doorgaans 48 uur eerder gedeeld met onze leden.
RUNE is over de afgelopen 24 uur met ongeveer 5% gedaald. Over de afgelopen zeven dagen zagen we echter een positievere beweging. In deze periode steeg de koers met ongeveer 8%. RUNE staat op het moment van schrijven op de 63e plaats op basis van marktwaarde.
Wat is THORChain (RUNE)?
THORChain is een op blockchain gebaseerd gedecentraliseerd liquiditeitsnetwerk waarop gebruikers direct en cross-chain hun digitale activa om kunnen zetten en is gebouwd op Cosmos SDK. THORChain maakt ook gebruik van een automated market maker (AMM) model die vergelijkbaar is met bijvoorbeeld Uniswap (UNI). Dit model maakt het mogelijk voor gebruikers om met RUNE transacties te doen tussen verschillende pools. Daarnaast kunnen deze gebruikers via THORChain ook geld verdienen door hun cryptocurrencies uit te lenen en daar rente over te krijgen. Dit wordt ook wel staken genoemd.
Laatste nieuws THORChain (RUNE)
Een van de meest interessante dingen rondom THORChain is de aankondiging van de lancering van het THORChain mainnet. In de blogpost wordt er aangegeven dat het team al vier jaar lang bezig is geweest met het ontwikkelen van het mainnet en dat ze het eindelijk live hebben kunnen zetten. Mocht je meer willen weten over de uitgave van het mainnet kan je deze interessante YouTube video bekijken waar alles rustig wordt uitgelegd.
Het THORChain project kan nu als volwassen worden beschouwd doordat het mainnet live is gegaan en er een serieuze community achter het project schuilgaat. Wij zullen het project daarom ook zeker scherp in de gaten houden!
Technische analyse RUNE
Onderstaande grafiek is op 23 juni 2022 in de Discord omgeving van Crypto Insiders gedeeld met de leden. Hierin was op te maken dat RUNE zich al een paar dagen in de koopzone bevond. Op basis van een Elliott Wave analyse kon hierdoor een koersdoel worden bepaald.
De koers leek hier een ABC of een 12345 patroon te vormen. Een C wave zal altijd rond de 100% Fibonacci eindigen en een 3 wave op de 161,8%. Hierdoor konden we doelen stellen rond deze niveaus. Voor nu is ons eerste target behaald van de 100%. Hier zullen we kijken of we verder naar beneden gaan of juist naar de 161,8% gaan.
Mocht dat laatste gebeuren verwachten we een wave 5 die nog hoger komt te liggen. Wanneer dit gebeurt zullen we het delen in de Discord omgeving met bijbehorende nieuwe targets.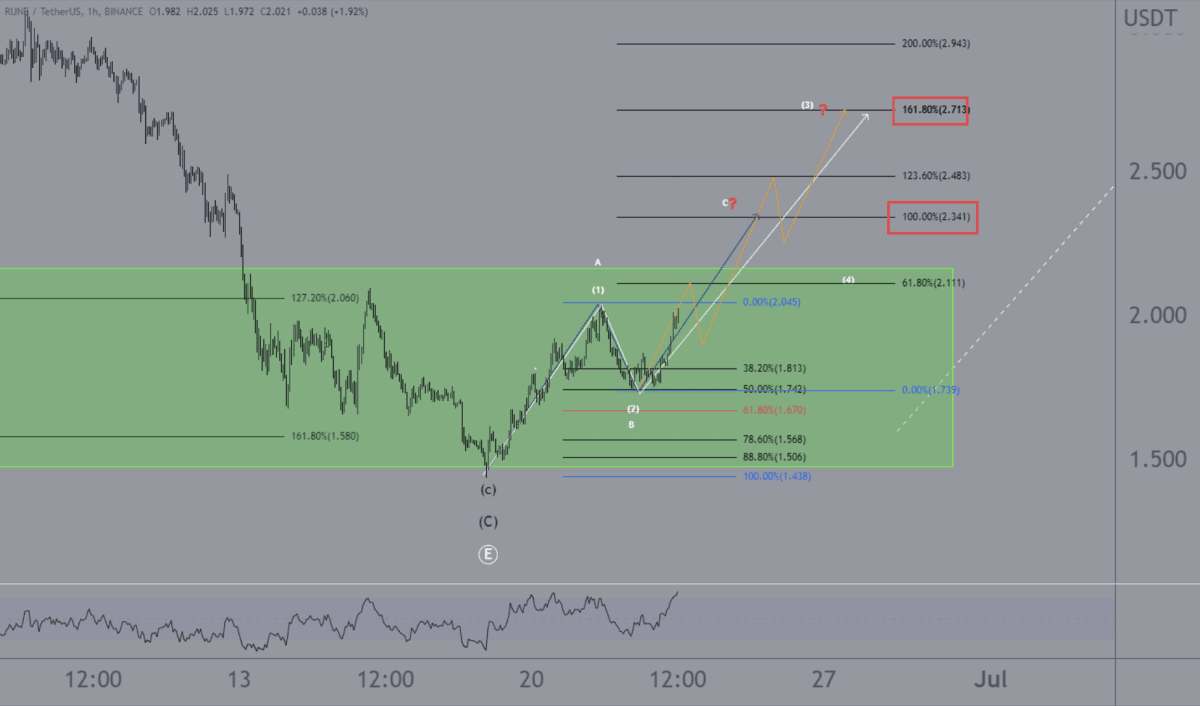 Wat zijn de verwachtingen voor THORChain?
De roadmap van het THORChain project laat op het moment nog zien dat hun laatste doel de lancering van het mainnet is. Dit doel is echter al behaald en er is nog geen nieuw doel bepaald. Toch staat er in dezelfde roadmap dat het mainnet slechts het begin is en dat we nog veel van het project kunnen verwachten.
Of bovenstaande ontwikkelingen nog verdere impact gaat hebben op de prijs is afhankelijk van een groot aantal factoren die dagelijks verschillen. De crypto-markt en zwaar onderhevig aan economische gebeurtenissen en traditionele aandelenmarkten. Dit maakt het soms lastig om het juiste moment te bepalen om in een bepaald project te investeren.
RUNE kopen of verkopen?
Wil jij graag dit soort koersanalyses van crypto eerder zien? Dan verwijzen wij je graag door naar onze Discord community voor leden. Hier bediscussiëren ervaren analisten en handelaren dagelijks hun eigen handelsplannen. Ook delen we in de Premium omgeving regelmatig aanvullende koersanalyses en updates van projecten die we eerder in deze rubriek hebben behandeld. Via Discord kunnen we 24/7 kennis met elkaar delen en proberen we samen met onze leden de markt voor te blijven.