THETA is vandaag met maar liefst 8% gestegen. In dit artikel kijken we naar mogelijk fundamentele redenen waarom deze cryptovaluta in waarde is gestegen en analyseren we de THETA koers zodat je een weloverwogen beslissing kunt maken om THETA te kopen of verkopen.
Er zijn vandaag helaas weer meer stijgers dan dalers op de markt. Een van de top stijgers van de dag is Theta Network (THETA). Deze cryptocurrency steeg in de afgelopen 24 uur met ongeveer 8%. In de afgelopen zeven dagen steeg de koers met ongeveer 4%. Door de stijging staat THETA op de 38e plaats op basis van marktwaarde.
Wat is Theta Network?
Theta (THETA) is een op blockchain gebaseerd netwerk dat is ontworpen voor gedecentraliseerde video livestreaming. Theta is een gedecentraliseerd netwerk waarop gebruikers bandbreedte en computing middelen kunnen delen op een peer-to-peer (P2P) basis. Daarnaast werkt Steven Chen, de mede-oprichter van YouTUbe en Justin Kan, mede-oprichter van Twitch ook aan het project.
Waarom stijgt THETA in waarde?
Er zijn een aantal verschillende mogelijke redenen die achter de stijging schuilgaan. De eerste reden is de samenwerking met Curate. Curate is een platform waar non-fungible tokens (NFT's) op verhandeld kunnen worden. De samenwerking tussen de twee partijen houdt ook in dat de NFT's nu te koop zijn met THETA. Dit heeft gezorgd voor een nieuwe gebruiksmogelijkheid voor de token. 
Daarnaast zou de stijging mogelijk ook verbonden kunnen worden aan een aankondiging waar Theta een aantal dagen geleden mee uitkwam. Dit was namelijk de datum waarop het TDROP project uitgegeven zal worden. TDROP is een token op de Theta blockchain waarmee NFT liquidity mining wordt beloond. Daarnaast kan de token gebruikt worden voor de governance via TDROP staking. Theta validators en guardians krijgen ook hun beloning in TDROP. Dit platform zal al op 1 februari live gaan. 
Dat de hype rondom TDROP groot is blijkt ook maar uit de cijfers van de website die Theta heeft gedeeld op Twitter. Hierin is te zien dat het verkeer naar de nieuwe website met ongeveer 3x is verdubbeld in slechts twee maanden. Het zal dus interessant zijn om te zien of het product zo'n succes zal worden als dat het lijkt te gaan worden.
Technische analyse
Hoewel THETA zich nu in een bearish patroon bevindt, namelijk een neerwaartse driehoek, lijkt het erop dat de steunlijn van deze driehoek net getest is. Zolang deze in stand blijft kunnen we de weerstandslijn opzoeken van het patroon. Hierdoor zou de onderkant van dit patroon kunnen fungeren als instapmoment. De weerstandslijn kan als eerste target worden gezien.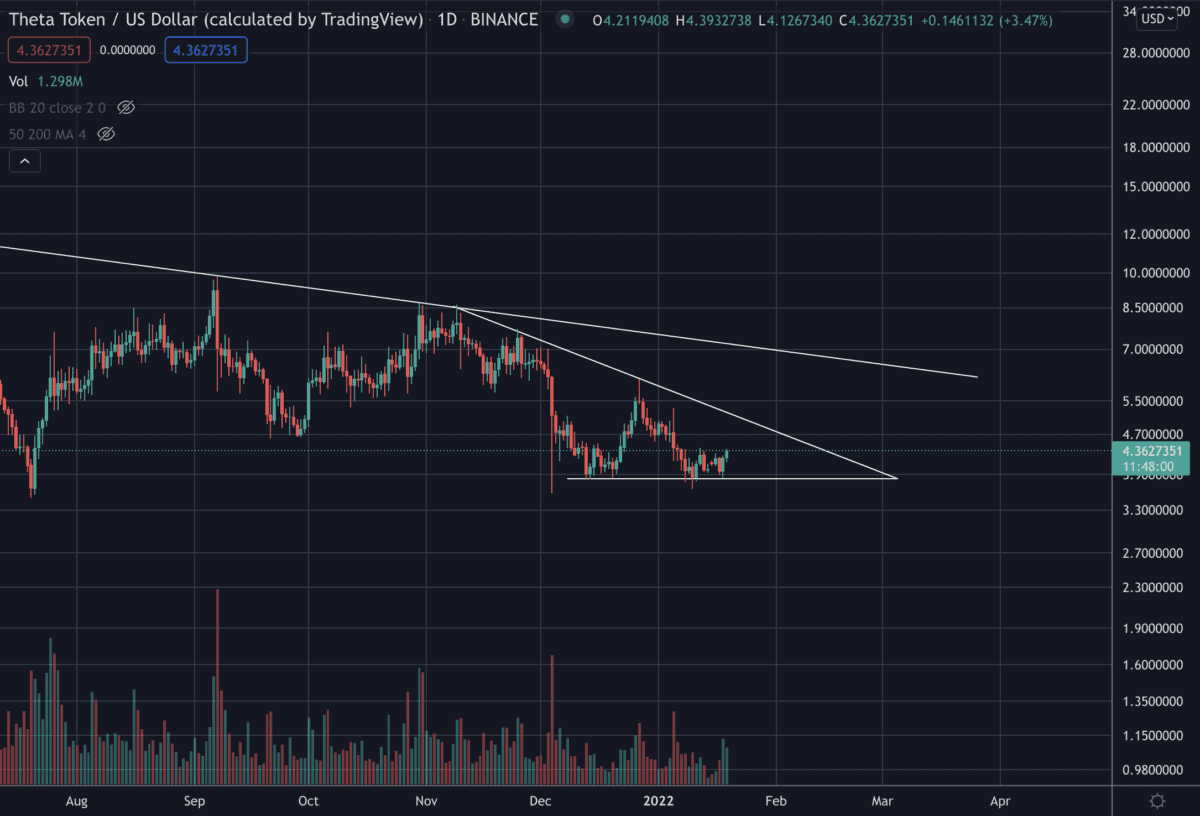 Wat zijn de verwachtingen voor de komende periode?
Of het nieuws nog verdere impact gaat hebben op de prijs is afhankelijk van een groot aantal factoren die dagelijks verschillen. Overweeg jij een positie te nemen in THETA? In ons Discord kanaal voor leden bediscussiëren we het nieuws en zullen we verdere updates met jullie blijven delen. Ook zullen hier additionele technische analyses gedeeld worden door een van onze analisten die dieper op de koers ingaan. Je komt hier eenvoudig in contact met onze analisten en crypto coaches, zij helpen je graag een weloverwogen beslissing te maken.