XMR heeft vandaag een prachtige stijging achter de rug van maar liefst 7%. In deze rubriek kijken we naar fundamentele redenen die de stijging kunnen verklaren. Daarnaast analyseren we de koers op basis van technische analyse zodat je een doordachte beslissing kunt maken om XMR te kopen of juist te verkopen.
Een van de hardste stijgers van vandaag uit de top 100 is Monero (XMR). Deze cryptocurrency steeg in de afgelopen 24 uur met ongeveer 7%. In de afgelopen zeven dagen steeg de coin zelfs met ongeveer 20%. Door de stijging staat XMR op de 42e plaats.
Wat is Monero?
Voor de investeerders die al langer in de markt actief zijn is Monero een bekende naam. In eerdere jaren van Monero een van de grootste coins op basis van marktwaarde. De coin was zo populair door waar de coin voor stond en wat het deed. Het doel van Monero was in principe om transacties zo anoniem mogelijk te laten verlopen. Zij vonden dat Bitcoin niet anoniem genoeg was aangezien je via de blockchain alle transacties kunt volgen. Monero wil dit aanpakken door zowel degene die de transactie verstuurd als ontvangst te verbergen middels cryptografie. 
Waarom stijgt XMR in waarde?
Een mogelijke reden van de stijging zou dit bericht kunnen zijn. Dit bericht gaat over The North American Bitcoin Conference die vanaf vandaag in Miami plaatsvindt. Cake Wallet, de eerste open source Monero wallet, is aanwezig op deze conferentie en zal daar reclame maken voor Monero. Dit doen zij door informatieve boekjes uit te delen aan bezoekers, vouchers voor gratis Monero uit te delen en de MoneroTalk en Monerotopia podcasts te sponsoren om meer bekendheid te creëren voor Monero. 
Het lijkt er dus op dat Cake Wallet de marketing verzorgd voor Monero op dit evenement. Dit zal investeerders misschien enthousiast hebben gemaakt om alvast wat XMR te kopen voor het geval dat het plan goed gaat.
Technische analyse
XMR heeft in het afgelopen jaar redelijk veel gedaan. De koers was sinds de corona dip eigenlijk alleen maar aan het stijgen. Er werd daardoor in mei een nieuwe all-time high gemaakt. Dit was ook het moment dat het onderstaande neerwaartse driehoekspatroon begon te vormen. Dit patroon kenmerkt zich aan de gelijkblijvende bodems maar de dalende pieken. De steunlijn is al enkele keren getest en wist elke keer in stand te blijven. Hierna volgde ook een retest van de weerstandslijn. Mocht de koers hier weer naartoe zakken en als de steunlijn in stand blijft kan dit een mooi instapmoment bieden.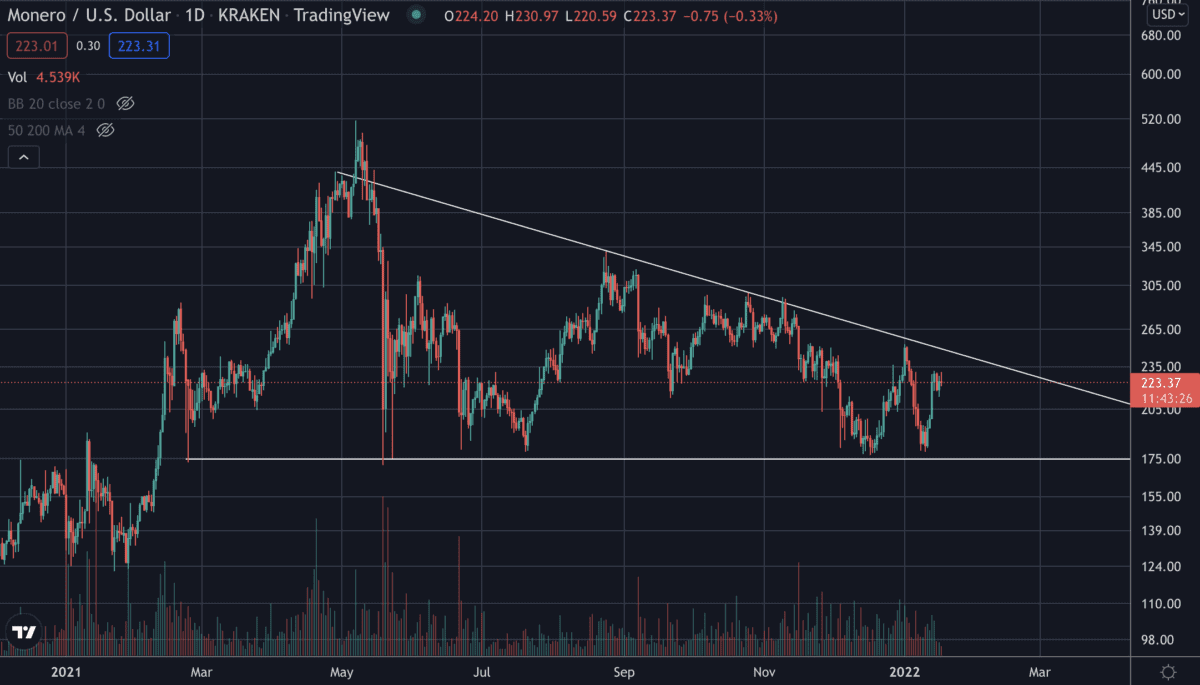 Wat zijn de verwachtingen voor de komende periode?
Of het nieuws nog verdere impact gaat hebben op de prijs is afhankelijk van een groot aantal factoren die dagelijks verschillen. Overweeg jij een positie te nemen in XMR? In ons Discord kanaal voor leden bediscussiëren we het nieuws en zullen we verdere updates met jullie blijven delen. Ook zullen hier additionele technische analyses gedeeld worden door een van onze analisten die dieper op de koers ingaan. Je komt hier eenvoudig in contact met onze analisten en crypto coaches, zij helpen je graag een weloverwogen beslissing te maken.