Of het nou gaat om een transactie van $100 miljoen of $1 miljoen; op het Bitcoin netwerk heeft een transactie dezelfde prijs. Zo was op 16 oktober een transactie van zo'n $194 miljoen direct verwerkt voor een luttele $0,1. Als een dergelijke transactie op de traditionele wijze zou zijn verwerkt, via de banken, dan zou het dagen aan bureaucratie, regulatie, en verificatie met zich mee hebben gebracht.
Volgens Nic Carter, partner bij Castle Island Ventures en mede-oprichter van Coinmetrics.io, is het dus ook onrealistisch om Bitcoin te vergelijken met zowel andere cryptocurrencies als traditionele betalingssystemen zoals PayPal.
Volgens Carter ligt het verschil voornamelijk in het soort transacties dat wordt verwerkt. Zo focussen de traditionele betalingsdiensten zich voornamelijk op het verwerken van een groot aantal kleine transacties. Daarentegen ligt bij Bitcoin de focus op een heel andere markt; namelijk het verwerken van een kleiner aantal grote transacties.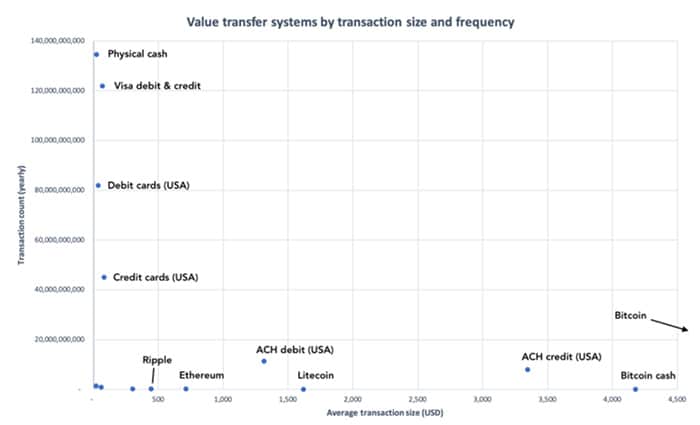 Carter voegde hieraan toe:
Bitcoin transacties zijn over het algemeen vrij groot. Het is moeilijk om een precies formaat aan te geven, maar over het algemeen hebben de transacties een gemiddelde waarde van zo'n duizend, zo niet tienduizend dollar. De gemiddelde transactie is meer dan zo'n $100.
Betalingen van miljoenen dollars zijn niet zeldzaam op het Bitcoin netwerk. Zoals de betaling van zo'n $194 miljoen in de afgelopen maand heeft laten zien kiezen grote investeerders er dus voor om zulke transacties via Bitcoin te doen in plaats van credit cards.
Rond november 2015 kocht de Chinese miljardair Liu Yiqian een kunstwerk ter waarde van $170 miljoen met zijn American Express betalingskaart. Omdat zo'n grote transactie boven de $10.000 zelden via credit cards wordt uitgevoerd was het voor de media een nieuwswaardig item. Carter liet hier over weten:
Wat veel critici missen wanneer ze te gefixeerd zijn op transacties per seconde is het simpele feit dat de gebruikers een duidelijk beeld hebben van waar ze naar op zoek zijn. Kleine transacties met weinig risico zijn perfect voor traditionele methodes zoals Venmo, PayPal, of Visa. Deze transacties zijn niet goed toepasbaar op de 'unbanked' methodes, maar dat geldt op zijn beurt voor geen enkele financiële infrastructuur. Het duurt even voordat zoiets volledig gebouwd is, evenals het vertrouwen in het systeem.
Als men simpelweg kijkt naar transacties per seconde, dan zal men Bitcoin simpelweg zien als een inferieur systeem. Echter kan Bitcoin de grotere transacties veel makkelijker verwerken. Traditionele, gecentraliseerde methodes zijn bij grotere transacties vaak vertraagd door bureaucratie en regulatie.
Volgens Carter is transacties per seconde alleen dus ook niet een valide maatstaf:
Samenvattend moet men minsten drie aspecten in acht nemen bij het beoordelen van een betalingssysteem; wat zijn de kosten, hoe lang wordt de betaling uitgesteld, en hoeveel 'validators' zijn er.
Wil je op de hoogte blijven van het laatste nieuws? Abonneer je dan op onze push-berichten, 
Facebook
– of Twitter.
[ci-widget-v2]