Vandaag staat een belangrijke persconferentie gepland van de Amerikaanse centrale bank (FED). Tijdens deze persconferentie wordt bekend gemaakt met hoeveel procent de rente verhoogd wordt.
De persconferentie begint om 20:30 uur Nederlandse tijd en is live te volgen.
Verwacht wordt dat de FED aankondigt de rente te verhogen met 75 basispunten, ofwel 0,75 procent. De huidige rente is 1,58% volgens Reuters. Wat kan een verhoging van deze rente betekenen voor de bitcoin koers?
Bitcoin koers gedaald
Het lijkt of handelaren al geanticipeerd hebben op een renteverhoging. De bitcoin koers is deze week in aanloop naar de persconferentie gedaald. Begin van de week leek 24.000 euro in zicht, maar de waarde is op cryptobeurs Bitvavo gedaald tot 20.800 euro.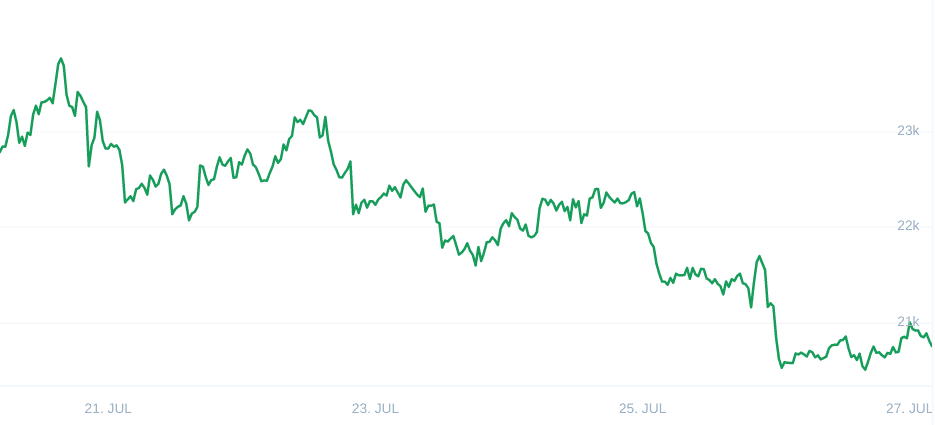 Het is afwachten wat de persconferentie vanmiddag doet met de prijs van bitcoin, maar we kunnen wel kijken naar wat de impact eerder was. Belangrijk is dat de verwachte inflatiecijfers niet altijd overeenkomen met de werkelijkheid.
Zo verwachtte iedereen dat de inflatie in juni 8,8% zou zijn, maar uiteindelijk bleek dit uit te komen op 9,1. Dit is slecht nieuws, maar gek genoeg steeg bitcoin die dag met 8%.
Effect renteverhoging op bitcoin koers
In de grafiek hieronder de koers van bitcoin. De groene en rode vlakken vallen samen met persconferenties van de FED waar renteverhogingen werden aangekondigd.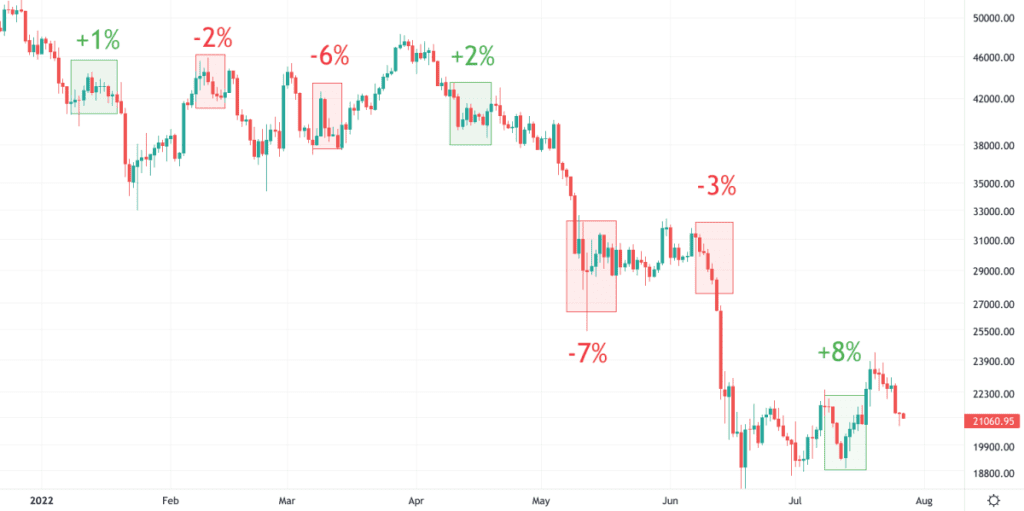 Een snelle conclusie die hieruit getrokken kan worden, is dat bitcoin ontzettend volatiel wordt rondom de aankondigingen van de FED. Op korte termijn kan de koers dalen of stijgen, maar op de lange termijn is de trend neerwaarts.
Centrale banken verhogen de rente om de inflatie te bestrijden. Fed-voorzitter Jerome Powell heeft duidelijk gemaakt dat hij de inflatie aanzienlijk wil terugdringen. Maar er zijn economen die van mening zijn dat de FED te snel de rente verhoogt waardoor de economie in een recessie zou kunnen belanden.
Bitcoin koers tijdens recessie
Paul Krugman is een vooraanstaand econoom in de VS. Hij begrijpt waarom de FED de rente wil verhogen, de inflatie moet immers afzakken, maar hij is bang dat de FED te ver gaat.
"De inflatie moet omlaag. Maar er is geen twijfel over dat de Fed alles zal doen om de inflatie onder controle te krijgen. De markten zijn er echt van overtuigd dat de Fed alles zal doen wat nodig is om de inflatie onder controle te krijgen. Dus nu is het risico dat ze meer doen dan nodig is."
"Het is dus geen kwestie dat inflatie oké is en een recessie slecht. Het is dat inflatie iets is waarvan we weten dat ze ermee te maken zullen krijgen. En de vraag is, overdrijven ze niet en zullen ze geen onnodige recessie veroorzaken?"
Stel dat de VS door de renteverhogingen in een recessie belandt, dan is dat slecht voor de bitcoin koers. Institutionele investeerders en consumenten zullen hun risicovolle en liquide investeringen zoals bitcoin willen verkopen om contanten aan te houden om de recessie door te komen.