Het is al even geleden dat El Salvador bitcoin (BTC) adopteerde als wettig betaalmiddel en we kunnen nog steeds niet overal onze koffie betalen via het Lightning Network. Wat is er aan de hand? Is bitcoin aan het falen als betaalmiddel? Is de wereld klaar met Lightning? Persoonlijk denk ik van niet en als je de cijfers van de adoptie bekijkt, dan is het bijna onmogelijk om te ontkennen dat hier iets moois opbloeit. Als je geen zin hebt om te lezen, dan heb ik hieronder in het kort een samenvatting voor je.
TLDR – status Lightning Netwerk
Lightning Network Capaciteit in bitcoin is 128% gestegen naar 4.341,48 BTC
Capaciteit in dollar is met 52% gestegen naar $91.872.627,39 USD
Aantal betaalkanalen is met 41% gestegen naar 86.540 kanalen
Aantal nodes met 30% gestegen naar 17.666 nodes
Betaalvolume in dollar is met 410% gestegen naar $20.000.000 USD in Q1 2022
Het Lightning Netwerk in cijfers
De bitcoin koers is vanaf het begin van 2022 met 55 procent gedaald, maar de adoptie van het Lightning Netwerk stijgt nog altijd als een raket. Je zou verwachten dat ook deze adoptie te lijden heeft onder de bearmarkt, maar in de praktijk is daar niets van te merken.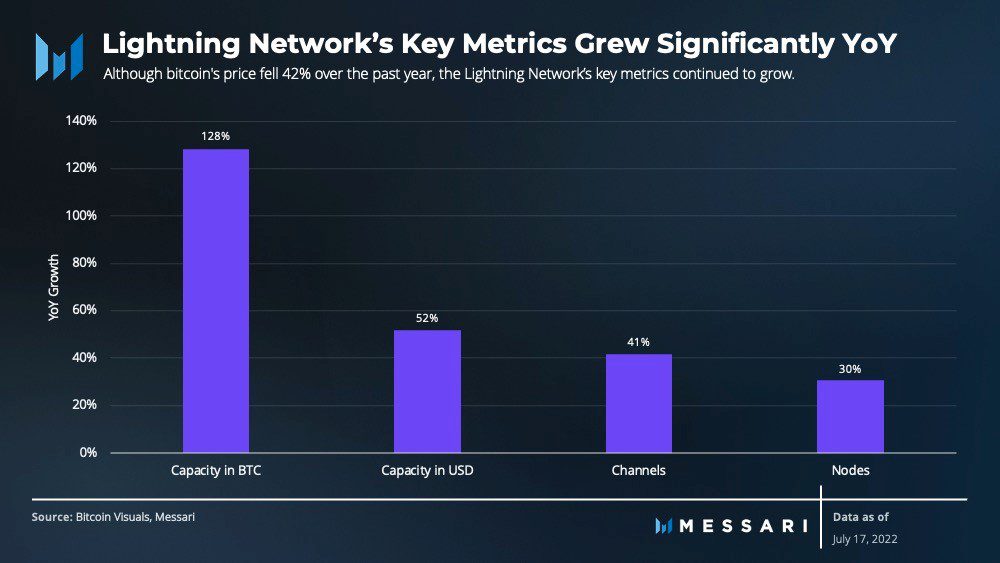 De capaciteit in bitcoin op het Lightning Netwerk is met 128 procent toegenomen in het afgelopen jaar. De totale waarde in dollars van alle bitcoin op het Lightning Netwerk is met 52 procent toegenomen. Het aantal kanalen is met 41 procent gestegen en het aantal nodes met 30 procent.
Op het moment van schrijven zijn er 17.666 openbare nodes actief in het Lightning Netwerk. Als die groei van 30 procent per jaar de komende 10 jaar doorzet, dan hebben we in de zomer van 2022 een netwerk van 243.540 nodes. Het is uiteraard niet te voorspellen in hoeverre de adoptiegraad van het Lightning Netwerk op dit niveau blijft, maar het zijn indrukwekkende cijfers. Hoe meer mensen zich bij het Lightning Netwerk aansluiten en een eigen node gaan draaien, hoe aantrekkelijker het wordt om mee te doen.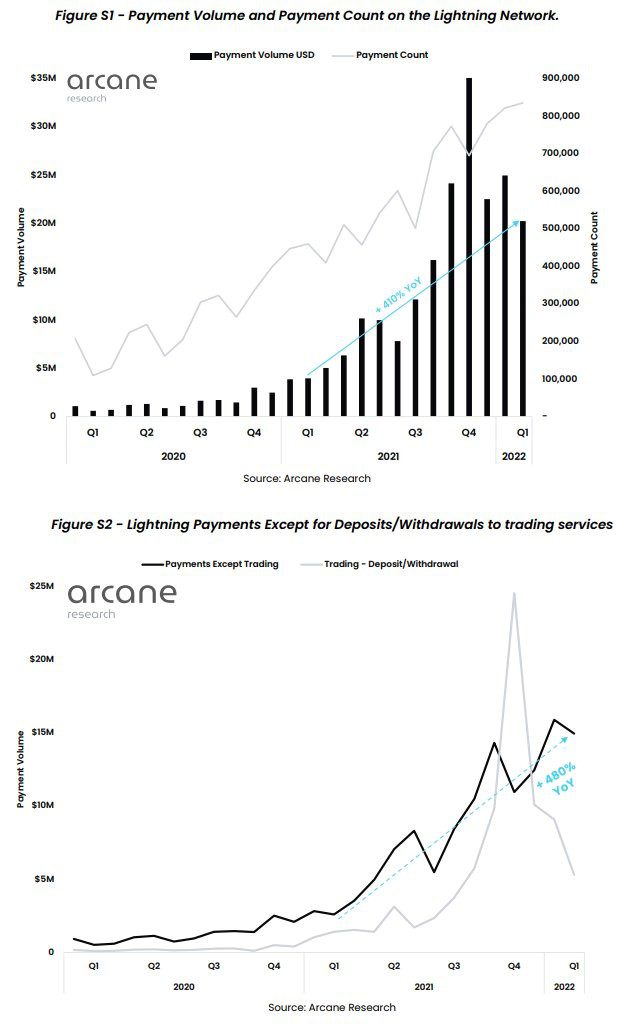 Naast de eerder besproken data is ook het betaalvolume op het Lightning Netwerk extreem toegenomen het afgelopen jaar. Al moet toegegeven worden dat er in het vierde kwartaal van 2021 een enorme piek was die tot op heden niet overtroffen is. We moeten deze data op een langere termijn zien om er daadwerkelijk zinvolle dingen over te kunnen zeggen. Maar op basis van deze gegevens is het in ieder geval onmogelijk om te roepen dat het Lightning Netwerk niets voorstelt of dat niemand het gebruikt.
De valse vergelijking met Wrapped Bitcoin
Het Lightning Netwerk is qua capaciteit nog relatief klein, zeker als je het vergelijkt met de ruim 260.000 bitcoin die als zogeheten wrapped bitcoin terug te vinden zijn op Ethereum (ETH). Voor de mensen die dat niet weten, wrapped bitcoin zijn een synthetische versie van bitcoin. Hoe het werkt is als volgt: jij stuurt 1 bitcoin naar een beheerpartij en die beheerpartij geeft jou vervolgens 1 wrapped bitcoin op Ethereum. Zodra je die wrapped bitcoin weer inlevert krijg je daar een echte bitcoin voor terug.
In vergelijking met wrapped bitcoin lijkt Lightning een kleine dwerg die er niet toe doet. Het probleem zit hem echter in de vergelijking, die is namelijk onterecht.
Je kunt Wrapped Bitcoin namelijk het beste vergelijking met de hoeveelheid bitcoin op gecentraliseerde handelsplatformen. Er zijn bijvoorbeeld meer Wrapped Bitcoin dan dat er bitcoin zijn bij Kraken en Gemini. Maar er zijn minder Wrapped Bitcoin dan echte bitcoin bij Coinbase, Binance en Bitfinex. In principe zou je kunnen zeggen dat Ethereum de op drie na grootste bitcoin beurs is. Wrapped Bitcoin ziet dus op de handel in bitcoin.
Het Lightning Netwerk is een betaalnetwerk en ziet op bitcoin als betaalmiddel. Lightning heeft geen eigen munt en niemand verdient geld aan het Lightning Netwerk. Speculatie met het Lightning Netwerk is op geen enkele manier mogelijk. Het is een pure digitale rails om bitcoin over te versturen. Het is heel tof, maar het werkt niet als een altcoin waar in theorie een bak geld mee te verdienen is.
De enige manier waarop het Lightning Netwerk groeit is dus door de daadwerkelijke adoptie als betaalnetwerk. Mensen adopteren het Lightning Netwerk voor het nut, terwijl Wrapped Bitcoin een synthetisch financieel product op Ethereum is waar mensen mee speculeren. Bijvoorbeeld door met leverage te handelen of andere gekkigheid uit te halen.
Roepen dat het Lightning Netwerk faalt vanwege 260.000 Wrapped Bitcoin op Ethereum is het vergelijken van een betaalmiddel met een speculatiemiddel. Je kunt aan bitcoin op het Lightning Netwerk (vrijwel) niets verdienen. Wrapped Bitcoin op Ethereum worden gebruikt om met leverage en andere ongein te handelen. Lightning Netwerk wordt geadopteerd om nut en Wrapped Bitcoin voor speculatie.
Voor een netwerk dat puur en alleen groeit op basis van zijn nut en omdat mensen ermee willen spelen, niet omdat je er doormiddel van speculatie geld mee kunt verdienen, is de groei van het Lightning Netwerk in mijn optiek meer dan indrukwekkend.
Nu een Store of Value, straks een Medium of Exchange
Als we heel eerlijk zijn, dan is betalen met bitcoin op dit moment nog niet interessant. Zeker niet in de Westerse wereld waar we prima betaalsystemen hebben. Het probleem met de euro is niet dat betalen moeilijk is, maar dat het niet functioneert als spaarmiddel. Ieder jaar verliest ons spaargeld sneller en die prijsinflatie lijkt zich steeds sneller te ontwikkelen. In mijn optiek is de Store of Value functie voor bitcoin op dit moment wereldwijd verreweg de belangrijkste toepassing.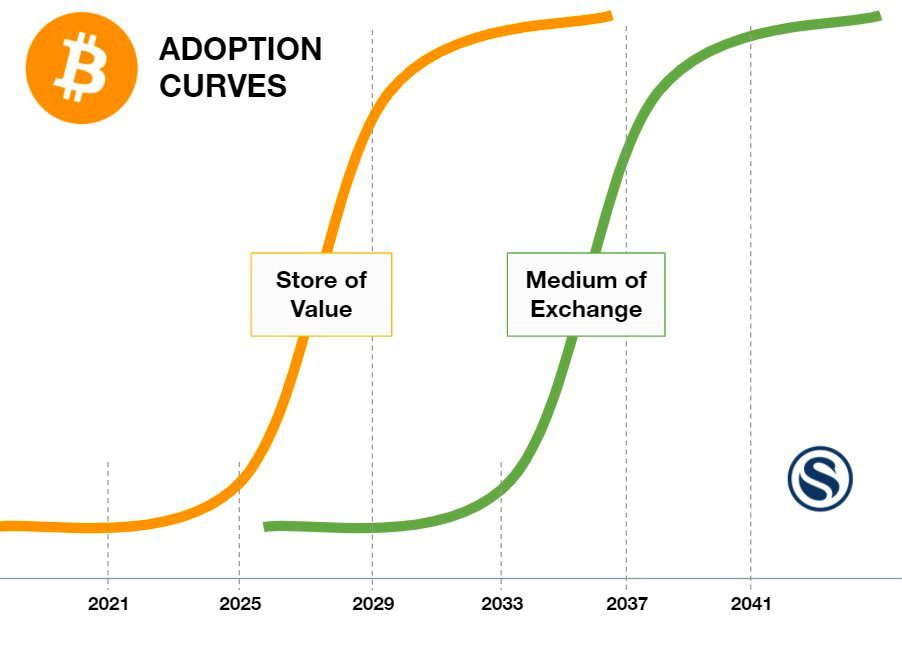 Bitcoin als betaalmiddel komt later wel. Wat dat betreft heeft het Lightning Netwerk ook nog tijd om zichzelf te ontwikkelen. Als we straks op een punt komen waarop de hele wereld of het grootste deel van de wereld bitcoin als spaarmiddel gebruikt, dan zul je zien dat betalen met bitcoin ook steeds populairder wordt. De realiteit is echter dat de euro op de korte termijn stabieler is dan bitcoin en dat betalen met de euro een stuk eenvoudiger is dan met bitcoin.
Persoonlijk verwacht ik dat het nog wel even duurt voordat betalen met Bitcoin via het Lightning Netwerk een ding is. In Nederland is het vooralsnog alleen iets voor puristen. Voor mij persoonlijk is de store of value functie van Bitcoin vooralsnog ook voldoende. Dat neemt niet weg dat het Lightning Netwerk indrukwekkende stappen zet. Het netwerk ontwikkelt zich en wordt langzaam klaargestoomd om als de betaallaag boven Bitcoin te fungeren.
Wat ik persoonlijk ook een interessante ontwikkeling vind, is dat beurzen als Kraken nu gratis Lightning Netwerk stortingen en opnames faciliteren. In theorie zou je dus al je bitcoin bij Kraken kunnen onderbrengen en vervolgens kleine beetjes naar Lightning Netwerk wallets sturen als je boodschappen doet. Dat is een manier waarop ik bitcoin in de toekomst zie schalen. Niet iedereen gaat zijn eigen node draaien en Bitcoin volledig "zoals het hoort" gebruiken.
Het Lightning Netwerk in actie
Voordat ik afsluit wil ik nog even de onderstaande tweet delen. Heel boeiend is het wellicht niet, maar dit is Bitcoin-journalist Joe Hall die in Costa Rica zijn koffie laat betalen via het Lightning Netwerk door een willekeurige volger op Twitter. Het laat zien hoe eenvoudig Bitcoin en het Lightning Netwerk in essentie werken. Het scannen van een QR-code is genoeg om te betalen en de sats komen meteen op de bestemming aan. Probeert dat maar eens met een creditcard of normale bankpas. We zijn er nog niet, maar het Lightning Netwerk wordt steeds krachtiger en eenvoudiger in gebruik.