Metaverse token zijn erg populair vandaag. Waar Decentraland (MANA) vandaag ook al 20% is gestegen, maakt The Sandbox ook een prachtige stijging van bijna 20% door! The Sandbox valt in hetzelfde straatje als MANA. Beide zijn namelijk op blockchain gebaseerde games waarin gebruikers kunnen bouwen aan hun eigen unieke wereld.
Non-fungible tokens (NFT's) kunnen worden gebruikt voor het kopen van stukken land of andere voorwerpen in de digitale wereld. Sinds Facebook haar naam heeft veranderd naar Meta, en aangaf meer met metaverses te willen werken is de corresponderende cryptocurrency sector erg populair geworden. Toch is het opvallend om te zien dat vandaag de top-% stijgers beide coins zijn die in deze sector te werk gaan.  
Goed begin van het jaar
Het op Ethereum (ETH) gebaseerde play-to-earn metaverse gaming-platform heeft over de afgelopen periode geweldige winsten geboekt. Aan het begin van dit jaar maakte de coin een soortgelijke groei door als MANA. The Sandbox stond op 1 januari 2021 op $0,035. Na een harde stijging werd er een all-time high geplaatst van $0,90 eind maart. Dit is een stijging van bijna 2500%.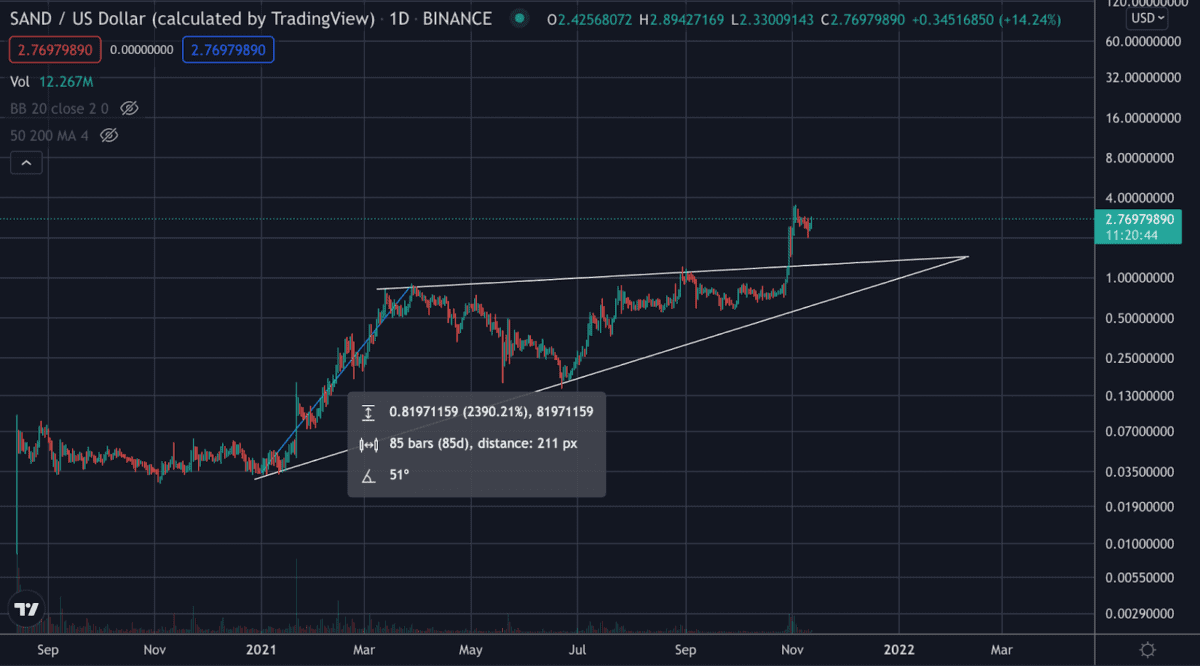 Recente prijsactie
Als we naar recentere prijsactie kijken zien we dat SAND uit is gebroken uit de neerwaartse weerstandslijn rond eind oktober. De reden van deze uitbraak was de aankondiging van Facebook. Deze uitbraak bracht veel volume met zich mee. De koers steeg in enkele dagen met ongeveer 350%. Deze stijging zorgde ook voor een nieuwe all-time high van $3,55 op 3 november. Het was duidelijk dat de cryptocurrency even tijd nodig heeft om af te koelen.
Na de stijging heeft SAND meerdere malen proberen omhoog te gaan. Zoals te zien is op de grafiek hieronder is er een duidelijke weerstand gevormd op de $2,87. Vandaag is dit niveau opnieuw getest, maar ondanks de 20% stijging is dit nog niet gelukt. Dit is daarom een erg sterk en belangrijk niveau geworden. Zolang SAND hier niet overtuigend doorheen kan breken loopt de coin het risico nog verder omlaag te gaan. Wij houden dit niveau in ieder geval goed in de gaten!