Ondanks de vele geruchten over een dreigende crash van Bitcoin (BTC) staat de crypto markt vandaag weer volledig in het groen. Op het moment van schrijven staat BTC op $6.399 en de verdere top 10 zit ook comfortabel in de plus.
Crash 'n jump
De goede prestaties van vandaag komen na een dag vol volatiliteit. Zo wist BTC gisteren in een sprong naar de $6.100 te zakken om binnen enkele uren daarna direct boven de $6.500 te geraken.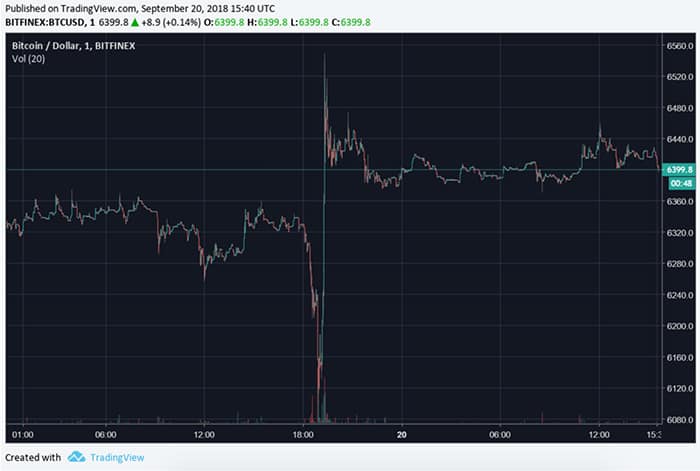 Het dagelijks handelsvolume maakte ook een grote piek door met zo'n $4.2 miljard aan handel in de laatste 24 uur. De dominantie van BTC daalde hiermee weer ten opzichte van haar vorige waardes. Deze staat nu op 54,7%.
Zoals vaker het geval is volgt de algemene altcoin markt de bewegingen van BTC. De grote winnaar onder de altcoins is Electroneum (ETN) met zo'n 52% prijsstijging en $1 miljoen aan handel over de afgelopen 24 uur. Onder de top 10 altcoins staat XRP voorop, met een stijging van 13% op het moment van schrijven, gevolgd door ADA en TRX met respectievelijk 6,8% en 5%.
Bitcoin Core
Ondertussen heeft het Bitcoin Core Project (BCP) een nieuwe software versie uitgebracht. Dit verliep echter niet helemaal soepel; het team had namelijk een 'exploit' ontdekt in een beta release. Gelukkig was het team er vroeg bij en wisten ze de exploit te verhelpen voordat de final release plaatsvond.

Bitcoin Core 0.16.3 was released: https://t.co/SsbsJsqSTo
Upgrade recommended due to vulnerability fix

— Bitcoin Core Project (@bitcoincoreorg) September 18, 2018

Met de gunstige prestaties van vandaag wist de totale crypto marktwaarde ook weer boven de $200 miljard uit te komen. Het blijft echter de vraag of de markten hun momentum weten te behouden of dat we ons nog enige tijd langer in een bearmarkt zullen bevinden.