In deze editie van de Insiders-analyse kijken we naar de cryptocurrency Polkadot (DOT). DOT is in de afgelopen 24 uur met ongeveer 3% gedaald. Over de afgelopen zeven dagen ging het iets beter. In deze periode zagen we de koers namelijk met ongeveer 26% de lucht in gaan. Op het moment van schrijven staat Polkadot op de 12e plaats op basis van marktwaarde.
Wat is Polkadot?
Polkadot is naar eigen zeggen de volgende belangrijke factor is de evolutie van de blockchain-technologie waarop ontwikkelaars hun eigen projecten en cryptocurrencies op kunnen bouwen. Polkadot verbindt meerdere gespecialiseerde blockchains met elkaar om een groot netwerk te maken en is volledig open-source. Daarnaast is Polkadot druk bezig met ontwikkelingen bewerkstelligen in de Web3 sector. Polkadot is van plan om binnen deze sector een volledig infrastructuur bouwen. 
Recente ontwikkelingen
Er is voor DOT in de laatste maanden erg veel gebeurd. Zo wist de koers een sprongetje omhoog te maken na het nieuws dat de Boerse Frankfurt Zertifikate AG (Frankfurt Stock Exchange) een exchange-traded product (ETP) van DOT zou uitgeven. Dit zorgde ervoor dat de handelaren op de 'traditionele financiële markt' wat makkelijker en veiliger toegang krijgen tot cryptocurrencies. Producten als deze maken het voor investeerders die cryptocurrency op zichzelf niet vertrouwen. Als er een beurs tussen staat die garant staat voor deze producten is de drempel al een stuk lager om toch mee te doen. 
Daarnaast hebben ze gister op hun Twitter-account een thread geplaatst waarin gesproken wordt over verschillende voorstellen voor bepaalde updates. Wat deze updates precies inhouden is te lezen via een speciale pagina die is aangemaakt voor deze verschillende referenda. Een voorbeeld daarvan is deze pagina. DOT holders kunnen vervolgens door middel van de DOT die zij in hun portefeuille hebben een stem uitbrengen. Een token staat ook gelijk aan een stem. Mochten zij het voorstel toch niet goed vinden of als zij denken dat het voorstel een negatief resultaat zal hebben kunnen zij natuurlijk ook tegen het voorstel stemmen. Zo is dit een voorbeeld van een voorstel dat is aangenomen door merendeels van de stemmen voor te hebben. 
Wat kunnen we verder verwachten? 
Polkadot is een erg groot project dus hebben ze een groot team dat toegewijd is aan het verbeteren van het project. Om deze verbeteringen in kaart te brengen hebben zij een roadmap opgezet. Op dit moment is het team van Polkadot hard bezig met de Parachain Rollout fase. Ze willen voor DOT dus verschillende Layer-1 chains ontwerpen die parallel lopen op Polkadot. Het doel is om zo'n 100 verschillende chains op Polkadot te laten lopen. Als deze fase van de roadmap voltooid is, dus wanneer de parachains live zijn, zal het netwerk van Polkadot officieel gelanceerd kunnen worden. Polkadot is dus bijna klaar om volledig uitgebracht te worden. Na deze fase kunnen zij zich meer gaan focussen op het ontwikkelen van verschillende extra functionaliteiten. 
Marktsentiment
Het is interessant om te zien dat het sentiment van DOT nog positief is in de afgelopen 24 uur ondanks dat de koers vandaag aan het dalen is. Uit een poll van CoinMarketCap blijkt dat 81% van de respondenten nog positief is over Polkadot. 

Daarnaast is het zoekvolume van Polkadot op Twitter ook nog erg hoog. Hieronder is te zien dat er bijna 500 keer op Polkadot is gezocht of over is gesproken in het afgelopen uur. 

Technische analyse
De koers van DOT is over de afgelopen maanden helaas flink afgenomen na een stijging van $10 tot $55. Toch is dit niet de eerste keer dat DOT een harde klap omhoog maakt en daarna weer naar beneden. Dit is in het verleden al eens eerder gebeurd. Maar zoals we nu op de grafiek kunnen zien is DOT daarna voor een tweede keer zo hard gestegen. Toch bevinden we ons weer in de lagere regionen van de koersgeschiedenis van DOT. De afgelopen weken is DOT ook een neerwaartse driehoek aan het vormen. Helaas is dit in de theorie een bearish patroon.
Daarnaast is te zien dat er op de grafiek een death cross is ontstaan. Dit komt voor wanneer de lagere moving average, in dit geval de 50 dagen (paarse lijn), kruist met de lange moving average, in dit geval de 200 dagen (groene lijn). Hierna zien we vaak een flinke daling. Deze is direct na de kruising ook gekomen. 
Op de RSI zien we dat de piek die is gezet in maart hoger ligt dan de piek die is gemaakt op 16 februari. Dit terwijl de eerste piek van de koers hoger ligt dan de tweede piek. Dit kan dus mogelijk wijzen op een bearish divergence. De theorie schrijft hierbij dus voor dat de koers mogelijk nog verder omlaag kan gaan.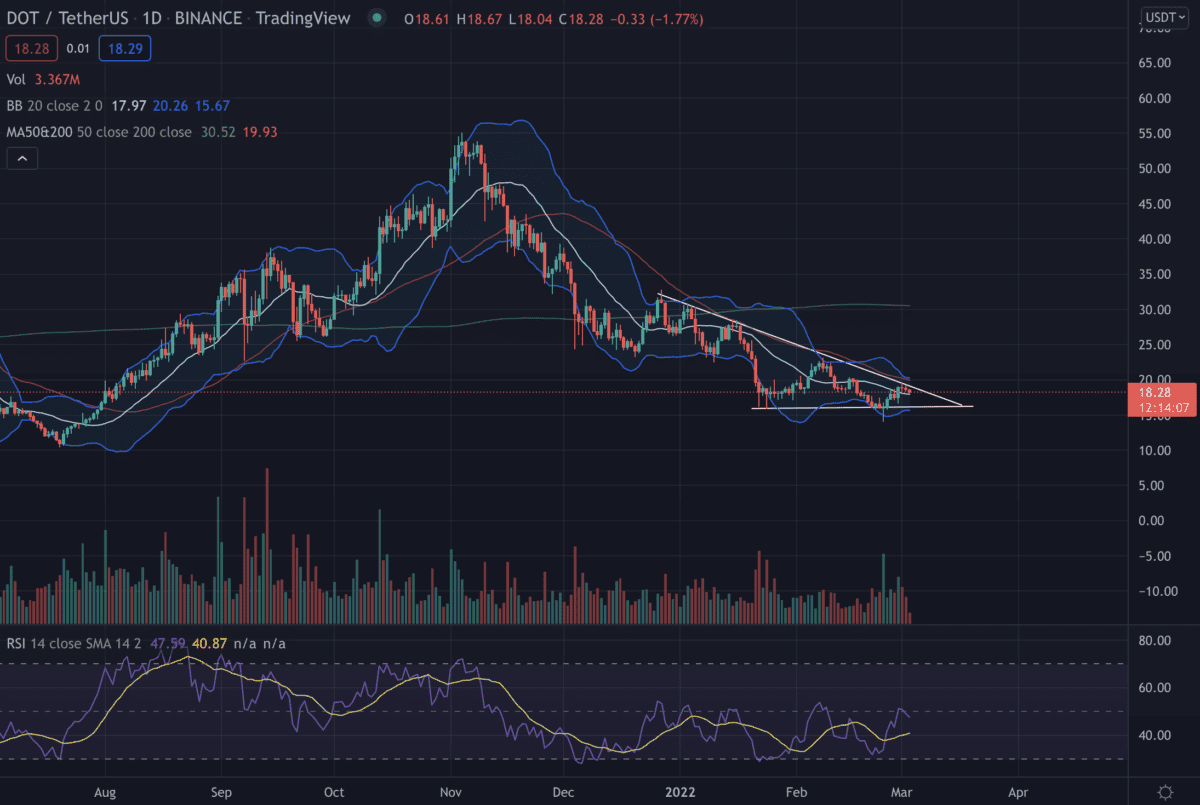 Is het nu tijd om DOT te kopen?
De crypto markt is volatiel en continu in beweging, om deze redenen is het belangrijk dat je volledig op de hoogte bent van de laatste ontwikkelingen voordat je een beslissing maakt om in DOT te stappen. Om je hiermee te helpen nodigen we je graag uit om een kijkje te nemen in onze premium-kanalen voor leden. Hier delen ervaren analisten dagelijks updates en nieuwe technische analyses, zo kunnen we samen bepalen wanneer het tijd is om DOT te kopen of verkopen.