Goedemorgen Insiders! Gister was het een vrij rustige dag rondom bitcoin (BTC). Er gebeurde helaas niet veel, het enige wat we zagen is dat China voor de duizendste keer een negatief woordje te zeggen had over bitcoin. Dit zijn investeerders ondertussen wel gewend, waardoor de koers hier ook niks van merkte. Op zo'n dag is het perfect om even een stapje terug te nemen van de koers en je te verdiepen in wat bitcoin nou eigenlijk is. Dit hebben we gister voor je in een mooi overzichtje weten te plaatsen met andere interessante data. Zo wordt je weer een beetje wijzer in een bear markt!
Dit gebeurde er met de bitcoin koers terwijl jij lag te slapen
Bitcoin is met een kleine 1,3% gestegen sinds 00:00. Vooralsnog bevindt de koers zich boven de belangrijke prijsgrens van $20.000. De actuele prijs is op het moment van schrijven $20.822 op crypto exchange Coinbase. De euro prijs van bitcoin is €19.800 op de Nederlandse exchange Bitvavo. Het handelsvolume daalde in hetzelfde tijdsbestek met 10%, wat benadrukt dat het een rustige dag was voor BTC. Over de afgelopen zeven dagen steeg bitcoin met 0,9% in waarde. In de afgelopen 24 uur steeg de koers met ongeveer 2,9%. De totale marktwaarde van Bitcoin bedraagt op het moment van schrijven $400 miljard. Vergeleken met de totale crypto marktkapitalisatie komt de bitcoin dominantie hiermee uit op 42,9%, een kleine afname ten opzichte van gisteren.
Is de bitcoin bodem nabij?
Dave the Wave, een analist die vooral bekend is geworden door zijn accurate voorspellingen op Twitter, heeft met zijn bijna 120.000 volgers een interessante analyse gedeeld. Hier kijkt de analist naar de afgelopen 11 jaar aan prijsactie voor de nummer 1 cryptocurrency ter wereld.
Of course, the real kicker is the monthly MACD chart…as TA on the higher time-frame is always more reliable/ probable than TA on the shorter time-frame. pic.twitter.com/JROATqRV7O

— dave the wave🌊🐫 (@davthewave) June 22, 2022
Op deze grafiek kunnen we een duidelijke opwaartse trend waarnemen met twee buitenste lijnen (groen) en een middelste lijn (oranje). Daarnaast heeft Dave the Wave ook de Moving Average Convergence Divergence (MACD) op de grafiek staan. Hier vallen een aantal interessante dingen op.
Als eerst worden de trendlijnen meerdere malen getest. De gele lijnen zijn ook opvallend vaak getest, echter brak de koers hier uiteindelijk toch doorheen. Op het moment is de koers naar de groene onderste lijn aan het bewegen.
In het verleden hebben we gezien dat als de koers zakt en de rode trendlijn raakt, dit ook direct een bodem signaal is. De koers raakte dit punt in 2013, 2015, 2019 en in 2020.  Elke keer dat de koers hier kwam volgde een stijging, dit bleken dus perfecte instapmomenten.
Ook viel op dat bij elke van de eerder genoemde bodems de MACD op hetzelfde niveau stonden. Deze zakte daarna nog een stukje verder door maar krulde uiteindelijk weer omhoog. De MACD lijkt ook zowel lagere pieken als hogere bodems te maken.
Vele van deze indicatoren lijken zich op het moment weer te laten zien. Waar de koers op het moment van schrijven richting de onderste groene lijn aan het bewegen is en de MACD hetzelfde niveau als bij de vorige bodems heeft bereikt. Deze raakt bijna de hoger wordende bodem. Zou dit dan kunnen betekenen dat de bodem dichtbij is?
Premium crypto analyse van de dag: Curve (CRV)
Elke door de weekse dag behandelen we hier een technische analyse die onze analisten schrijven en met premium leden delen. Vandaag nemen we een kijkje naar de voorspelling van CRV. Er is gister namelijk een bull alert uitgegeven voor deze coin, iets wat niet vaak gebeurt.
Hierbij zagen we namelijk dat de koers net een Elliott Wave telling heeft afgemaakt. Op dit moment verwachten we dat er of een ABC patroon, of een 12345 patroon omhoog komt. Hier zou een C kunnen vormen als de koers de 100% van de Fibonacci haalt, of een 3 wave als de 161,8% wordt bereikt.
Mocht je de volledige analyse met prijsniveaus en een duidelijk beschrijving van het bull alert willen lezen dan staat deze voor je klaar in de Discord omgeving van Crypto Insiders!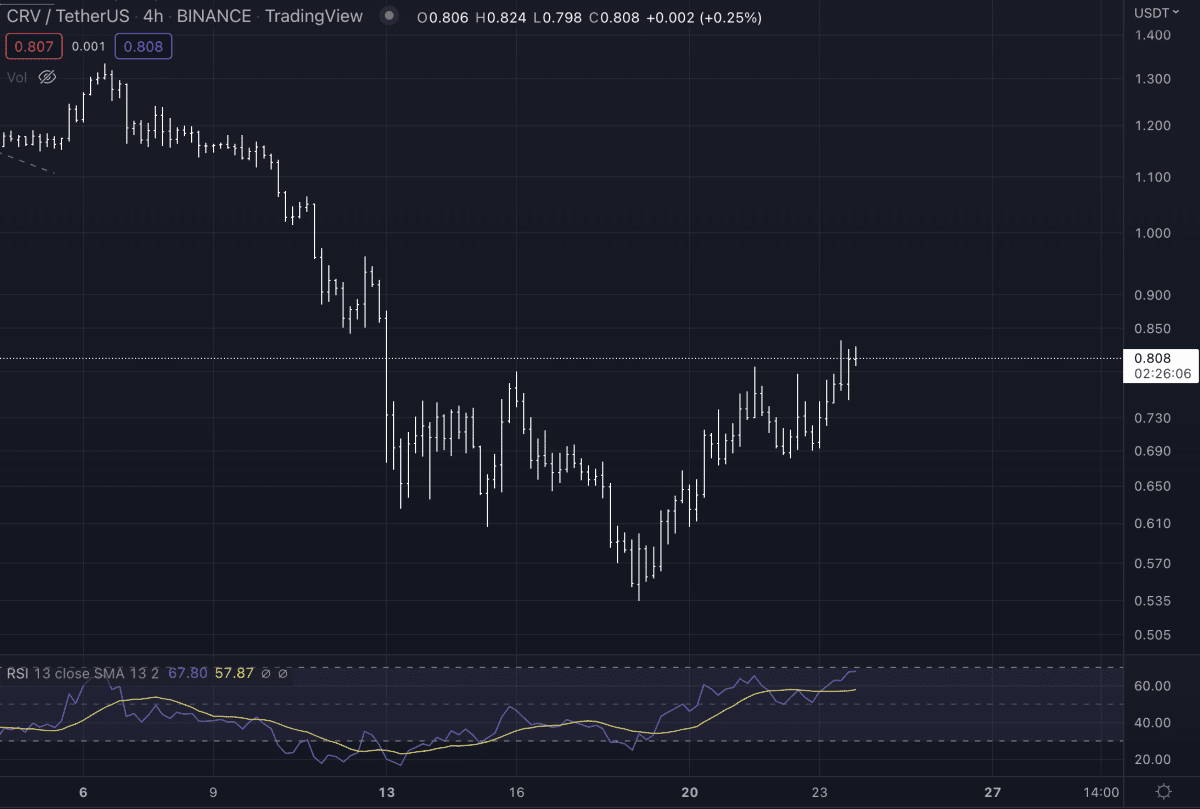 Handel samen met Crypto Insiders op Discord
Om antwoord te krijgen op de vraag of dit het juiste moment is om te kopen of verkopen verwijzen we je graag door naar onze Discord groep voor leden. Hier bediscussiëren ervaren analisten en handelaren dagelijks hun eigen in- of uitstapmomenten. Ook delen we hier als eerst onze technische en fundamentele analyses. In onze Discord community kunnen we 24/7 kennis met elkaar delen en proberen we samen met premium leden de markt voor te blijven.