Bitcoin (BTC) kon, na de flinke crash van afgelopen week, de afgelopen dagen iets herstellen. Daarmee werd de koers iets stabieler, maar het was nog veel te vroeg om van een trendommekeer te spreken. Het lijkt er inmiddels op dat deze relief rally alweer ten einde is, maar kan bitcoin standhouden boven $20.000?
Bitcoin koers zakt weer met 5%
De bitcoin koers zakte afgelopen weekend naar een dieptepunt van $17.760 en begon toen voorzichtig te herstellen. Zondag brak bitcoin door $20.000 en gisterenochtend heroverde de koers ook even $21.000.
Tegen gisterenavond maakte bitcoin nog een sprongetje naar $21.500, maar de koers kwam hier toen te veel weerstand tegen en begon vervolgens weer flink te dalen. Vanochtend vond bitcoin even support rond $20.500, maar die begaf het ook snel.
Op het moment van schrijven komt de BTC prijs op $20.150 uit op KuCoin en €19.200 op Bitvavo. Dat is een daling van 6,5% vanaf de top van gisterenmiddag en een daling van 5% in de afgelopen 24 uur.
#Bitcoin Rising Wedge Update: pic.twitter.com/Inb7HQ3DYY

— Matthew Hyland (@MatthewHyland_) June 22, 2022
Kan bitcoin een dubbele bodem vormen?
Dat betekent dat bitcoin alweer uit een zogeheten rising wedge patroon valt, die de afgelopen dagen vormde, zoals in de bovenstaande grafiek is te zien. Bitcoin komt inmiddels aan op een belangrijk supportniveau rond $20.130, maar het momentum duidt op verder omlaag.
Dat zou kunnen beteken dat bitcoin weer snel de recente low rond $17.760 gaat opzoeken. Dat zou tot een dubbele bodem patroon kunnen leiden, wat meestal bullish is.
Toch blijft het mogelijk dat bitcoin nog dieper zakt de komende tijd, aangezien de macro er nog steeds ongezond uitziet. Ondanks dat enige accumulatie plaatsvindt, heerst er nog steeds veel angst en onzekerheid onder investeerders.
Aan de bovenkant is het belangrijk dat bitcoin weer de 200-weken moving average herovert, maar die ligt inmiddels op $22.400.
#Bitcoin Investor Tool

Dollar cost averaging below the 2year moving average is usually pretty profitable (specially after a 47% drawdown from the MA – at 35k) pic.twitter.com/qVVLAQv24Y

— Joako.btc (@Blockwise_) June 21, 2022
Bearish on-chain data voor bitcoin
Het ziet er naar uit dat de enorme uitstroom uit de Canadese bitcoin exchange-traded fund (ETF) toch klopt. De hoeveelheid activa onder beheer zakte met meer dan 50% op vrijdag. Er werd in eerste instantie gedacht dat het om een fout ging, maar het is blijkbaar een teken van de enorme onzekerheid op de markt, ook onder institutionele investeerders.
As yesterday @PurposeInvest also reported a low value on their website I guess it is safe to say the outflow on Friday actually happened.

The Canadian #Bitcoin Purpose spot ETF saw the biggest outflow ever on Friday of 24.51k $BTC.

That is a drop of more than 50% in AUM. 😬 pic.twitter.com/CQRLMwinFF

— Jan Wüstenfeld (@JanWues) June 21, 2022
We schreven al een tijdje dat bitcoin miners flink onder druk staan. Inmiddels blijkt dat deze miners massaal hun BTC in mei hebben gedumpt, zelfs meer dan 100% van hun productie.
Miners have started to dump their #bitcoin holdings.

Public miners sold more than 100% of their production in May, a massive increase from the usual 25-40%. pic.twitter.com/KabSWqvL4T

— Jaran Mellerud (@JMellerud) June 21, 2022
Afgelopen week stuurden miners zelfs 4.700 BTC naar exhanges in een enkele dag. Dat is het vierde hoogste aantal sinds 2018 en toevallig precies hetzelfde aantal dat tijdens het einde van de bodem van 2019 werd verstuurd.
Miners sent 4,710 #Bitcoin to exchanges in a day last week. This is the 4th highest daily amount since 2018.

Random coincidence- Miners sent 4,710 BTC to exchanges in 1 day last week, which is the exact same peak amount that they sent at the end of the bear market bottom in 2019 pic.twitter.com/uCnmOXlcyc

— On-Chain College (@OnChainCollege) June 21, 2022
Bitcoin verkocht of HODL? Onze leden stemden
Veel investeerders hebben het natuurlijk zwaar met de recente koersdalingen. Hoe gaan onze leden uit de Discord groep hiermee om? Hebben zij hun BTC verkocht of houden zij deze stevig vast? We hielden onlangs een peiling met deze vraag en hieronder zijn de resultaten te vinden. Het ziet er naar uit dat de grootste groep afwacht op het juiste moment om weer in te stappen en/of bij te kopen. Houd er rekening mee dat het meestal erg moeilijk is om precies op het allerdiepste punt te mikken.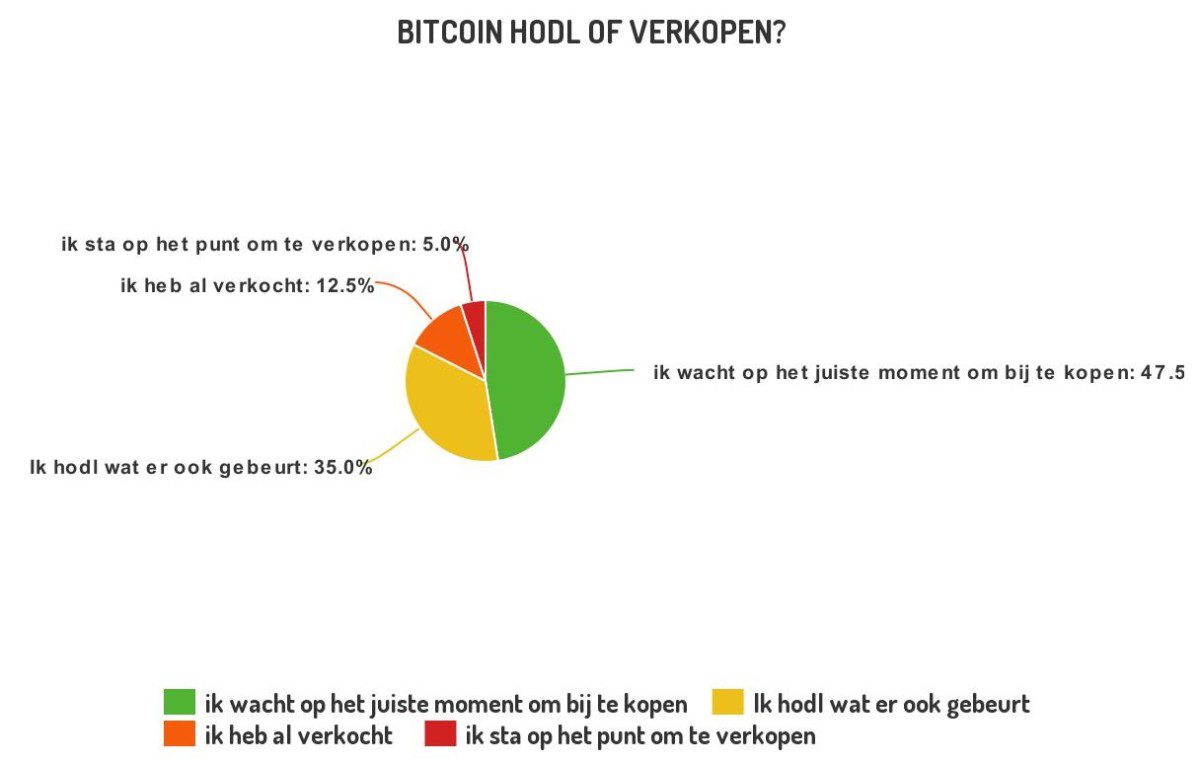 Crypto Insiders Premium voor bitcoin analyses
Wil jij diepgaandere bitcoin analyses ontvangen? Dan verwijzen wij je graag door naar onze Discord community voor leden. Stel vragen aan analisten, klets met onze fanatieke community en ontvang dagelijks technische en fundamentele analyses van bitcoin, maar ook andere crypto. Via Discord Premium kunnen we 24/7 kennis met elkaar delen en proberen we samen met onze leden de markt voor te blijven.
While #Bitcoin may not be a hedge against consumer price inflation, it, to some extent, seems to act as a hedge against extreme monetary inflation. pic.twitter.com/WBgbZJK5wJ

— Jan Wüstenfeld (@JanWues) June 21, 2022
Disclaimer: Beleggen brengt risico's met zich mee. Onze analisten zijn geen financieel adviseurs. Raadpleeg altijd een adviseur bij het maken van financiële beslissingen. De informatie en tips die op deze website worden verstrekt zijn gebaseerd op eigen inzichten en ervaringen van onze analisten en dienen alleen voor educatieve doeleinden.