Bitcoin (BTC) is in de afgelopen 24 uur met 0,8% gestegen en sinds middennacht met 0,5% gedaald. De actuele prijs is op het moment van schrijven $23.100 op crypto exchange KuCoin en €22.666 op de Nederlandse exchange Bitvavo. Het handelsvolume daalde in de afgelopen 24 uur met 27%. De totale marktkapitlisatie van bitcoin bedraagt op het moment van schrijven $441 miljard en de bitcoin dominantie komt uit op 41,8%.
Bitcoin nieuws van gisteren
De bitcoin koers was gisterenochtend iets gedaald na nieuws over een whale en Tesla dump. Uit de kwartaalcijfers van Tesla bleek namelijk dat het bedrijf 75% van zijn bitcoin positie had verkocht. Uiteindelijk bleek Elon Musk, de CEO van Tesla, dit gedaan te hebben vanwege de lockdown in China. Musk vond het hierdoor belangrijk om de cashpositie van Tesla te vergroten. Toch staat Musk er nog voor open om met Tesla later weer in BTC te investeren.
Bitcoin stijgt mogelijk richting $35.000
Vandaag nemen we de analyse van Twitter analist El Crypto Prof door. In deze grafiek kijkt de analist naar de lange termijn koers van bitcoin met behulp van een Gaussian kanaal. Uit deze indicator blijkt dat de koers mogelijk al zijn bodem heeft bereikt. Als we naar de voorgaande prijsactie kijken, kunnen we wellicht zien waarom dat zo is.
According to the Gaussian Channel, $BTC has hit the bottom.

-Since 2015, the bottom has always been formed in the first 10-15% of the red channel
-This was always followed by a recovery to (at least) the lower area of the red channel
-This area is currently at $35,000 pic.twitter.com/7nxtHOlVS6

— 𝕄𝕠𝕦𝕤𝕥𝕒𝕔ⓗ𝕖 🧲 (@el_crypto_prof) July 21, 2022
Elke keer dat het Guassian kanaal rood kleurt, heeft de BTC koers zijn bodem bereikt. Dit zou dus betekenen dat recente dip naar $17.500 de bodem markeert. De koers schiet na een korte periode van zijwaartse prijsactie elke keer weer terug naar de onderkant van het rode kanaal. Dit niveau ligt volgens de analist nu rond de $35.000. Mogelijk gaan we nu dus een periode van consolidatie tegemoet en zien we daarna een herstel naar $35.000.
Premium crypto analyse van de dag: LINK
Gisteren werden maar liefst tien nieuwe analyses gedeeld in de Discord omgeving van Crypto Insiders, waaronder voor bitcoin (BTC), ethereum (ETH), cardano (ADA), ape coin (APE), en the sandbox (SAND).
Vandaag nemen we hieronder een kijkje naar de nieuwe analyse van chainlink (LINK). Het technische plaatje ziet er voor link erg goed uit. Voor de korte termijn wordt eerst nog een kleine daling verwacht die de koers aangewezen koopzone zal brengen. Vanaf hier lijkt de kans groot dat de koers een Elliott wave C in een wave 4 zal maken die de prijs omhoog kan duwen. Een stijging van maar liefst 150% zou dan wellicht kunnen volgen. In de Discord community zullen wij het koersverloop strak in de gaten houden.
Wil jij dit soort analyses eerder lezen? Neem dan ook een kijkje in de Premium omgeving. Hier kan je ook direct in contact komen met verschillende analisten en crypto enthousiastelingen die klaar staan om jou te helpen!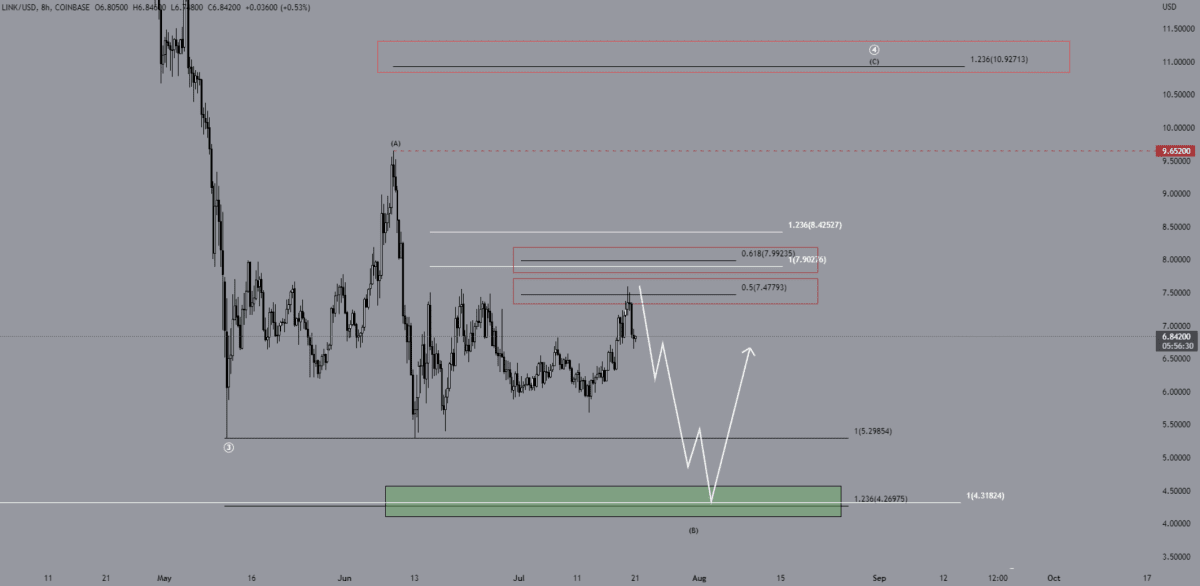 Handel samen met Crypto Insiders op Discord
Zoek jij hulp met handelen in crypto? Dan verwijzen we je graag door naar onze Discord groep voor leden. Hier bediscussiëren ervaren analisten en handelaren dagelijks hun analyses en handelsplannen. Ook delen we hier als eerst onze technische en fundamentele analyses. In onze Discord community kunnen we 24/7 kennis met elkaar delen en proberen we samen met onze premium leden de markt voor te blijven.
Ook hield onze hoofdanalist, bekend als AppY, onlangs een ask me anything (AMA) sessie voor onze premium leden. Deze is nu voor iedereen terug te zien en staat vol met zeer interessante technische analyses!
Disclaimer: Beleggen brengt risico's met zich mee. Onze analisten zijn geen financieel adviseurs. Raadpleeg altijd een adviseur bij het maken van financiële beslissingen. De informatie en tips die op deze website zijn verstrekt is gebaseerd op eigen inzichten en ervaringen van onze analisten en dienen alleen voor educatieve doeleinden.