Daytrading is een vorm van investeren. Wat deze vorm echter kenmerkt is het feit dat de handelaar slechts voor hele korte periodes een bepaald activum vast heeft. Deze korte periodes zijn minimaal een aantal seconden en maximaal een dag. Wanneer een handelaar besluit een aandeel vast te houden tot aan de volgende dag is dat alweer een andere vorm van handelen, namelijk 'swing trading'. Daytrading kan in principe op elke markt, zolang deze maar liquide genoeg is. Je wilt immers wel dezelfde dag nog van je financiële product af kunnen komen. Producten die populair zijn onder de daytraders aangezien ze makkelijk te daytraden zijn, zijn bijvoorbeeld aandelen, opties, futures, forex en natuurlijk cryptocurrencies. 
Doordat daytraders handelen voor hele korte periodes wil dat ook zeggen dat zij eigenlijk helemaal niet geïnteresseerd zijn in de solvabiliteit van het bedrijf achter een aandeel of de economie van het land waarvan zij de valuta verhandelen. Zij zijn slechts geïnteresseerd in de grafiek van deze producten en de mogelijkheid om daar winst mee te maken. 
Dit in tegenstelling tot een lange termijn investeerder of belegger. Zij kijken goed naar het bedrijf achter een aandeel en kijken naar alle financiële cijfers voordat zij besluiten dit aandeel te kopen. Wanneer zij dan uiteindelijk besluiten om een aandeel te kopen willen zij die zo lang mogelijk vasthouden. Zoals Warren Buffet ooit zei: "het beste moment om een aandeel te verkopen is nooit". Daytraders hebben hier natuurlijk helemaal geen tijd voor als zij binnen een split second een besluit moeten maken om een aandeel te kopen of te verkopen. Zij zullen het dus niet eens zijn met Buffet.
Crypto daytraden
Doordat cryptocurrency handel vergelijkbaar is met de handel in aandelen, forex of andere financiële producten, is het ook hierbij mogelijk om te day traden. Hiervoor is slechts een account nodig bij een cryptocurrency exchange zoals Binance, of mocht je liever bij een Nederlandse partij willen handelen dan is day trading bij Bitvavo ook mogelijk. Een exchange is een beurs waarbij het aan- en verkopen van cryptocurrency mogelijk wordt gemaakt. Op deze platformen kan een handelaar middels verschillende ordertypes trades maken. De meeste platformen bieden ook de bijbehorende grafieken zodat elke handelaar haar eigen day trading strategie kan toepassen.  
Het voordeel, maar tegelijkertijd ook het nadeel, van cryptocurrencies is dat de markt 24/7 open is. Dit in tegenstelling tot de traditionele aandelenmarkt, waarbij de markt slechts tussen bepaalde tijden open is. Dit is natuurlijk een voordeel voor handelaren aangezien zij nu zelf kunnen bepalen wanneer zij kunnen traden en zijn zij niet gebonden aan de vooraf bepaalde tijden. Mocht een trader day trading zien als hobby dan kan diegene gewoon na het werk zijn computer opstarten en thuis handelen. 
Dit brengt echter ook weer een aantal nadelen met zich mee. Doordat de markt de hele dag open is betekent dit ook dat al het volume dat een cryptocurrency zou krijgen verspreid is over de gehele 24 uur, waardoor het soms ervoor zorgt dat er minder harde koersstijgingen of dalingen zullen plaatsvinden terwijl dit wel is wat een daytrader nodig heeft. 
Daarnaast kan het zo zijn dat wanneer de daytrader gaat slapen, want zelfs zij hebben slaap nodig, de markt net in de richting beweegt waar zij op hadden gehoopt. Wanneer zij weer wakker worden zien zij dat ze net hun instapmoment hebben gemist doordat zij lagen te slapen. Dit is natuurlijk op te lossen door al een limietorder in te stellen die afgaat op het moment dat de cryptocurrency op de gewenste koers is, echter brengt dat voor een daytrader natuurlijk ook risico met zich mee.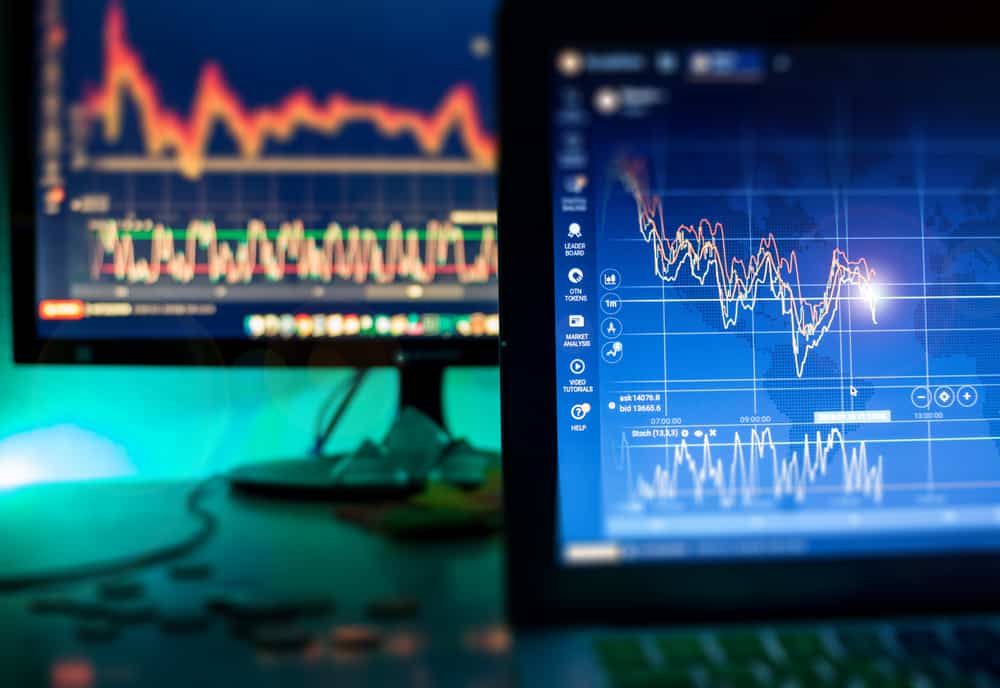 Daytrading strategieën
Daytraders kunnen gebruikmaken van verschillende day trading strategieën. Het mooie hieraan is is dat er geen een strategie 'de beste' is. Dit zorgt ervoor dat je je eigen strategie kunt ontwikkelen door trial and error en er op deze manier achter komen wat precies bij jou past. 
Strategieën die gebruikt worden zijn bijvoorbeeld traden met technische analyse. Dit kan zijn door simpel steun- en weerstandslijnen te tekenen maar ook door wat ingewikkeldere Fibonacci retracement te tekenen in combinatie met moving averages. Met de technische analyse kan het zo gek nog niet. Er zijn letterlijk honderden verschillende technische indicatoren die jou kunnen helpen bij het traden van cryptocurrencies. Als jij een combinatie kan vinden van indicatoren die bij jou past kan je al snel een mooie trading strategie maken. 
Een andere strategie die toegepast kan worden is een combinatie van technische analyse met fundamentele analyse. Hierbij kijkt de handelaar naar wat er gebeurd is op de markt en of een bepaald project met een mooie aankondiging of samenwerking is gekomen. Goed nieuws voor een project trekt namelijk in de meeste gevallen nieuwe handelaren. Nieuwe handelaren zorgt weer voor extra volume. Dit volume heb je als daytrader simpelweg nodig. Een voorbeeld van een goed nieuwtje voor een cryptocurrency kan een samenwerking zijn met een groot bedrijf of een listing op een van de grotere exchanges die er zijn. 
Crypto day trading tips
Natuurlijk zijn er een aantal dingen waar je bij het day traden op moet letten. Een van de belangrijkste taken is het kunnen beheren van je emotie en geduld hebben. Probeer geen trades te forceren, maar trade enkel de cryptocurrencies die binnen jouw strategie vallen. Een veelgemaakte fout van beginnende daytraders is dat zij zomaar elke cryptocurrency proberen te traden omdat ze maar wat willen traden, ook al past deze totaal niet binnen hun strategie. Het is zeker niet erg om af en toe een dag 0 trades uit te voeren als dit ervoor zorgt dat je op een veilige manier tewerk kan gaan. 
Als je serieus wilt day traden moet je het echt als een vak apart zien. Zie het als een echt beroep en raak niet gefrustreerd als je het niet binnen een weekendje kan. Een dokter of een tandarts heeft zijn beroep ook niet in een weekendje kunnen meesteren. Dat zal daarom ook met traden waarschijnlijk niet lukken. Vroeger was day traden ook eigenlijk alleen bedoeld voor bepaalde investeringsbedrijven, brokers of mensen op de trading vloer. Tegenwoordig is het echter zo makkelijk gemaakt dat iedereen vanuit huis dit ook kan doen. Dit is natuurlijk erg mooi, maar ook erg gevaarlijk als je niet weet wat je doet…