Er bestaan een heleboel verschillende manieren en strategieën om digitale activa te verhandelen. Een van de meest gebruikte manier is het zogheten swing trading. Bij swing trading proberen handelaren te profiteren van schommelingen in de koers op de korte tot middellange termijn. Vaak gaat het hier om meerdere dagen tot zelfs enkele weken. Swing traders maken vaak gebruik van technische analyse om hun strategie te bepalen.
Swing traden met crypto
Uiteraard is het ook mogelijk om te swingtraden binnen de crypto markten. Eigenlijk is dit precies hetzelfde als swingtraden met bijvoorbeeld aandelen, goederen of de forex markten. Swing traden binnen de crypto markten kan op allerlei manieren en de meeste grote crypto exchanges zoals Binance of het Nederlandse Bitvavo kunnen voorzien in de behoeftes van een swing trader.
Swing traders kunnen ervoor kiezen om gebruik te maken van leverage, of een hefboom, maar dit is absoluut niet nodig. Doordat de crypto markten inherent enorm volatiel zijn kan er ook zonder het gebruik van leverage een behoorlijk rendement gemaakt worden met swing traden. Het is ook mogelijk om veel verschillende cryptocurrencies te swingtraden. Van bitcoin (BTC) tot cardano (ADA), of zelfs dogecoin (DOGE). De keuze is reuze en zowel beginnende als ervaren swing traders kunnen binnen de crypto markten moeiteloos handelen.
Voor- en nadelen van swing traden
Veel swing traders bepalen aan de hand van technische analyse waar zij een positie zullen openen, of sluiten. Uiteraard is een analyse nooit een garantie voor succes. Als het misgaat bij swing traden, dan kan er een serieus verlies gedraaid worden. Doordat vooral geprobeerd wordt om van koersbewegingen van enkele dagen tot weken te profiteren kunnen onverwachte koersbewegingen behoorlijk roet in het eten gooien. Helemaal als er geen gebruik gemaakt wordt van een stop loss kunnen de verliezen erg pijnlijk zijn. Als er gebruik gemaakt wordt van leverage kan zelfs de volledige inzet verloren gaan.
Swingtraden wordt over het algemeen wel als makkelijker gezien dan bijvoorbeeld day trading. Met een enkele winstgevende swing trade kan hetzelfde rendement behaald worden als een behoorlijk aantal kleinere day trades. Daarom kost swing traden in de basis ook een stuk minder tijd op een dag. Het is niet nodig om uren per dag te spenderen achter een computerscherm.
Doordat swingtraden een vrij simpele manier is om te handelen, is het ook voor beginners goed geschikt. Dat wil niet zeggen dat iemand direct zonder te oefenen consistent winstgevend kan swingtraden, maar het biedt beginners een goede manier om aan hun vaardigheden te werken zonder dat het risico op een financiële ondergang constant op de loer ligt.
Het grootste voordeel van swingtraden is natuurlijk de winst die behaald kan worden in combinatie met het relatief lage risico. Met swingtraden kan een gelouterde handelaar eenvoudig veel meer geld verdienen dan met een spot investering. Mocht de koers van een cryptomunt 50% in vier weken tijd stijgen dan genereert een spot investeerder ook 50% rendement.
Een swing trader kan door optimaal gebruik te maken van koersbewegingen op de korte tot middellange termijn in deze vier weken tijd behoorlijk wat trades hebben gemaakt. Mocht dit goed hebben uitgepakt dan is het niet gek om een rendement te behalen dat veel groter is dan de 50% die de spot investeerder heeft behaald.
Uiteraard werkt dit twee kanten op. Mochten de swing trades niet goed uitpakken in diezelfde periode dan is het natuurlijk ook mogelijk om zelfs geld te verliezen. Swing traden is om deze reden ook niet voor iedereen weggelegd. Het kost enorm veel tijd en moeite om onder de knie te krijgen, maar indien een swing trader consistent winst kan draaien zijn er gigantische winsten te behalen.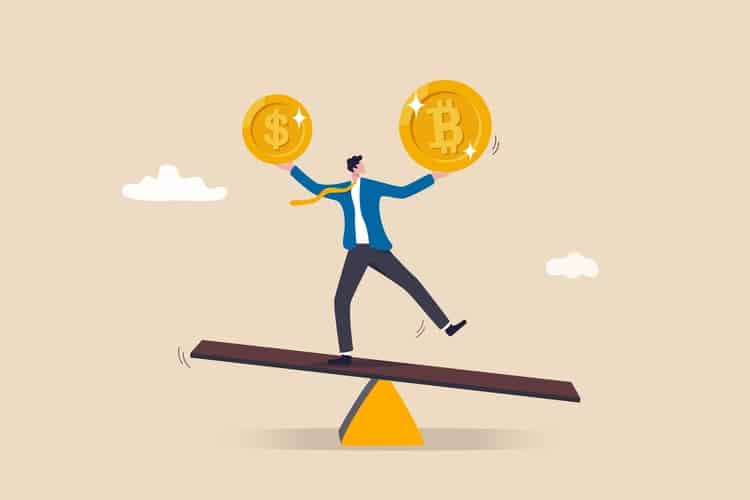 Swing trading strategieën
De beste vriend van een swing trader is zijn grafiek, of chart. Op de charts is alle informatie te zien die een swing trader nodig heeft om de juiste beslissingen te maken en winst te boeken. Technische analyse zoals het gebruik van moving averages en het herkennen van patronen zoals driehoeken en trendlijnen liggen aan de basis van de strategieën van de meeste swing traders.
Elke swing trader bouwt op den duur zijn eigen systeem dat ervoor zorgt dat hij of zij consistent winstgevend kan zijn. Een belangrijk onderdeel hiervan is het zoeken naar setups die van een voorspelbare koersbeweging gebruik kunnen maken.
Niet alleen de setup is van groot belang, ook de exit, of het moment dat je de trade sluit, is belangrijk. Over het algemeen maken swing traders daarom voordat zij een positie openen een uitgebreid plan. Wanneer er winst genomen moet worden, of waar het verlies beperkt moet blijven, is net zo belangrijk als het instappen.
Op papier klinkt dit eenvoudig, maar in de praktijk kost dit proces bloed, zweet en tranen. Geen enkele succesvolle handelaar was vanaf de eerste dag winstgevend. Hier gaat enorm veel tijd en moeite in zitten. Het opbouwen van een goed risicomanagement komt niet zomaar aanwaaien.
Waar kun je swing traden?
Swingtraden kan in de basis op heel veel plekken. Overal waar gemakkelijk cryptocurrencies gekocht en verkocht kunnen worden is het mogelijk om te swingtraden. Als een handelaar echter gebruik wil maken van leverage dan wordt de keuze behoorlijk beperkt. Lang niet elke crypto exchange biedt namelijk de mogelijkheid om te traden met leverage.
Voor handelaren die de voorkeur geven aan swingtraden met leverage is het waarschijnlijk verstandig om bijvoorbeeld een derivaten exchange zoals Bexplus of ByBit te kiezen. Ook op Binance kunnen swing traders eenvoudig aan hun trekken komen als het op leverage aankomt.
Ook hanteren spot exchanges, die dus voornamelijk bedoeld zijn voor investeerders zoals bijvoorbeeld Bitvavo en Coinbase, vaak hoge transactiekosten. Als een handelaar vaak een positie opent dan kunnen de kosten die hiermee gemoeid gaan aardig oplopen. Het is niet aan te raden om op dergelijke exchanges te swingtraden, maar het is uiteraard niet onmogelijk. Uiteindelijk komt het neer op persoonlijke voorkeur.