Zijn jullie nog wakker? Wie denkt dat het altijd spanning en euforie is in de wereld van cryptocurrency trading heeft het mis. Man, wat kunnen de markten af en toe saai zijn. Periodes van besluiteloosheid, sideways traden en/of consolidatie kunnen het geduld vaak goed op de proef stellen. In dit soort situaties is het van belang niet te gaan traden omdat je je verveelt, maar dat je het geduld vasthoudt en je aan je eigen plan houdt. Voor mij geldt dan dat ik wacht op een confirmerende break uit het kanaal van $7.700-8.400 en aan de hand van die break de niveau's voor nieuwe entries bepaal.
Afgelopen week is er praktisch niets gebeurd en nadat de koers van bitcoin (BTC) wederom support vond op de onderkant van het kanaal, op een niveau van $7.814 op Coinbase, heeft de koers de afgelopen dagen een kleine rally gemaakt tot boven $8.200 op Coinbase en bevindt de koers zich – terwijl ik dit schrijf – op $8.273. Maar zoals ik de afgelopen weken ook al aangaf: Wordt niet te snel bullish en wacht op een conformerende break door de 200 dagen Moving Average (MA), want op dit moment wordt het plaatje van bitcoin iedere keer zwakker. 
Aankomende Death-Cross
De markt was euforisch naar de aanloop van dinsdag 23 April 2019. We zagen namelijk een golden-cross aankomen en dit is toch wel het signaal onder de traditionele technisch analisten dat de bullmarkt weer terug is. Een golden-cross doet zich voor wanneer de 50 dagen MA naar boven breekt door de 200 dagen MA en wordt gezien als een zeer positief signaal, omdat de kortlopende MA (de 50 dagen in dit geval) door de langlopende MA breekt en dit aangeeft dat de trend is gedraaid. Het lijkt inderdaad erg veel op de Moving Average Convergence Divergence (MACD), alleen worden bij de MACD andere MA's gebruikt (over het algemeen 12- en 26-periodes) en wordt hierbij tevens de convergentie en divergentie van de twee MA's weergegeven, maar het principe van lange termijn versus korte termijn blijft hetzelfde. Op 23 April werd de golden-cross een feit en liep de 50 dagen MA, als gevolg van de sterke bull trend, weg van de 200 dagen MA. Echter, na de piek van de koers van bitcoin tot een niveau van bijna $14.000 is de koers initieel terug gevallen tot $10.000 en vervolgens naar het niveau van rond de $8.000 waar wij ons nu op bevinden. Deze daling heeft er uiteraard voor gezorgd dat de 50 dagen MA eerst neutraal werd en vervolgens omdraaide in een neerwaartse richting zoals ik ook twee weken geleden beschreef. Op dit moment komen de 50 dagen MA en de 200 dagen MA echter weer bij elkaar in de buurt en staan we op het punt een death-cross te maken (50 dagen MA breekt neerwaarts door de 200 dagen MA) zoals hieronder goed te zien is in afbeelding 1.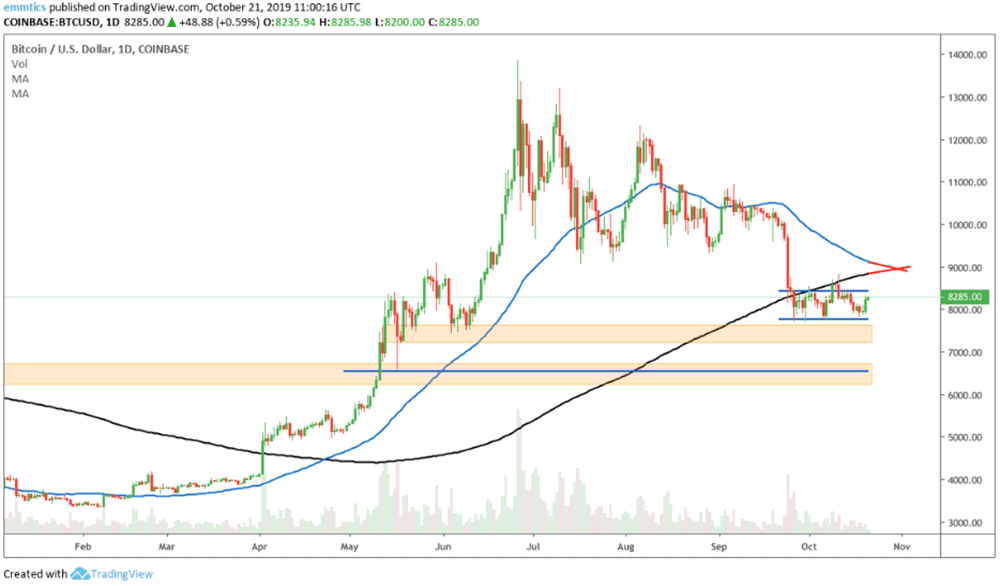 Afbeelding 1: dagelijkse bitcoin (BTC) grafiek op Coinbase
In bovenstaande afbeelding heb ik de 50 dagen MA (blauwe lijn) en de 200 dagen MA (zwarte lijn) geplot en tevens beide MA's doorgetrokken (rode lijnen). Hierop is goed te zien dat binnen nu en negen dagen (afhankelijk van eventuele scherpe koersbewegingen) we een death-cross te zien krijgen. Nu is het uiteraard zeer goed mogelijk dat een dergelijk event al is ingeprijsd in de markt daar dit soort events zeer goed zijn aan te zien komen, en dat we daarom niet direct een sterke koersval hoeven te zien bij deze gebeurtenis, maar desalniettemin is het een sterk bearish signaal. Toen we de golden-cross op de 23 april zagen hadden we zelfs een sterke koersval omdat in de aanloop naar de golden-cross de markt al een sterke rally had gemaakt. Een geval van buy the rumor, sell the news.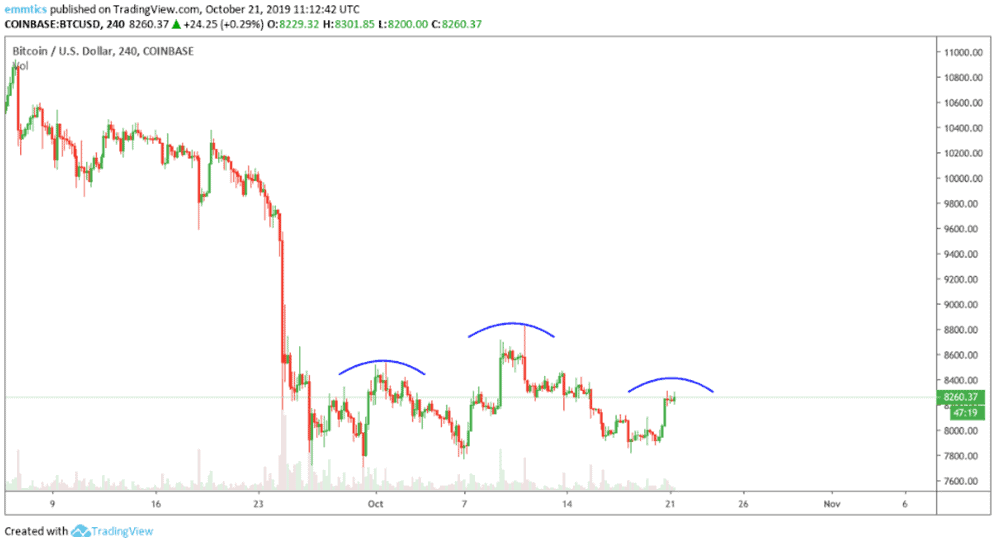 Afbeelding 2: 4-uurs grafiek bitcoin (BTC) op Coinbase
Naast het zeer bearish karakter van de death-cross (de naam is ook zo positief…), zou er zich ook een head and shoulder patroon (bearish) kunnen vormen op de 4-uurs grafiek. Dit is uiteraard zeer voorbarig daar de rechterschouder van dit patroon nog niet af is, maar het geeft wel aan dat, indien de huidige rally zich niet voortzet, het klimaat steeds sneller grauw wordt. Ook al zitten we nog steeds in het kanaal van $8.400-$7.700, de bulls zijn de controle volledig aan het verliezen en tonen tevens zwakte.
---
Crypto Insider David maakt wekelijkse 
Macro Updates
 voor in onze members-omgeving! Klik hieronder voor een voorproefje op zijn uitgebreide analyses op beeld
Surf nu naar https://members.crypto-insiders.nl om je aan te melden voor een 
gratis
 maand lidmaatschap op exclusieve content!
---
De 200 dagen MA is de sleutel tot een rally
De enige redding die ik op dit moment zie is een succesvolle break door de 200 dagen MA en dat de koers tevens support vindt op deze trendlijn. De markt zit namelijk vol met bearish indicatoren (neerwaartse 21 weken MA, 50 dagen MA en mogelijke inverted head and shoulders etc.) dat enkel een break en support op dit belangrijke niveau een basis kan bieden voor een vervolg van de rally van enkele maanden geleden. Er zijn uiteraard ook bullish signalen te vinden als je kijkt naar verschillende candle-formaties op de wekelijkse grafiek (lange wick aan de onderkant van de wekelijkse candle laat sterk support zien) alsmede een convergentie op de MACD en Stoch-RSI die al tijden oversold is, maar dit soort signalen delven op dit moment in mijn optiek het onderspit ten opzichte van het scala aan bearish signalen. Daardoor wil ik eerst bewijs zien voordat ik de bulls weer het voordeel van de twijfel geef en dat bewijs zie ik in een positieve break door de 200 dagen MA. Als die break er niet komt verwacht ik een bezoek aan de $6.500 waar, afhankelijk van de technische situatie op dat moment, een potentieel mooie mogelijkheid ligt voor nieuwe entries.
Tot volgende week! 
Wil je op de hoogte blijven van het laatste nieuws? Abonneer je dan op onze push-berichten, Facebook– of Twitter. Meediscussiëren? Meld je dan aan voor ons Telegram kanaal.