Bitvavo is een Nederlandse exchange voor digitale valuta. Het bedrijf is opgericht in 2018 en is op het moment het het grootste en goedkoopste handelsplatform in Nederland. Bitvavo heeft als doel om één van de meest belangrijke partijen binnen Europa te worden en om voor iedereen in Europa digitale activa aan te bieden. Op het moment van schrijven biedt Bitvavo meer dan 150 cryptocurrencies aan om te kopen, te verkopen en te bewaren.
Handelen is mogelijk op Bitvavo als je je in een van de 27 ondersteunde landen in Europa bevindt. Op het moment spreekt de exchange van een 30-daags handelsvolume van meer dan 10 miljard euro, afkomstig van meer dan 1 miljoen actieve gebruikers. De ruim 8.500 reviews geven het platform gemiddeld een 8,6 uit 10.
Bekijk ook onze Bitvavo review.

Lage handelskosten bij Bitvavo
Bitvavo heeft relatief lage handelskosten of spreads. Binnen de Benelux zijn het zelfs de laagste van elk platform dat momenteel beschikbaar is. De meest recente spreads kun je bekijken op Bitvavo's website en liggen tussen de 0,25% en 0,03%. Dat percentage hangt af van of je koopt of verkoopt en hoe hoog je handelsvolume van de afgelopen 30 dagen was. Als je meer handelt, dan liggen de fees een stuk lager, alhoewel het al snel om erg grote bedragen gaat die je dan moet verhandelen.
| | | |
| --- | --- | --- |
| Handelsvolume (30 dagen) | Taker fee | Maker fee |
| € 0+ | 0,25% | 0,15% |
| € 100.000+ | 0,20% | 0,10% |
| € 250.000+ | 0,16% | 0,08% |
| € 500.000+ | 0,12% | 0,06% |
| € 1.000.000+ | 0,10% | 0,05% |
| € 2.500.000+ | 0,08% | 0,04% |
| € 5.000.000+ | 0,06% | 0,04% |
| € 10.000.000+ | 0,05% | 0,03% |
| € 25.000.000+ | 0,04% | 0,03% |
Bitvavo betaalmethoden
Ook bij het storten en opnemen van fiat-valuta liggen de kosten erg laag. Voor Nederland is er bijvoorbeeld ondersteuning voor het veelgebruikte iDEAL, maar ook SEPA wordt ondersteund. Bij geen van beide krijg je te maken met kosten. iDEAL-betalingen worden direct verwerkt. Een SEPA-betaling wordt binnen een dag verwerkt, maar je hebt ook de keuze uit SEPA Instant Transfer, waarbij de limiet op 15.000 euro per transactie ligt.
| | | | |
| --- | --- | --- | --- |
| Betaalmethode | Totale fees | Relatieve fees | Max bedrag |
| Bancontact | € 0,00 | 0,00% | € 10.000 |
| EPS Überweisung | € 0,00 | 1,75% | € 1.000 |
| Giropay | € 0,00 | 1,75% | € 1.000 |
| iDEAL | € 0,00 | 0,00% | € 10.000 |
| MyBank | € 0,00 | 1,50% | € 5.000 |
| SEPA | € 0,00 | 0,00% | – |
| SEPA Instant transfer | € 0,00 | 0,00% | € 15.000 |
| Sofort | € 0,00 | 2,25% | € 1.000 |
De kosten bij het opnemen van cryptovaluta liggen wat ingewikkelder, die worden namelijk bepaald door welke blockchain je gebruikt. Die kun je zien in het kostenoverzicht van Bitvavo.
Handelsplatform van Bitvavo
Bitvavo heeft zowel een beperkte – en daardoor makkelijkere gebruikersinterface – als een uitgebreidere interface. In de basismodus zie je bij elke cryptocurrency een gemakkelijk te lezen lijngrafiek en een simpele interface waar je een bedrag of hoeveelheid tokens in kunt vullen. De orders die hier worden verwerkt zijn standaard market buy– en market sell-orders. De beperkte transactiekosten die naar Bitvavo gaan worden meegerekend in de prijs die wordt weergegeven.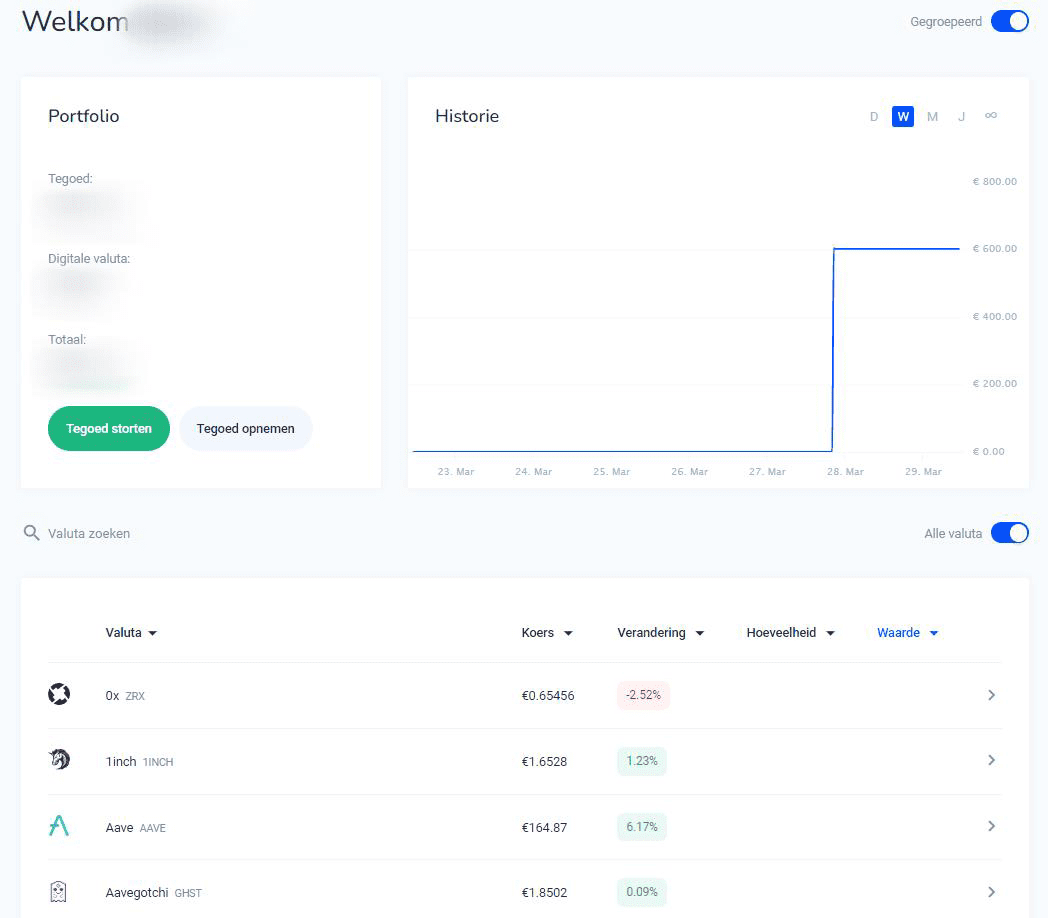 De geavanceerde modus is iets ingewikkelder. Je krijgt daarin een volledige grafiek voor de kiezen, met uitgebreide mogelijkheden voor het soort grafiek, indicatoren, je geplaatste orders, een orderboek en een dieptegrafiek. Je kunt kiezen of je een grafiek wilt met bijvoorbeeld de bekende candlesticks, met een lijn, gekleurd gebied en ook met Heikin Ashi-candles. Naast uit market orders, waarbij je direct voor de bijbehorende prijs een token koopt, kun je ook kiezen voor voor limit– en stop limit-orders. Daar kun je mee bepalen vanaf of tot welke prijs je wilt kopen of verkopen, wat je risico vermindert. Je kunt hierbij kiezen uit drie soorten: good-till-canceled orders, fill-or-kill orders en immediate-or-cancel orders.
Als kers op de taart heeft Bitvavo ook een app voor Android en iOS. Hij is erg overzichtelijk en gemakkelijk in gebruik. De geavanceerde modus is alleen toegankelijk via de computer, maar op een klein schermpje is het nut van een volledige grafiek toch erg beperkt. Euro's overmaken gaat gemakkelijk en snel vanuit de app. Dankzij de aanwezigheid van een donkere modus (dark mode) spaar je je ogen in minder goed verlichte ruimtes. Je kunt de lijst met coins filteren op prijs, welke token het best heeft gepresteerd, op alfabetische volgorde en op hoogste handelsvolume. Je kunt ook een lijst met favorieten aanmaken. Je hebt dus alles bij de hand om een goed overzicht van je portfolio te hebben.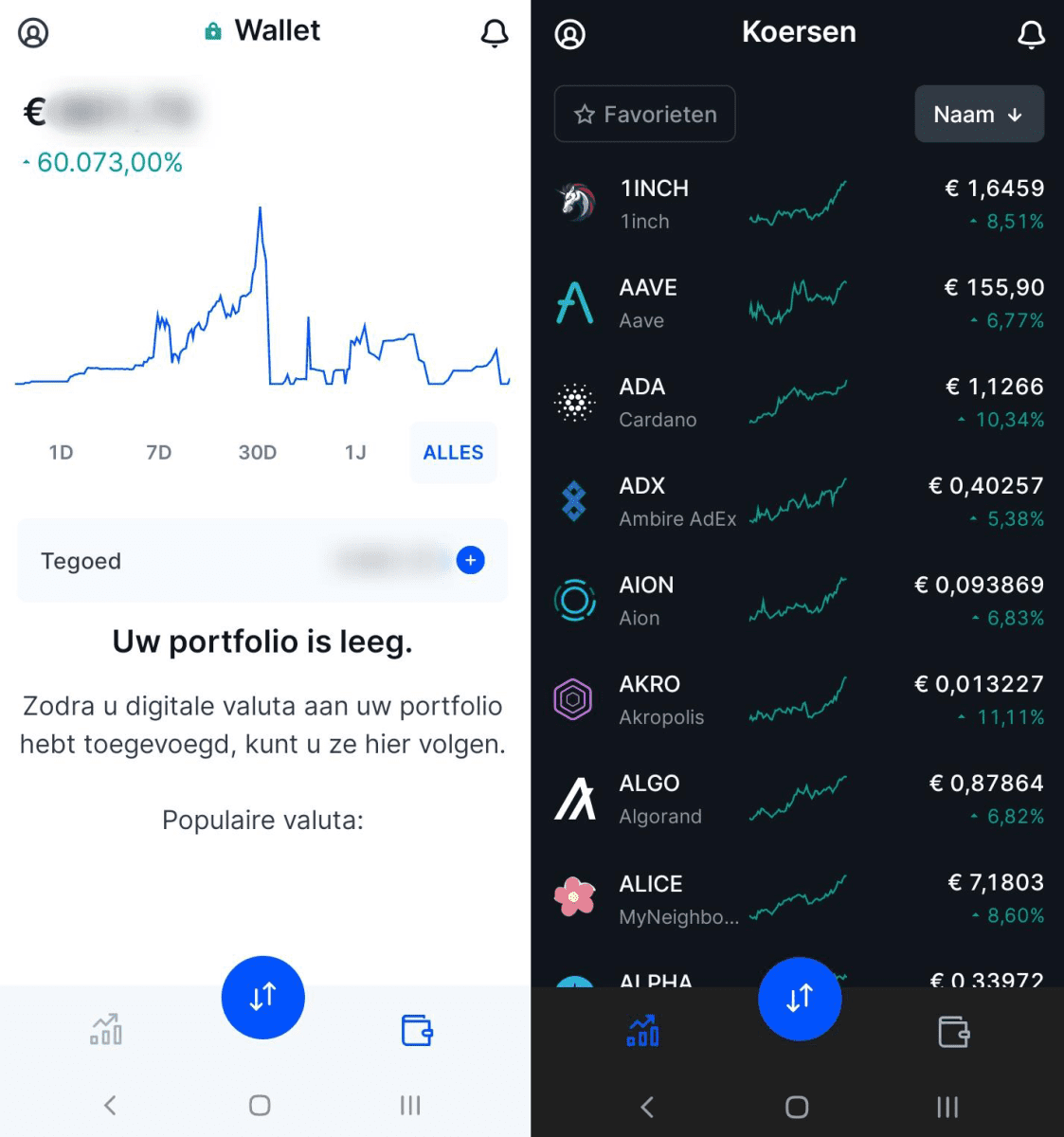 Bitvavo's limieten en verificaties
Bitvavo is een gereguleerde exchange, wat betekent dat gebruikers van de overheid de nodige verificatieprocessen moeten doorlopen om gebruik te maken van de exchange. Echter gaat dit pas op als je meer stort dan 5.000 euro, als je zelf cryptocurrencies op je Bitvavo-account wilt storten of als je je aangekochte cryptovaluta naar een externe wallet wilt sturen. Gaat het om een kleiner bedrag dan wordt er alleen gevraagd om het volgende:
Voornaam

Achternaam

E-mailadres
Boven de 5.000 euro gelden de Nederlandse wetten rondom Know Your Customer (KYC) en de antiwitwasmaatregelen (AML). Dat betekent dat je naast de hierboven genoemde gegevens ook een kopie van je identiteitsbewijs moet uploaden. Dat kan een paspoort, rijbewijs of een ID-kaart (voor- en achterkant) zijn. Helaas geldt dat, als je je niet in één van de 27 Europese landen bevindt, je niet gebruik kunt maken van het platform.
Veiligheid Bitvavo
In tegenstelling tot sommige andere crypto-exchanges heeft Bitvavo zijn hoofdkantoor gewoon in Nederland; in Amsterdam om precies te zijn. Er zijn een aantal extra veiligheidsmaatregelen waar Bitvavo vrij uniek in is:
De activa van de klant zijn ondergebracht bij een aparte stichting, Stichting Bitvavo Payments. Deze stichting staat los van de besloten vennootschap Bitvavo. Zo ben je ervan verzekerd dat je tegoeden ook echt van jou blijven.

Het overgrote deel van de digitale valuta wordt bewaard in

cold storage

.

Deze wallets worden op een fysiek beveiligde plek opgeslagen en zijn niet verbonden met het internet. Dat maakt het vrijwel onmogelijk om ze te hacken.

Slechts een beperkt aantal medewerkers van Bitvavo heeft toegang tot deze wallets. Dat maakt ze nóg veiliger.
Wat ook extra bijdraagt aan de veiligheid is dat je niet zomaar cryptocurrencies van de exchange naar een externe wallet kunt versturen. Het adres waar je het naartoe wilt sturen moet je namelijk ook verifiëren. Dat doe je met een ingebouwde tool op Bitvavo's website, waarmee je een kort filmpje maakt waarin het betreffende wallet-adres duidelijk op te zien is.
Ook kun je gebruikmaken van tweefactorauthenticatie (2FA), iets wat tegenwoordig vrij gebruikelijk is. Je moet dan via een losse app een extra code invoeren naast je e-mailadres en wachtwoord. Dat zorgt ervoor dat iemand niet zomaar met je crypto aan de haal kan gaan zodra je e-mailadres en wachtwoord zijn buitgemaakt.
Bereikbaarheid
Je kunt op twee manieren voor ondersteuning contact opnemen met Bitvavo, namelijk via [email protected] en via de live chat. Die laatste vind je rechts onderaan op de website. Hieronder vindt je de meest recente openingstijden:
Live chat:
Werkdagen: 10:00 – 17:00

Zaterdag: gesloten

Zondag: gesloten
E-mail:
Werkdagen: 09:00 – 21:00

Weekend: 10:00 – 18:00