SimpleFX is een handelsplatform waarop het mogelijk is om te handelen in valuta, aandelen, grondstoffen en natuurlijk cryptocurrency's. Het platform is opgericht in 2014 en het hoofdkwartier staat op het tropische Saint Vincent en de Grenadines, een onafhankelijk land in de Carabische Zee ten noorden van Grenada. Hoewel SimpleFX een legitiem en groot handelsplatform is, betekent het feit dat ze daar gevestigd zijn dat het een ongereguleerd platform is. Gebruikers van het platform zijn dan ook niet verzekerd tegen verliezen als het platform verdwijnt. Het is aan jou om te bepalen of dat risico opweegt tegen het feit dat er geen transactiekosten of commissies worden geheven op het platform.

Focus op gebruiksvriendelijkheid
Het eerste wat opvalt aan het SimpleFX platform is dat het enorm gebruiksvriendelijk is. Als je op het handelsplatform komt kun je aan de linkerkant een markt uitkiezen om in te handelen. Vervolgens verschijnt in het midden de grafiek die je waarschijnlijk kent van platforms als Tradingview en andere handelsplatformen. Hierin kun je allerlei indicatoren plakken om met technische analyse aan de slag te gaan. Denk hierbij aan het toevoegen van trendlijnen, bewegende gemiddelden, Fibonacci-niveaus en nog veel meer. Je kunt hier ook bepaalde grafieken en toegevoegde indicatoren opslaan om daar later weer naar terug te keren.
Rechts van de grafieken kom je vervolgens de nieuws- en informatiesectie tegen. Hier krijg je dus een simpel overzicht van relevante informatie. Op deze plek vinden we ook het kopje "News TV" waar je in een kleine minuut wordt bijgepraat over het belangrijke economische wereldnieuws. Verder kom je hier zogenaamde handels-ideeën tegen van SimpleFX zelf en handelaren die op het platform actief zijn. Aan de onderkant van de pagina vinden we het order-gedeelte. Hier kun je orders plaatsen en kun je al jouw actieve orders terugvinden.
Veel meer dan dit kom je op het SimpleFX platform niet tegen, waardoor het zijn naam eer aan doet. Het is een simpel en strak platform waarop je eenvoudig kunt handelen in een enorme hoeveelheid financiële assets. Naast het handelen in assets is het overigens ook mogelijk om cryptocurrency's te staken op het platform.
Het aanbod op SimpleFX
Wat SimpleFX anders maakt dan de gemiddelde cryptobeurs is dat je er ook terechtkunt voor andere financiële producten. Behalve Bitcoin, Ethereum, ApeCoin, NEO, Litecoin, Link, Waves en nog veel meer cryptocurrencyies, kun je er ook handelen in de euro, Australische dollar, Amerikaanse dollar en nog veel meer vreemde valuta. Verder is het mogelijk om in de grote indices te investeren. Denk hierbij aan de Nasdaq 100, de Dow Jones Industrial Index, de S&P 500, maar ook in Duitse, Spaanse en Franse indices. Naast de indices is het ook mogelijk om in individuele aandelen uit acht verschillende landen te investeren.
Over het aanbod op SimpleFX is dus weinig te klagen. Het enige waar we op blijven terugkomen is dat het bedrijf gevestigd is op Saint Vincent en de Grenadines, wat niet bepaalt in hun voordeel spreekt. Voor het vertrouwen zou het een goede zaak zijn als het bedrijf zich de komende jaren op een andere locatie vestigt. Al moet dat voor de meeste liberalen in de cryptowereld geen probleem zijn, aangezien zij niets moeten hebben van de overheden en de bescherming die zij aan investeerders bieden. Wat dat betreft kan het rebelse SimpleFX een goede match zijn met deze groep investeerders.

Bitcoin Lightning Netwerk
Interessant aan SimpleFX is dat ze op het platform gebruikmaken van het Bitcoin Lightning Netwerk. Het gave hieraan is dat je via het Lightning Netwerk altijd gratis jouw bitcoin naar het platform kunt sturen en opnemen. Op de SimpleFX website hebben ze zelfs een kleine uitleg over hoe het Lightning Netwerk werkt en waarom dat relevant is voor gebruikers. Als je zelf een beetje overweg kunt met Lightning, dan weet je waarschijnlijk dat dit enorm simpel werkt. Als je een wallet hebt is het een kwestie van een QR-code scannen en je kunt jouw bitcoin naar het SimpleFX platform versturen.
Het Lightning Netwerk heeft de potentie om bitcoin op te schalen naar de transactiecapaciteit die nodig is om de hele wereld hun dagelijkse kop koffie met bitcoin te laten betalen. Iets wat met de bitcoin blockchain niet mogelijk is vanwege de bloktijd van 10 minuten en het feit dat bitcoin door de beperkte blokgrootte slechts 7 transacties per seconde kan verwerken.
Account aanmaken
Het aanmaken van een account bij SimpleFX is redelijk simpel. In eerste instantie hoef je alleen een e-mail en wachtwoord op te geven. Vervolgens krijg je een bevestigingsmail en nadat je bent ingelogd moet je een kopie paspoort en selfie inleveren. Als dat allemaal geverifieerd is kun je aan de slag op het platform. In principe hoeft dat hele proces niet langer dan een paar minuten te duren. Afhankelijk van de assets die je op het platform wil zetten kan het wel iets meer tijd kosten voordat je aan de slag gaat. Als je ervoor kiest om bitcoin op het platform te zetten middels het Lightning Netwerk kan het binnen enkele seconden gepiept zijn. Een normale bank- of creditkaart overschrijving kan uiteraard iets meer tijd in beslag nemen. Meteen nadat je een account hebt aangemaakt krijg je het aanbod om middels een kleine tutorial door het platform te lopen. Het is zeker aan te raden om dat even te doen, zodat je meteen weet wat je kunt verwachten van SimpleFX.
👉🏼 Direct een account aanmaken bij SimpleFX
Als dat allemaal gelukt is, dan kan je aan de slag op het SimpleFX platform en handelen in de grootste cryptocurrencies, maar ook in goud, olie en aandelen uit meerdere landen. Het enige grote nadeel is dat SimpleFX niet gereguleerd is en je dus weinig bescherming geniet als ze ineens besluiten te tent dicht te gooien. Dat is iets wat je echt goed in je oren moet knopen als je op dit platform aan de slag gaat. Verder kunnen we niets anders zeggen dan dat alles er heel strak uitziet. Daarnaast lopen ze al 8 jaar mee en lijkt de kans klein dat ze ineens met de noorderzon vertrokken zijn.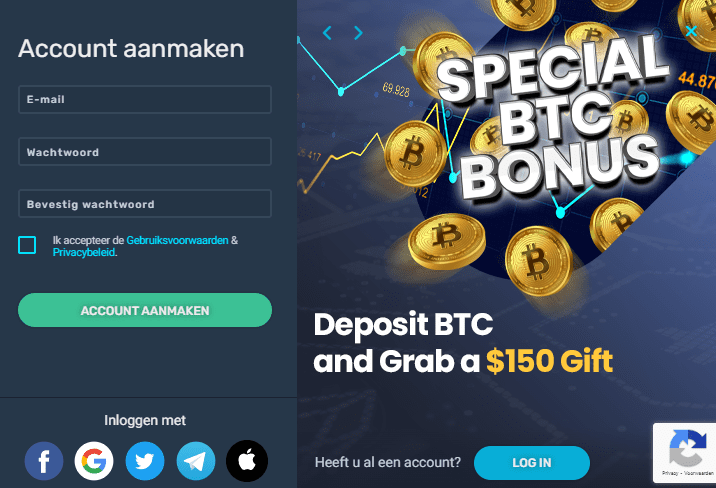 Aanmeldbonus van maximaal 2.500 dollar
Een leuke extra is dat je op dit moment een riante aanmeldbonus kan krijgen bij SimpleFX. De maximale bonus ligt op 2.500 dollar en de hoogte van jouw bonus is uiteraard afhankelijk van de hoogte van je eerste storting. Als je 100 dollar stort is de bonus 20 dollar. Een storting van 250 dollar levert 50 bonusdollars op. Voor een storting van 500 dollar krijg je 100 dollar bonus. Kies je voor een een storting van 2.000 dollar, dan krijg je 500 dollar bonus en voor een storting van 10.000 dollar of meer krijg je 2.500 dollar bonus.
Je kunt de bonus vervolgens vrijspelen door te handelen op de beurs. De bonus komt vrij middels een cashback percentage van 10 procent op je handelskosten. Maak je voor 100 dollar aan handelskosten? Dan speel je daarmee 10 dollar van je bonus vrij. Lees ook de uitgebreide uitleg over de aanmeldbonus bij SimpleFX.