Als je dit leest is de kans vrij groot dat je nog nooit eerder een berenmarkt hebt meegemaakt. Sinds 2020 zijn er namelijk een hoop nieuwe investeerders in cryptocurrencies en ook in andere markten gestapt. Dat betekent dat je vermoedelijk niet zo goed voorbereid bent op een periode die voor cryptocurrencies heel erg tegen kan vallen. Hier lees je over alle stadia van een berenmarkt, zodat je beter voorbereid bent.
Vast programma in crypto
In de financiële wereld bestaat er al een paar decennia een grafiek genaamd de 'Wall Street Cheat Sheet'. Helemaal een grap is het niet, want eigenlijk is het bloedserieus. Het beschrijft de emotionele stadia van investeerders gedurende zowel een stijgende als een dalende markt. Het helpt je om dingen voorspelbaarder te maken.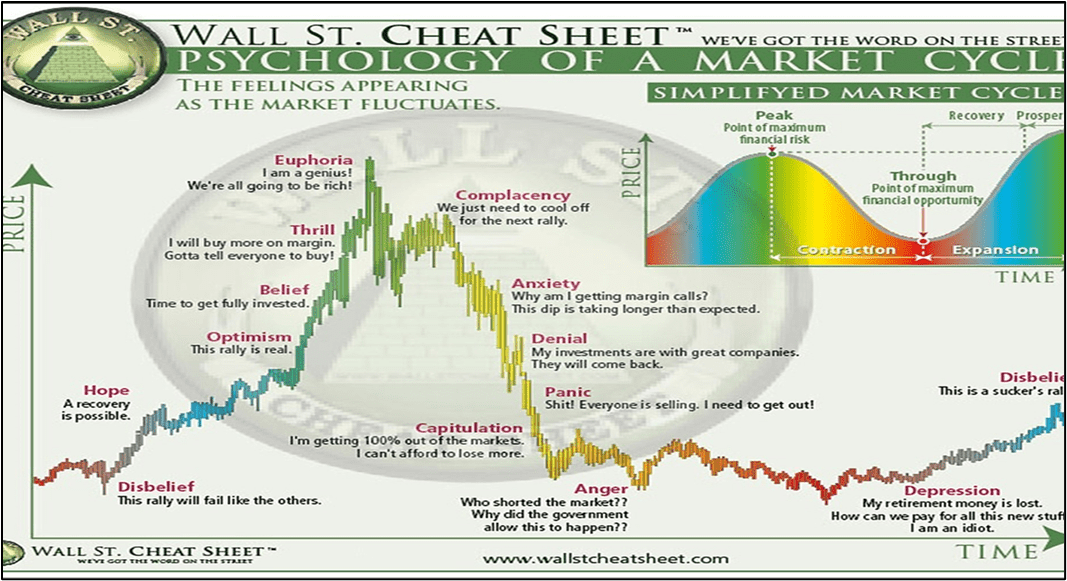 Eigenlijk is het zelfs zo voorspelbaar dat ervaren investeerders de markt zien als een soort verhaaltje dat zichzelf steeds opnieuw afspeelt. Zo verklaarde de Wall Street-legende Michael Burry eind vorig jaar nog 'dit is mijn derde bubbel, ik heb het één en ander geleerd'. Als je de markt goed genoeg kent, dan kun je de grootste problemen dus omzeilen.
D
uurt lang, zo'n bitcoin bearmarkt
Een zware berenmarkt duurt over het algemeen veel langer dan een correctie. Het complete arsenaal van menselijk emoties komt aan bod. Op de top zijn mensen euforisch en gemakzuchtig. Hierna komt de eerste angst, die overslaat in ontkenning van de situatie en uiteindelijk in paniek. Dan geven mensen op en zijn ze boos op zichzelf en anderen.
Op Twitter geeft Blockworks' Jason Yanowitz zijn beschrijving van een berenmarkt. Hij groepeert de stadia in drie. Op dit moment zitten we in stadium twee, die vaak het zwaarst is. In dit stadium dalen prijzen, vaak zonder grote relief rallies. De mensen met diamond hands en laser eyes worden geforceerd om te verkopen vanwege financiële redenen, en bedrijven gaan failliet.
Hierna is de koers uitgeput omdat de verkopers niets meer te verkopen hebben. Dat is stadium drie. Deze fase is lastig omdat de prijs vaak een tijd zijwaarts gaat. Dat zag je bijvoorbeeld begin 2019, toen de prijs van bitcoin (BTC) helemaal nergens naartoe ging en tegelijkertijd op de harde bodem zat. Onthoud in deze tijd vooral waarom je geïnvesteerd hebt, want na de regen komt zonneschijn.
11/ Don't lose sight of the big picture.

We're building an open, permissionless world.

It will take decades, not years.

Close the computer, zoom out, go for a walk.

Just don't give up.

— Yano 🟪 (@JasonYanowitz) June 13, 2022
Sterker na de crypto berenmarkt
Als we naar het crypto nieuws van de afgelopen tijd, de koersen en deze theorie kijken, dan is het duidelijk dat we inderdaad nog in fase twee zitten. Wanneer fase drie begint is nog moeilijk te bepalen, maar het zal waarschijnlijk nog wel even duren. De komende tijd zul je vaker lezen over hoe je de berenmarkt kunt overleven. Dat maakt je sterker. Ook kan je je crypto avontuur natuurlijk beginnen met Crypto Insiders Premium, waar je leert over crypto, het handelen ermee en alles daaromtrent!