De markt voor cryptocurrency heeft de afgelopen 24 uur opnieuw sterke winsten geboekt nu de marktwaarde over de $440 miljard is gestegen en de $0,5 biljoen binnen handbereik lijkt. Bitcoin, Ethereum, Cardano, Bitcoin Cash en andere grote cryptocurrencies toonden grote kortetermijnwinsten.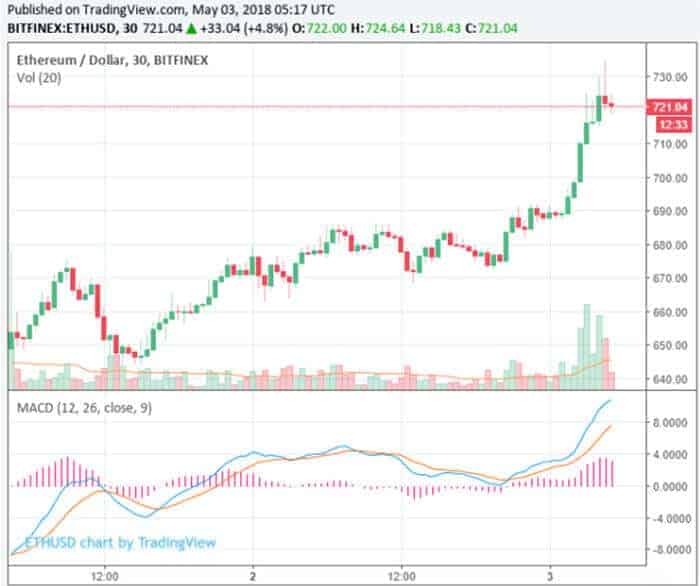 Ethereum leidt de markt
De prijs van Ether, de oorspronkelijke cryptocurrency van het Ethereum blockchain-netwerk, is op 3 mei met 7% gestegen en heeft de afgelopen 12 uur verschillende kooppieken meegemaakt. De sterke prestaties van Ether leidden ertoe dat WanChain, Golem en Ontology in staat waren binnen 24 uur winstpercentages van 10 tot 50% te boeken.
Veroorzaakt door de listing van Bithumb, de grootste cryptocurrency-exchange in de Zuid-Koreaanse markt, steeg de prijs van Golem (GNT) met meer dan 50% ten opzichte van de Amerikaanse dollar en 47% ten opzichte van Bitcoin (zelf met 3% gestegen).
Direct nadat Golem toegevoegd werd op Binance, 's werelds grootste crypto- handelsplatform, zakte de prijs van GNT met meer dan 20% als gevolg van het feit dat handelaren aan de hand van geruchten eerder massaal inkochten en nadien meteen weer verkochten; een trend (buy the rumor and sell the news) die ook verwacht wordt met de recente Bithumb listing en waarmee GNT waarschijnlijk op korte termijn een correctie zal ervaren.
Vaak vertegenwoordigen de prijsontwikkeling en het momentum van Ethereum de toestand van de token markt, omdat tokens zoals WanChain en Golem gebaseerd zijn op de ERC20-tokenstandaard van het Ethereum-netwerk. Een sterke prestatie van Ethereum vertaalt zich doorgaans in sterke winsten van tokens en ook op 3 mei hebben tokens de trend van Ether gevolgd en grote winsten geboekt ten opzichte van zowel Bitcoin als de Amerikaanse dollar.
Puur gebaseerd op de trend van de token en de alternatieve cryptocurrency (altcoin)-markt van de afgelopen twee weken, mag gesteld worden dat het altcoin-seizoen terug is. Tokens hebben 20 tot 50% winst aangetoond tegen Bitcoin en andere grote cryptocurrencies als Ethereum en Ripple en de meeste tokens laten nog steeds een sterk momentum zien.
Citron Research, een team van analisten achter de bekende short seller Citron, heeft gezegd dat ze verwachten dat de prijs van Ether voor Bitcoin zal vallen en op korte termijn de prijs van Ether zal korten. Het lijkt echter onwaarschijnlijk dat de prijs van Ether de komende weken flink zal dalen, omdat het niet logisch zou zijn dat Ethereum, dat sinds begin april relatief zwak presteert in verhouding tot Bitcoin en andere grote cryptocurrencies, verder zou dalen ten opzichte van andere cryptocurrencies en tokens.
Andrew Left, een onderzoeker bij Citron zei:
Ik heb liever een tekort aan Ether. Ik denk dat beide (Bitcoin en Ether) bubbels zijn, maar als ik het over één van deze mis zou hebben, zou dat Bitcoin zijn.
Bitcoin Trend
Zowel de Relative Strength Index (RSI) als de Williams Percent Range (WPR) van Bitcoin geven aan dat Bitcoin zich momenteel in een neutrale zone bevindt en noch te veel gekocht, noch te veel verkocht wordt. Het exponentiële voortschrijdende gemiddelde van Bitcoin vertoont ook een korte termijn trend, waardoor Bitcoin in een ideale positie komt om zijn huidige positie in de $9.300 regio te waarborgen en potentieel te stijgen in de komende 24 uur.