Blockchain-technologie zou, volgens een nieuw onderzoeksrapport van Capgemini, in 2025 wel eens overal aanwezig kunnen zijn. Het rapport met de titel "Does blockchain hold the key to a new age of supply chain transparency and trust?" voorspelt dat blockchain-technologie sectoren als retail en productie zal domineren door samenwerkingen en externe investeringen.
Chief Technology Officer (CTO) Financial Services bij Capgemini, Sudhir Pai, zei omtrent bovenstaande het volgende:
Het rendement van de investeringen in blockchain is nog niet gekwantificeerd en business modellen en processen zullen aangepast moeten worden voor de adoptie van blockchain. Er zijn geschikte samenwerkingen nodig omtrent supply chain om een blockchain strategie, gebaseerd op een ecosysteem, te ontwikkelen, geïntegreerd met bredere technologische toepassingen om ervoor te zorgen dat blockchain haar volledige potentieel kan realiseren.
Ondanks het rooskleurige plaatje wat het onderzoek van Capgemini schetst gebruikt slechts 3% van de onderzochte bedrijven blockchain-technologie en heeft 10% pilot projecten lopen omtrent de technologie. Toch geeft maar liefst 87% aan dat het in een vroeg stadium aan het experimenteren is met blockchain. De voornaamste motivatie om de mogelijkheden van de technologie te bekijken blijken kostenbesparing, verhoogde traceerbaarheid en transparantie.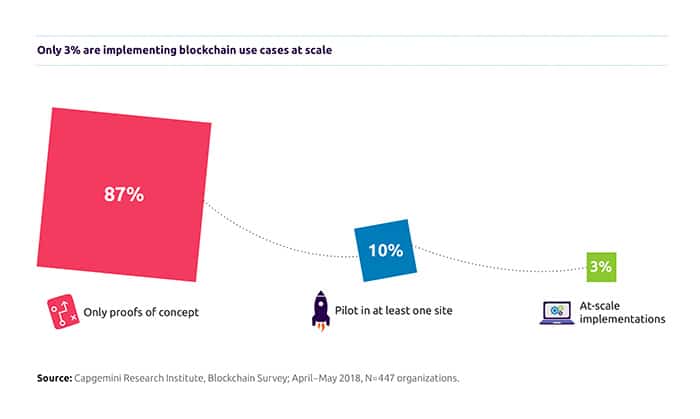 Het blijkt dat ons kikkerlandje zich in de middenmoot bevindt als het gaat om grootschalige implementaties en pilots van blockchain. 9% schijnt met dergelijke implementaties bezig te zijn. Het Verenigd Koninkrijk is koploper met 22%. Wel geeft 91% van de Nederlandse respondenten aan te experimenteren met blockchain-technologie. Hierbij is kostenbesparing de grootste drijfveer.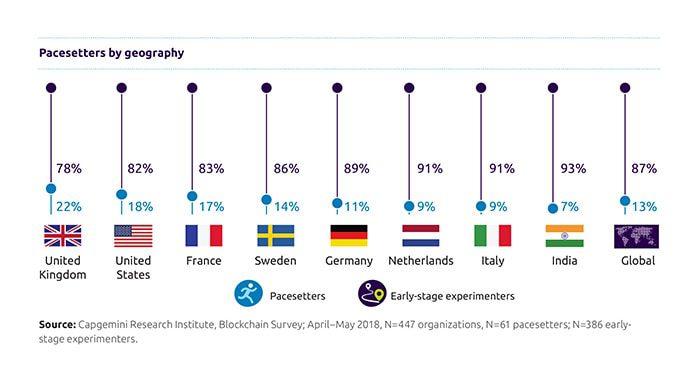 Wil je op de hoogte blijven van het laatste nieuws? Abonneer je dan op onze push-berichten, 
Facebook
– of 
Twitter
 pagina.
[ci-widget-v2]