De Amerikaanse Central Intelligence Agency (CIA) heeft "het bestaan van informatie over de werkelijke identiteit van Bitcoin-maker Satoshi Nakamoto bevestigd noch ontkend" meldde Motherboard op 14 juni.
Daniel Oberhaus van Motherboard, die zich voornamelijk bezighoudt met onderwerpen op het gebied van fysica, ruimte, cryptocurrency en de toekomst van energie, diende een FIA-verzoek (Freedom of Information Act) bij de Federal Bureau of Investigation (FBI) en verzocht om informatie over de identiteit van Satoshi.
Oberhaus meldde dat, terwijl zijn verzoek bij de FBI nog steeds in behandeling is, hij antwoord van de CIA ontving dat een "Glomar response" was, wat verwijst naar een antwoord op een verzoek om informatie dat het bestaan bevestigt noch ontkent. De CIA antwoordde:
Het verzoek is afgewezen, waarbij het bureau verklaarde dat het het bestaan van de gevraagde documenten niet kon bevestigen noch ontkennen.
Oberhaus merkte ook op dat Glomar response een beruchte gewoonte van de CIA is, met als voorbeeld de eerste tweet van het bureau in juni 2014.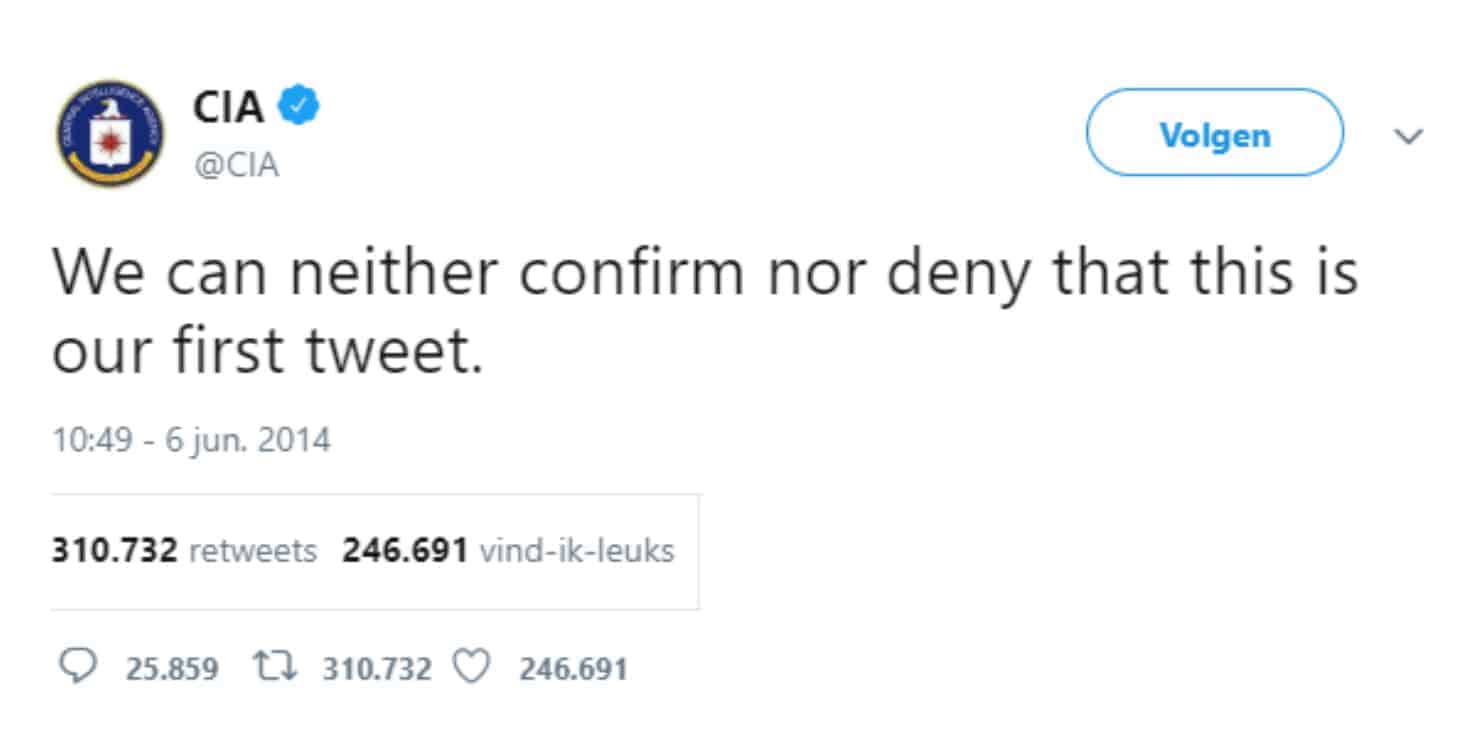 Oberhaus suggereerde dat als de FBI en de CIA iets weten van de maker van Bitcoin, ze "niet zullen praten".
Het vraagstuk over de identiteit van Satoshi Nakamoto is een van de grootste mysteries in de crypto-gemeenschap sinds Bitcoin in 2008 werd gelanceerd. Verschillende mediaberichten hebben geprobeerd de persoon of groep personen te onthullen die achter de top van de creatie van digitale currency staan, maar "zonder veel succes", aldus Oberhaus.
De eerste poging om Satoshi's identiteit te onthullen gaat terug tot oktober 2011, slechts een paar maanden nadat Satoshi radiostilte hield. Joshua Davis schreef een stuk voor The New Yorker dat Nakamoto voorstelde als een eenendertig-jarige Finse onderzoeker aan het Helsinki Institute for Information Technology, Vili Lehdonvirta. De persoon beweerde uiteindelijk dat hij niet Satoshi was, eraan toevoegend dat "ook al was hij dat wel, hij dat niet zou vertellen".
In 2014 deed Newsweek verslag van een Japans-Amerikaanse man met de naam Satoshi Nakamoto in Californië, die toen hij door journalisten ontdekt werd beweerde de maker van Bitcoin te zijn. Na een langdurig onderzoek werd ontdekt dat hij niet de 'echte' Satoshi was.
In 2016 publiceerde Gizmodo een verhaal over Craig Wright, die publiekelijk aankondigde dat hij Satoshi was. De Australische computerwetenschapper en zakenman heeft in zijn hele loopbaan veel controversiële uitspraken gedaan en later dat jaar kon hij zijn beweringen dat hij de maker van Bitcoin was niet ondersteunen.
Ook in 2016, schreef Alexander Muse op zijn blog Cryptomuse dat Amerikaanse National Security Agency (NSA) de ware identiteit van Satoshi Nakamoto had achterhaald met behulp van stylometrie. Muse meldde dat het Department of Homeland Security (DHS) zijn FOIA-verzoek niet publiekelijk zou bevestigen, zelfs niet als ze de identiteit van de BTC-miljardair zouden kennen.