Winst halen uit je crypto investeringen is vooral een kwestie van efficiëntie, maar hoe ben je opgewassen tegen de grote whales? Is het überhaupt mogelijk hen te verslaan en flinke winst te halen uit je crypto handel?
Het antwoord is ja, dat is zeker mogelijk. Het is niet alleen mogelijk, je kunt er zelfs direct mee aan de slag!
Een boer gebruikt ook machines om meer gedaan te krijgen in minder tijd en met minder moeite. Dus waarom zou je geen technologie gebruiken om hetzelfde te doen met jouw crypto handel?
Dat kan namelijk met de signal copy-trading technologie van ProfitFarmers. Je kunt bij ProfitFarmers direct aan de slag met een semi-geautomatiseerd handelen. Gebruik de couponcode CRYPTO-INSIDERS en ontvang direct $100 korting.
Of lees eerst verder hoe je met copy-trading jouw handel in crypto efficiënter en winstgevender kunt maken zonder dat je nog de hele dag achter de koersgrafieken loopt te zwoegen.
Wat zijn de top 3 valstrikken voor crypto handelaren?
Om te achterhalen hoe je winstgevender kunt worden, dan is het belangrijk om eerst uit te zoeken waar je de fout in gaat! Veel handelaren draaien verlies omdat ze zich schuldig maken aan de volgende drie valstrikken:
Uren van tijd verliezen.

Het uitvoeren van onderzoek naar crypto kan veel tijd kosten en er is geen garantie dat het leidt tot winst. Vervolgens kan je deze tijd nooit meer terugverdienen en dat kan onnodig duur uitpakken voor je portemonnee.

Te veel emotie.

Als je merkt dat je constant bezig met het in de gaten houden van de koersgrafieken, wees dan op je hoede. FOMO, wraakhandel en de gokkersmisvatting zijn zaken die je winsten kunnen verpesten.

Een gebrek aan de juiste tools.

De whales lusten je rauw en zij hebben het arsenaal om deze klus te klaren. Als je handelt zonder de juiste kennis of tools, dan zullen de grote investeerders je verslinden en uitspugen en sta je op straat met een waardeloze zak cryptomunten.
Zie jij jezelf ook dit soort fouten maken? Als je ja antwoordt, geef dan jezelf een schouderklopje. Je geeft toe dat je fouten maakt en niet iedereen kan voorbij zijn ego kijken (nog een kostbare fout!). Lees snel verder om te leren hoe je deze problemen kunt oplossen met behulp van de technologie van ProfitFarmers.
Hoe verdien ik gemakkelijker met crypto handel?
Waarom zou je lopen als je de fiets kunt pakken? Het is namelijk een efficiëntere, snellere en gemakkelijkere manier om van punt A naar punt B te komen. Zou je dat niet ook willen met je crypto handel? Dat is wat ProfitFarmers biedt via de volgende methoden:
Vind direct de juiste handel met handelssignalen
Het is niet meer nodig om al je tijd te verdoen met koersgrafieken en af te vragen wat winstgevend is. Je hoeft niet meer uren te besteden aan onderzoek en de koersen van talloze cryptomunten te volgen. Je kunt eenvoudig naar ProfitFarmers gaan en uit een van de handelssignalen kiezen, die een historisch winstpercentage van maar liefst 78% hebben.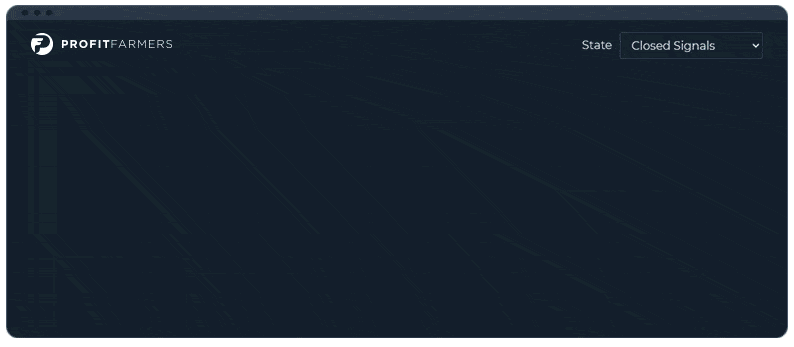 Als je deze signalen eerst gratis wil testen, dan kan dat via het gratis Telegramkanaal van ProfitFarmers. Hier ontvang je signalen voor zowel de futures- als de spotmarkt op Binance.com. Wat je ook kiest, er staat een trade met grote kansen op je te wachten!
Bespaar tijd en voorkom stress met copy-trading
Het wordt tijd om te stoppen met het constant in de gaten houden van de koersgrafieken wat alleen maar leidt tot kostbare emotionele fouten. Neem een handelssignaal over via copy-trading, pas het naar jouw wensen aan en zet een volledig handelsplan op via de beurs van Binance.com.
Zo kun je met de efficiëntie van een steenkoude robot handelen en haal je de emoties uit je investeringen. Laat ProfitFarmers het werk doen door naar de grafieken kijken, de prijzen te volgen en jouw handelsplan volledig uit te voeren.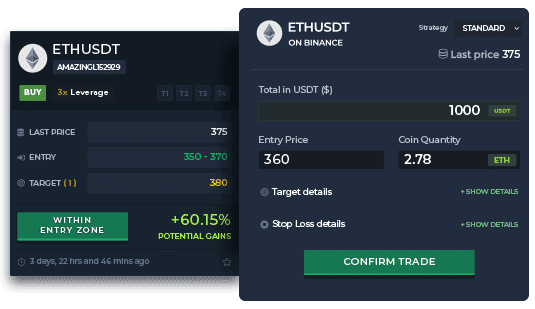 Krijg toegang tot deskundig inzicht en breng de whales in verlegenheid
Het is helemaal niet nodig om met een blinddoek op te handelen. ProfitFarmers biedt namelijk deskundig inzicht via exclusieve marktupdates. Dat helpt jou om te beslissen welke handel, welke cryptomunten en zelfs welke langetermijnstrategieën jou winstgevend zullen maken in deze volatiele markt.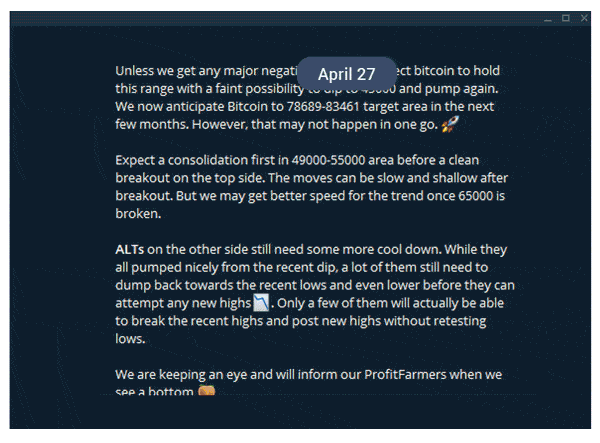 Een deel van deze informatie kun je 100% gratis ontvangen door lid te worden van het telegramkanaal van ProfitFarmers. Daarnaast biedt ProfitFarmers volledig gratis toegang tot zijn educatieve academie, vol met video's en handleidingen om jou in topvorm te krijgen.
Hoe houdt ProfitFarmers mijn kapitaal veilig?
ProfitFarmers is geen beurs. Alle handel die uitgevoerd wordt via ProfitFarmers vindt direct plaats op Binance.com via een API-integratie. Zo kan ProfitFarmers orders voor jou plaatsen en kunnen zij geen commissies of vergoedingen op jouw transacties in rekening brengen. Je behoudt dus 100% controle over jouw kapitaal op je Binance.com account.
Dit klinkt als een paradijs voor crypto handelaren?
De overgang van de oude manier van crypto handel naar de technologie van ProfitFarmers is een enorme stap. Het is alsof je van een zwart-wit-tv met vier kanalen naar een high definition LCD overstapt met honderden kanalen.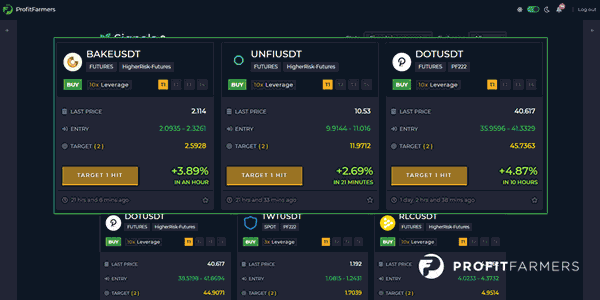 Er komen elke maand honderden handelssignalen binnen waardoor je niet meer al jouw tijd hoeft te besteden aan het onderzoeken van cryptomunten en de koersgrafieken constant hoeft bij te houden. Het gaat namelijk om de handel, dat is ten slotte waar je je geld verdient.
Hou je ook van snelle handel met grote winst?
Als je een fan bent van futures-handel met hefboomwerking, dan is ProfitFarmers jouw eigen 'scalpers' paradijs. De strategieën van ProfitFarmers zijn ontworpen om je snel in en uit investeringen te laten stappen met grote kansen. Dat is meestal tussen 5% en 50% in slechts enkele uren! De copy-trading functie maakt alles uiterst efficiënt.
Stel je voor dat je vijf handelsplannen kunt opzetten in een enkele minuut, inclusief invoer, winstneming, stop-losses en hefboomwerking! Dan ben je nooit meer te laat om die perfecte trade te pakken! Het is vrijwel onmogelijk voor een reguliere handelaar om aan dit soort efficiëntie te tippen.
Gratis aan de slag met ProfitFarmers: The Moon Bag Kit
ProfitFarmers geeft een selectie van premiumsignalen, tijdbesparende tools en marktupdates 100% weg in de 'Moon Bag Kit.' Als je liever direct voor winst wil gaan en signalen willen ontvangen met een historisch winstpercentage van 78%, dan kun je je hier aanmelden voor het gratis telegramkanaal van ProfitFarmers.

Het geheim van meer winstgevendheid
Wil je ook een 'hyperefficiënte' crypto handelaar worden? ProfitFarmers biedt je grote kansen door jouw emoties uit je handelsplannen te halen en toegang te geven tot deskundig inzicht. Dat kan allemaal via een gemakkelijk te begrijpen dashboard.
De combinatie van geavanceerde technologie en deskundigheid helpt jou de belangrijkste vallen in de crypto-handel te vermijden die doorgaans 90% van beleggers duur staan.
De enige vraag die overblijft: blijf je in het donkere tijdperk hangen van de crypto-handel? Of spring je in de toekomst en handel je op de moderne manier door je vandaag nog bij ProfitFarmers aan te sluiten?
---
Bovenstaand artikel is een ingezonden stuk en valt buiten de verantwoordelijkheid van Crypto Insiders. Dit is geen financieel advies.