Het bleek dit jaar een kerst te zijn voor de bears; zo vingen bijna alle cryptocurrencies over de afgelopen dagen rake klappen. Het is dan ook niet verrassend dat de vraag naar stablecoins toenam en deze tegen een kleine premie werden verhandeld.
Bitcoin verliest ongeveer 4%
Op het moment van schrijven staat de top cryptocurrency, Bitcoin (BTC), op zo'n $3.665. Eerder deze maand was er volop hoop toen BTC weer boven de $4.000 wist uit te komen, echter volgde een flinke koersdaling.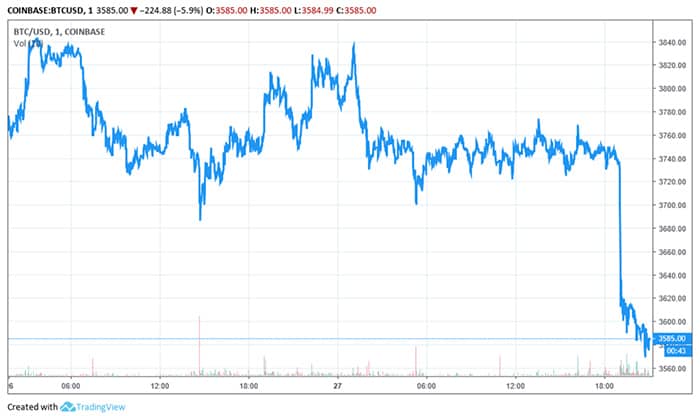 Het verlopen van zo'n 25.000 Bitcoin Futures contracten op Deribit wordt als een van de mogelijke oorzaken genoemd voor de neerwaartse koers.

Tomorrow is the largest expiry of the year for bitcoin options – the "Dec expiry". 25,500 bitcoin options will expire on Deribit ~ nearly $100mln of notional. 80% of options expiring are calls. Open interest below will mechanically drop by more than 50%. pic.twitter.com/wNmH3eOZBT

— skew (@skewdotcom) December 27, 2018

Het nieuws kan leiden tot een verkoopronde in de overtuiging dat de vraag naar Bitcoin af zal nemen wanneer deze opties vervallen, terwijl de verkoopdruk ook toeneemt.
Bijna alle andere cryptocurrencies verhandelen ook tegen BTC, dus een verlaagde waarde van BTC verlaagt normaal ook de waarde van de altcoin (tenzij de trend corrigeert). De veranderingen zijn echter niet altijd exact.
Ripple verliest ongeveer 6%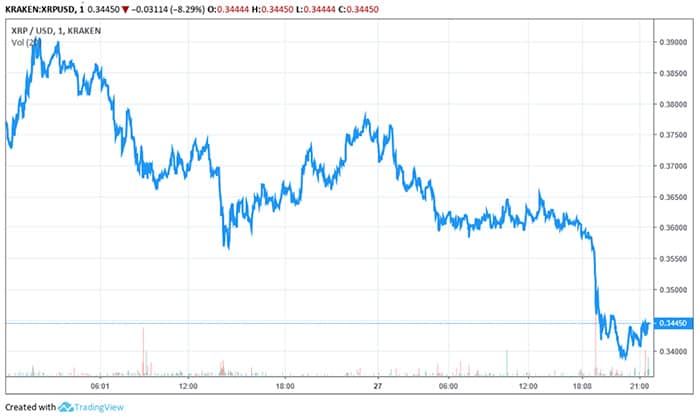 Ripple (XRP) verloor ook iets aan waarde in de afgelopen 24 uur. Toch blijft het vertrouwen in het project sterk; zo legde Ripple CEO Brad Garlinghouse onlangs een verklaring af dat Ripple voornamelijk een gedecentraliseerd platform is.
Ripple weet echter steeds meer afstand te nemen van haar BTC-koppeling; zo voegen steeds meer beurzen de cryptocurrency toe als basis trading pair tegen fiat. Klanten kunnen zodoende fiatgeld gebruiken om Ripple te kopen zonder de noodzaak eerst Bitcoin aan te schaffen. Dit zou in de toekomst kunnen resulteren in meer prijsstabiliteit voor Ripple.
Ook Stellar (XLM), een coin die vaak wordt vergeleken met XRP, maakte kleine verliezen. In de afgelopen 24 uur is XLM met zo'n 4% gedaald.
Ethereum en Bitcoin Cash nek aan nek
Ethereum (ETH) wist eerder nog Bitcoin Cash (BCH) in te halen, echter zijn de rollen nu weer omgedraaid. De cryptocurrency daalde van een piek rond de $130 op tweede kerstdag tot zo'n $118 op het moment van schrijven; een daling van zo'n 10%.
Ondertussen daalde BCH ook stevig, met bijna 12%. Binnen 24 uur wist de cryptocurrency te dalen van zo'n $170 tot net onder de $150. Eén ding is zeker duidelijk: de Bitcoin fork is nog steeds niet hersteld van de waardevermindering die Bitcoin SV leed toen het een nieuwe blockchain creëerde.
Wil je op de hoogte blijven van het laatste nieuws? Abonneer je dan op onze push-berichten, 
Facebook
– of 
Twitter
 pagina.
[ci-widget-v2]