Nu dat de reguliere aandelenmarkten richting een bearmarkt ontwikkelen begint een groep investeerders cryptocurrency te beschouwen als geduchte kandidaat voor de best presterende beleggingscategorie van 2019.
Een van deze investeerders is Travis Kling, een zelfbenoemde ex-aandelenportefeuille manager die in de ban van crypto raakte en nu het hoofd is van de crypto asset management firma Ikigai. Zo tweette Kling vandaag:
Crypto heeft nog nooit bestaan tijdens een bearmarkt in de traditionele markten. BTC werd geboren aan het begin van het grootste monetaire experiment ooit, namelijk een wereldwijd gecoördineerde QE (quantitative easing). Het beëindigen van QE veroorzaakt pijn. Er is een aanzienlijke kans dat crypto de best presterende beleggingscategorie zal zijn in 2019.
Crypto has never existed during a bear market in traditional assets.

BTC was birthed at the very beginning of the largest monetary experiment ever- globally coordinated QE. Ending QE is causing pain

There is a significant chance Crypto is the best performing asset class in 2019 pic.twitter.com/vIdKTrm5sV

— Travis Kling (@Travis_Kling) December 23, 2018

De Amerikaanse Federal Reserve begon tien jaar geleden met QE. Dit betekende het verlagen van de rente en het kopen van biljoenen dollars aan staatsobligaties en door hypotheken gedekte waardepapieren. De strategie kwam de marktliquiditeit ten goede en wist de economische groei weer aan te zwengelen, wat potentieel de VS behoedde voor een zware depressie.
Eind 2017 initieerde de Federal Reserve een eind aan haar QE-strategie, toen het haar samenwerkingen voortzette zonder verdere investeringen te maken. De Bank of Japan (BOJ) en de Europese Centrale Bank (ECB) vertraagden ook de obligatieaankopen in 2018.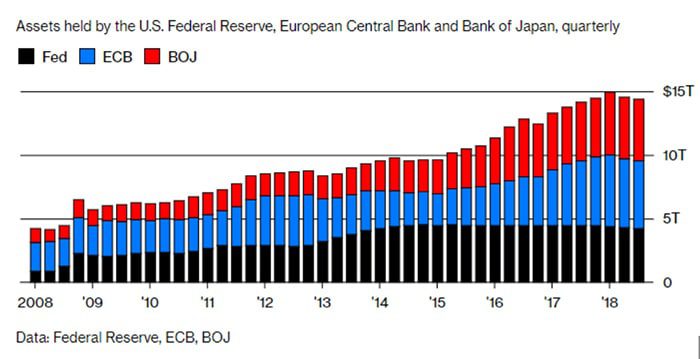 Via Bloomberg
Volgens Bloomberg is oktober 2018 een belangrijke maand geweest, gezien vele grote centrale banken gezamenlijk hun obligatie posities begonnen af te bouwen. Echter blijven de ECB en BOJ nog steeds aan het terugschalen in plaats van hun posities geheel vrij te geven.
In het algemeen zijn renteverhogingen (zoals recent gezien in de VS) een verder teken van "normalisatie"; een proces waarbij economieën op eigen kracht kunnen opereren zonder tussenkomst van centrale banken. Het is dit gegeven, in combinatie met andere factoren, dat de angst veroorzaakt voor wereldwijde recessie.
Kling verwijst dus naar het feit dat cryptocurrencies pas ontstonden in 2009, net nadat QE begon. Kling liet ook weten dat de ontwikkelende bearmarkt dit jaar de crypto-prestaties heeft beïnvloed en als een risicovolle troef ook een verdere impact kon hebben:
Het zou voor mij volkomen logisch zijn dat de crypto-markt een bodem zou bereiken maanden voordat dit het geval is in de traditionele markt.
Als de aandelenmarkt verder blijft dalen zullen beleggers naar andere beleggingscategorieën gaan kijken. Tijdens vorige recessies waren goud en zilver de alternatieven waar beleggers zich op richtten. Mogelijk zien we dit al gebeuren, gezien in de afgelopen weken zo'n $30 miljard is teruggekeerd naar de crypto-markt (via coinmarketcap.com). De vraag is vooralsnog of crypto de rol van goud en zilver zal kunnen vervangen.
Wil je op de hoogte blijven van het laatste nieuws? Abonneer je dan op onze push-berichten, 
Facebook
– of Twitter.
[ci-widget-v2]