Crypto staat natuurlijk bekend om zijn volatiliteit. De prijs van bijvoorbeeld bitcoin staat erom bekend binnen enkele uren tientallen procenten te stijgen of te dalen. Dit maakt de munt voor de korte en midden lange termijn niet voor iedereen interessant om te "beleggen". Nieuwkomers stappen meestal in als de koers weer richting een nieuw hoogtepunt gaat, zich niet realiserende dat de waarde na een dergelijk hoogtepunt meestal net zo hard weer kan en zal dalen. Historisch gezien stabiliseert de munt zich hierna maar is het voor de nieuwkomers al te laat. Ze stappen uit de crypto omdat ze net te laat zijn ingestapt. Resultaat: een kort avontuur in de crypto met de nodige teleurstelling afgesloten.
De kans om met een relatief kleine investering een groot rendement te halen is echter voldoende om de teleurstelling aan de kant te zetten en het beetje crypto wat over blijft opnieuw in te zetten. Dit keer in de munten die her en der als paddestoelen uit de grond schieten. Zogenaamde "meme coins" staan erom bekend weinig om het lijf te hebben behalve een grote community aangevoerd door een bekende persoon. Het meest bekende voorbeeld hiervan is de dogecoin. Deze staat erom bekend weinig inhoud te hebben maar door een grote community en Elon Musk als vaandeldrager raakt deze munt meer dan eens een niveau waarbij goed verdient kan worden.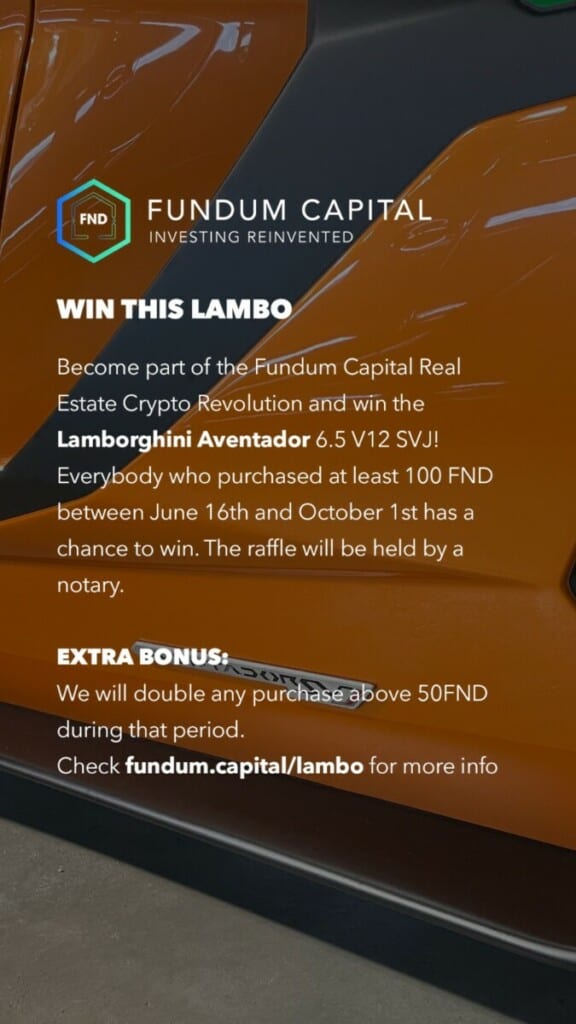 Een tweet is meestal al voldoende om de prijs te stuwen. Dit is natuurlijk fijn wanneer je vlak voor zo een tweet een aantal gekocht hebt en dus mee kunt profiteren van het enthousiasme van de markt na zo een bericht. Dit heeft echter niets te maken met een bepaalde stabiliteit of zekerheid binnen de markt maar heeft juist veel weg van een "pump and dump". Bitcoin is in zekere mate ook onderhevig aan pump and dumps, echter is de marktkapitalisatie dusdanig groot dat het iets ingewikkelder ligt. Uiteraard zie je dit soort bewegingen achteraf wel als je kijkt naar de verschuivingen binnen de wallets van de zogenaamde "whales".
Vastgoed en crypto
"Dit kan beter!" hebben ze bij Fundum Capital gedacht toen ze met hun concept zijn begonnen. Na jarenlange ervaring in zowel vastgoed als crypto hebben ze besloten beide markten te combineren waardoor er een zekere stabiliteit gegarandeerd kan worden. Vastgoed staat er ten slotte om bekend een relatief veilig rendement te maken; anders dan crypto waarbij de excessen je om de oren vliegen. Koppel je dit echter via een stablecoin, een munt die altijd waardevast zal blijven ongeacht de beweging in de markt, ontstaat er plotseling een economie rondom het vastgoed die zowel toegankelijk alsook stabiel is.
Stablecoins staan erom bekend een veilige toevlucht te bieden voor diegene die hun winsten in crypto willen vasthouden. Meestal wordt bitcoin (of andere munten) verkocht voor USDT. Deze is op dit moment de bekendste stablecoin in de industrie en staat erom bekend gekoppeld te zijn aan de Amerikaanse dollar. De waarde van 1 USDT is dan ook altijd nagenoeg 1 dollar. Een veilige haven dus. Fundum Capital koppelt hun stablecoin echter niet aan een monetaire eenheid maar aan de inkomsten uit huur van de panden die ze in bezit hebben. Per pand is er dus een stablecoin die per stuk gewaardeerd is op 100 euro. 
Deze waardering wordt gebruikt om een maximum aantal stabelcoins per pand te berekenen waarbij het rendement verdeeld kan worden naar houderschap. Als er 100 stablecoins gekoppeld zijn aan een pand levert je 1 stablecoin 1% van de  huurinkomsten op. Een gegarandeerd stabiel rendement dus per stablecoin. Dit kan natuurlijk per pand verschillen maar over het algemeen levert houderschap van een FND stablecoin tussen 3% en 5% rendement per jaar op.
Crypto economie
Hierin onderscheidt Fundum Capital zich ten opzichte van alle andere munten waarbij zelfs Bitcoin niet op kan bieden tegen het gegarandeerde rendement van de FND stablecoin. Om het plaatje af te maken wordt de stablecoin gekoppeld aan de FND token: een munt als alle andere munten met het grootste verschil dat deze gebruikt wordt voor aankoop van de stablecoin en voor de uitkering van maandelijkse huurinkomsten aan de stablecoin houders. Hierdoor ontstaat er een crypto-economie die vooralsnog zijn gelijke niet kent.
De crypto-nieuwkomer kan door de FND economie zonder al te veel risico instappen in een munt die gegarandeerd rendement biedt los van de vraag die zal ontstaan wanneer meer en meer stablecoins aangekocht worden met de FND token. Op dit moment zijn er drie panden onder hun eigen stablecoin in de FND economie ondergebracht en is het mogelijk om een aandeel in de huurinkomsten te verkrijgen. Op deze manier kan men korte termijn winsten combineren met lange termijn rendement waardoor beleggen in crypto in een klap een stuk minder risico met zich meebrengt.
Op dit moment is de snelste en makkelijkste manier om aan FND Tokens te komen door een account aan te maken bij XT.com via deze link. Zodra je de FND Tokens in je ERC-20 wallet hebt staan kan je direct aan de slag en in vastgoed investeren!