Beginnen met cryptocurrency kan soms heel ontmoedigend zijn, zelfs voor mensen die financieel sterk onderlegd zijn. Dit komt onder andere door verhalen van mensen die miljoenen hebben verloren aan oplichters. Een andere uitdaging waar veel mensen tegenaan lopen wanneer ze willen beginnen met investeren in cryptocurrency is het extreem grote aanbod. Er zijn namelijk ruim 10.000 munten op de markt beschikbaar. Hoe weet je waar je je geld in moet steken?
Om dit probleem op te lossen kun je er voor kiezen om te investeren in een crypto index fonds. Dit is vergelijkbaar met hoe je zou investeren in een exchange-traded fund (ETF), zoals de S&P 500.
Een crypto index fonds heeft meerdere voordelen. Het helpt je bij het investeren in een verzameling van top cryptocurrencies, zonder dat je zelf nog moet uitzoeken welke dit zijn. Bovendien spreid je je investeringen over een groot aantal digitale activa, waardoor het je mogelijke risico's beperkt.
Index Coop is marktleider in gedecentraliseerde crypto index fondsen die interessant voor je kunnen zijn.
Wat is Index Coop en wat zijn de voordelen van investeren in hun producten?
Index Coop heeft een duidelijke missie: investeren in crypto makkelijk, toegankelijk en veilig maken voor iedereen. Index Coop is een decentralized autonomous organisation (DAO). Ze creëren en behouden crypto-native gestructureerde producten die gebouwd zijn op DeFi asset management primitieven. Zoals gebruikelijk voor een DAO, wordt ook Index Coop bestuurd door leden van de community. Leden kunnen de INDEX token gebruiken om nieuwe producten voor te stellen en daarop te stemmen, het toewijzen van de schatkist en meedenken over de toekomst van de DAO. Hieronder vind je de voornaamste voordelen van het kopen van Index Coop's crypto index producten:
Eenvoudige toegang tot sectoren met een single token: Met de producten van Index Coop vergt het minimale tijd en moeite om je investeringen op orde te hebben. Toonaangevende experts stellen het fonds samen en beheren deze ook. Deze crypto index producten geven je gemakkelijk toegang tot verschillende sectoren zoals DeFi, metaverse/NFT's en data economy etc. door middel van een single ERC-20 token. Het is hierbij niet nodig om alle onderliggende tokens los te kopen. Investeerders zullen hierdoor besparen op gas fees.
Een methode om je in te dekken (hedge) tegen een bepaalde sector. Door de crypto index wordt het risico over meerdere cryptocurrencies tegelijkertijd verspreid. Hierdoor word je niet teveel blootgesteld aan een token. 
Het biedt beleggers de mogelijkheid om complexe transacties op eenvoudige wijze uit te voeren, zonder tussenpersonen. Het is bovendien censuur bestendig aangezien Index Coop' indices volledig van protocollen en code afhankelijk is.
Fiscale efficiëntie. Producten van Index Coop zijn zo ontworpen dat het omgaan met belastingen van je gedecentraliseerde financiële producten efficiënt en gemakkelijk is. Stel je bezit een token, bijvoorbeeld DPI, dan wordt de balans 'onder de motorkap' opgemaakt. Hierdoor voorkom je dat je meerdere belastbare transacties doet voor onderliggende tokens.
Veilig en gecontroleerd. De producten van Index Coop zijn uitvoerig getest. Het protocol is beoordeeld op zwakke plekken door OpenZeppelin en ABDK, twee van de grootste en beste audit bedrijven uit de industrie. 
De Index Coop product suite
Index Coop heeft een variatie aan succesvolle producten. Hieronder vallen: de DeFi Pulse Index, de Metaverse Index, de Bankless BED Index, de Data Economy Index en een 2x Flexible Leverage Index. Hieronder wordt een overzicht van al deze producten weergegeven.
1. DeFi Pulse Index
De DeFi Pulse Index (DPI) is de gemakkelijkste, meest efficiënte manier voor investeerders om blootgesteld te worden aan DeFi, terwijl ze ook nog eens razendsnel groeien. De index volgt de prestaties van gedecentraliseerde financiële activa, waaronder top DeFi projecten als Uniswap, Aave, Maker en Sushiswap. Het kopen van een bepaalde hoeveelheid DPI tokens staat gelijk aan het bezitten van al die andere cryptocurrencies. 
In onderstaande afbeelding zie je hoe de toewijzing is opgedeeld.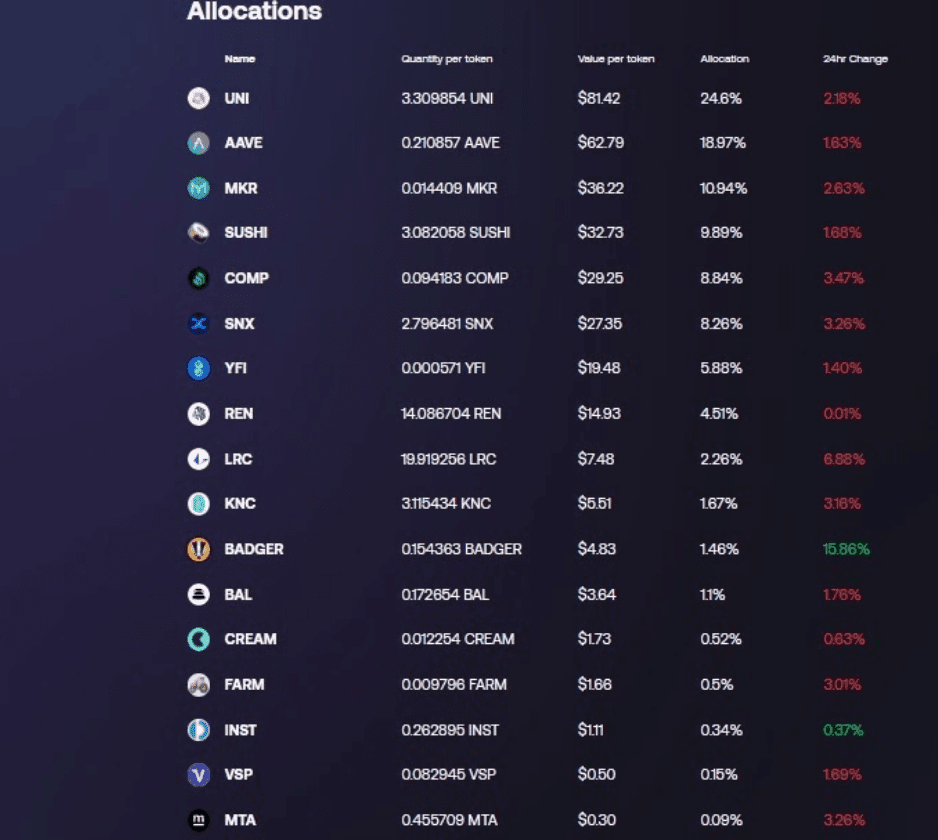 Op het moment van schrijven is het rendement op één jaar voor de DPI-index 286%.
2. Metaverse Index
De Metaverse Index is ontworpen om de trend van entertainment, sport en bedrijven om online plaats te vinden vast te leggen. De index wordt vertegenwoordigt door een ERC-20 token. De Metaverse Index gebruikt een combinatie van de vierkantswortel van de marktkapitalisatie en liquiditeitsweging om tot de uiteindelijke index te komen. Index Coop gelooft erin dat liquiditeit een belangrijke rol speelt. Voorbeelden van projecten die onder deze index vallen zijn: Illuvium, Axie Infinity, Enjin, Audio en Rarible. 
In onderstaande afbeelding zie je hoe de toewijzing is opgedeeld.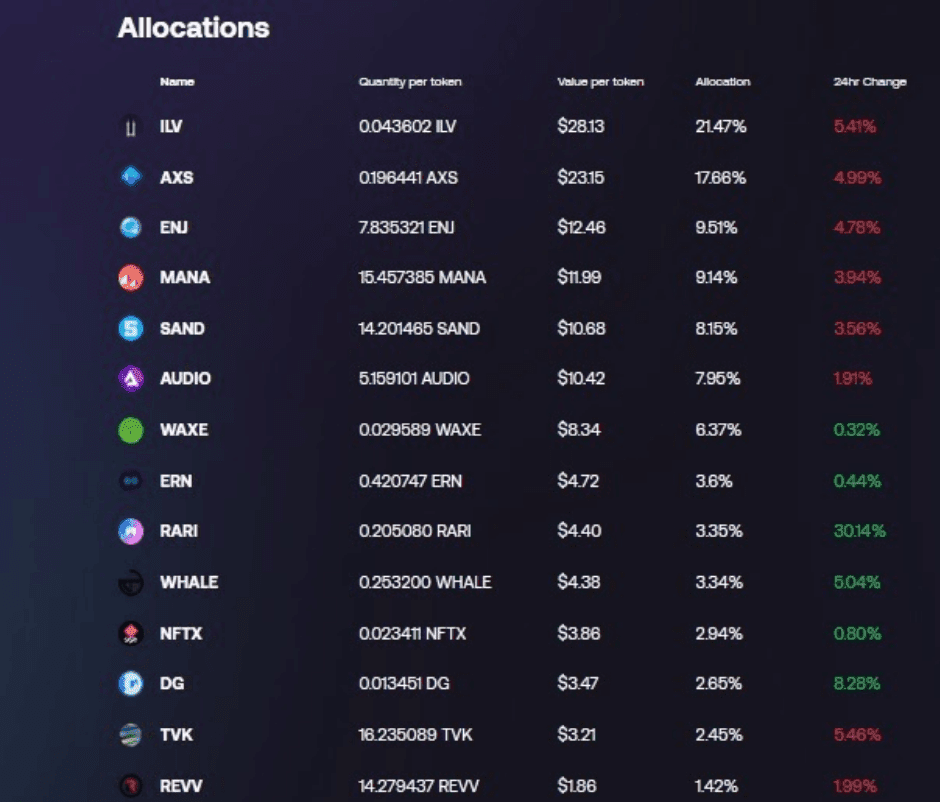 Het jaarlijkse rendement op de Metaverse Index is 29%.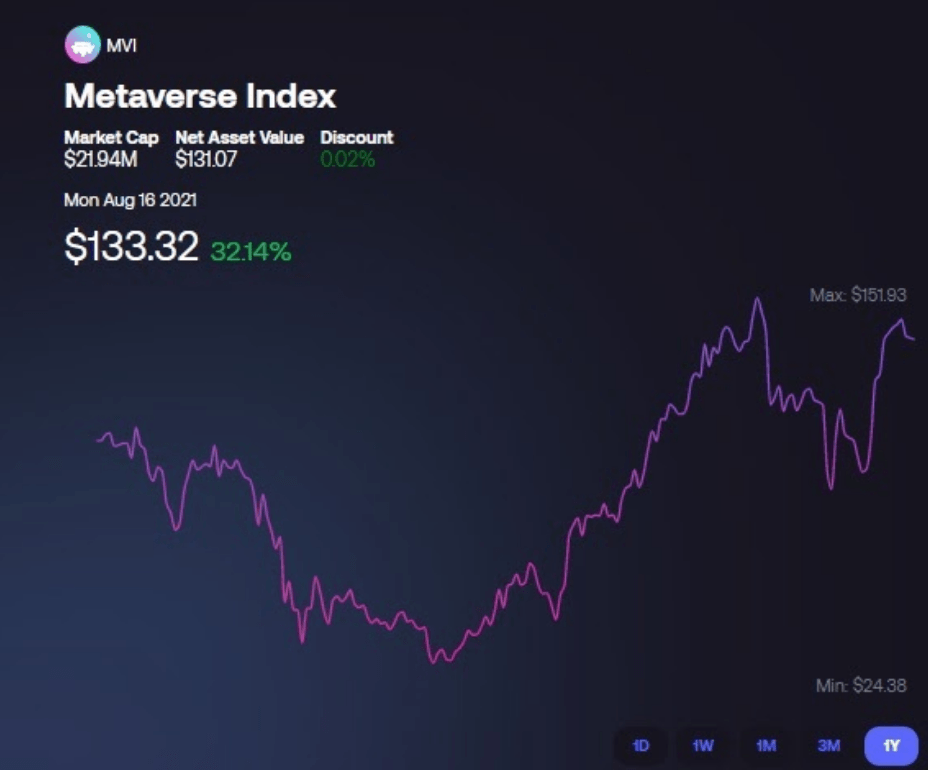 3. Bankless BED Index
Zoals voorgesteld door de 'Bankless community' wijst de BED Index 33% van hun toewijzingen toe aan bitcoin, ethereum en de DeFi (DPI) Index. Hierdoor krijgen beleggers meer blootstelling aan bitcoin en ethereum. Dit biedt een interessante kans voor investeerders die meer op zoek zijn naar de bekendste use cases en thema's binnen crypto, namelijk: 'store of value' (bitcoin), 'programmable money' (ethereum) en DeFi.

De BED Index is pas twee maanden geleden gelanceerd. Op moment van schrijven is het rendement 68%.
4. Data Economy Index
DeFi staat bekend om het verstoren van traditionele bank- en financiële diensten. De Data Economy is op zijn beurt bezig met het verstoren van data monopolies, gebouwd in big tech over de afgelopen 20 jaar.
De Data Economy Index (DATA) is een digitale activa index, die de groei van data economieën met significante economische activiteit vastlegt. 
De Data Index is  naar eigen zeggen 'data centric and chain agnostic'. Data is inclusief tokens van iedere blockchain die data-based producten en/of diensten aanbiedt.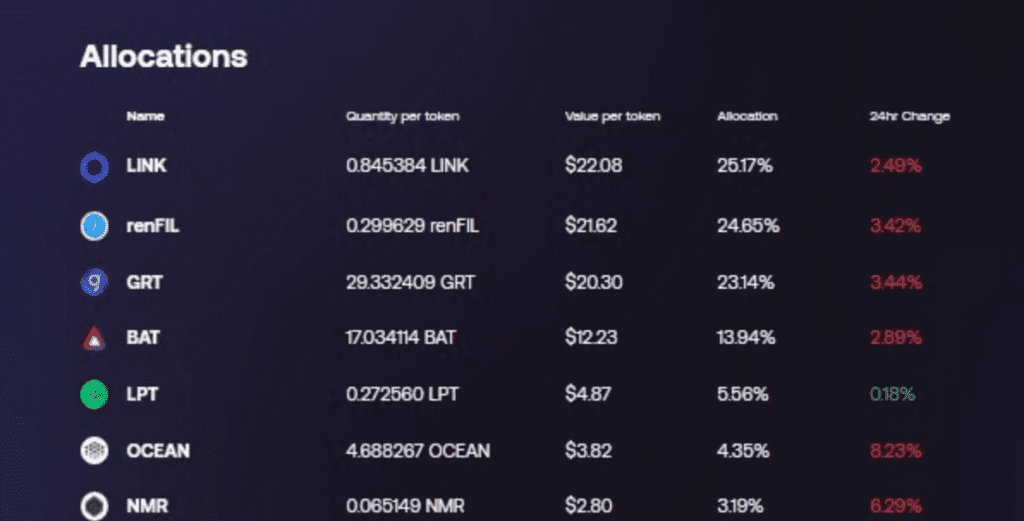 De Date Economy Index is pas 20 dagen geleden gelanceerd. Betekenisvolle data wat betreft rendement kan pas worden verstrekt nadat voldoende input data is vastgelegd.
5. De ETH 2x Flexible Leverage Index (ETH2x-FLI)
Onderpandbeheer wordt samengevoegd in een eenvoudige index, reproduceerbaar door een ERC-20 token gebouwd op het Set Protocol. ETH2x-FLI stelt u in staat een leverage op Ether te verkrijgen door gebruik te maken van schuld tegen onderpand, zonder dat je je schuldposities tegen onderpand hoeft te beheren of liquidatie risico's hoeft te monitoren. 
6. De BTC 2x Flexible Leverage Index (BTC2x-FLI)
De Bitcoin Flexible Leverage Index maakt het mogelijk om op een veilige en efficiënte manier een leverage aan te gaan op een schuldpositie tegen onderpand, door het beheer ervan te abstraheren tot een eenvoudige index. Het stelt marktdeelnemers in staat een leverage aan te gaan en tegelijkertijd de transactiekosten en risico's te minimaliseren. Het beheren van schuldposities tegen onderpand of het monitoren van liquidatie risico's wordt hierbij uit handen genomen.
Hoewel er inherente risico's verbonden zijn aan het gebruik van deze producten, presteren ze opmerkelijk goed in de juiste omstandigheden.
Andere toepassingen van de Index Coop Tokens
Buiten het alleen bezitten van deze index tokens zijn er verschillende functies die ze met zich meebrengen. Op Index Coop kun je je DPI tokens uitlenen, rendement verdienen op uw DPI tokens door liquiditeit te verschaffen in liquiditeitspools, je DPI tokens uitlenen aan andere beleggers terwijl je geld verdient met rente en het kopen en verkopen van 'put and call options'.
Hoe kun je Index Coop producten kopen?
Je kunt eenvoudig fiat valuta direct verhandelen voor een Index Coop product vanuit je web3 wallet. Populaire wallet opties voor het kopen can Index Coop producten zijn Argent, Dharma, Metamask of Rainbow. Ieder van deze wallets kun je verbinden met je bank account of debetkaart, waardoor je direct je fiat geld kan verruilen voor Index Coop producten. 
Bovendien kun je DPI kopen op een DEX als Uniswap of Sushiswap. Liquiditeit voor DPI op layer 2 zal binnenkort worden toegevoegd. Hierdoor zullen de gas fees voor transacties omlaag gaan. Je kunt DPI vanaf nu ook kopen op crypto exchange KuCoin. Uiteraard is het ook mogelijk op DPI rechtstreeks via Index Coop aan te schaffen.
Voor meer informatie, bezoek https://www.indexcoop.com/ 
Volg ons op Twitter https://twitter.com/indexcoop 
Word lid van onze community op Discord https://discord.com/invite/RKZ4S3b
---
Bovenstaand artikel is een ingezonden stuk en valt buiten de verantwoordelijkheid van Crypto Insiders.