Het International Monetair Fonds (IMF) en de Wereldbank hebben naar verluidt een private blockchain en een eigen cryptocurrency gelanceerd. Het project zou bedoeld zijn om de werknemers van de twee internationale organisaties te helpen de technologie beter te leren begrijpen.
De "Learning Coin" wordt gebruikt op het interne platform, wat door het IMF een "kennishub" wordt genoemd. De cryptocurrency heeft geen waarde en wordt ook niet buiten de twee organisaties uitgegeven. Wel wordt er op dit moment onderzocht of werknemers eventueel iets voor de verdiende Learning Coins kunnen krijgen.
Door werknemers kennis te laten maken met de mogelijkheden van blockchain-technologie en cryptocurrencies zou de kloof tussen wetgevers en ontwikkelaars verkleind kunnen worden. In een verklaring schrijft het IMF:
De ontwikkeling van crypto-activa en gedistribueerde grootboektechnologie evolueert snel, evenals de hoeveelheid informatie (zowel neutraal als gevestigd) die eromheen ligt. Dit dwingt centrale banken, toezichthouders en financiële instellingen om de groeiende kenniskloof te erkennen tussen de wetgevers, beleidsmakers, economen en de technologie. Dit project is een begin om die kloof te overbruggen. Dit willen we doen door een sterke kennisbasis van de technologie onder medewerkers van het IMF en de Wereldbank te realiseren.
Werknemers zouden naar verluidt kunnen leren over smart contracts, gedistribueerde grootboeken en casussen rondom het witwassen van geld met cryptocurrency. Deze informatie zal vooral middels een mobiele applicatie, de Learning Coin App, verspreid worden. Het voornaamste doel is om werknemers objectief kennis te laten maken met de technologie. Dus zowel over de goede kanten als de slechte kanten.
IMF vraagt volgers om hun verwachtingen
Op 10 april plaatste het IMF naar verluidt een poll op Twitter met de vraag "Hoe verwacht jij over vijf jaar voor je lunch te betalen?" Zo'n 30.000 mensen zouden de poll uiteindelijk hebben ingevuld. Ruim 50% van de ondervraagden klikten op "cryptocurrency", waarmee het meer stemmen kreeg dan de opties "losgeld", "mobiele telefoon" en "bankpas".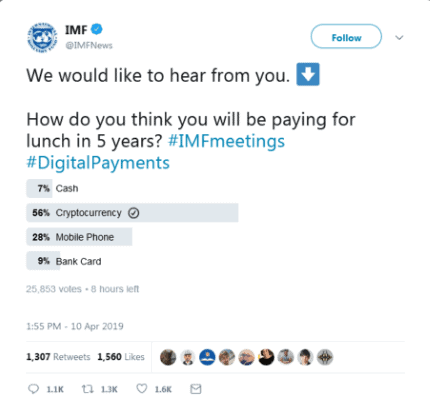 Wil je op de hoogte blijven van het laatste nieuws? Abonneer je dan op onze push-berichten, Facebook– of Twitter. Meediscussiëren? Meld je dan aan voor ons Telegram kanaal.