Volgens een nieuw onderzoek van de ING zal de belangstelling voor cryptocurrency naar verwachting verdubbelen.
De interessante bevindingen komen uit het deel "Cracking the Code on Cryptocurrency" van het jaarlijkse ING International Survey: Mobil Banking. De International Survey omvat bijna 15.000 mensen in 13 Europese landen, naast de Verenigde Staten en Australië.
Enorm groeipotentieel
Wanneer gekeken wordt naar de bevindingen van het onderzoek, wordt het duidelijk dat de belangstelling voor cryptocurrency naar verwachting (mogelijk met meer dan de helft) zal toenemen. In het onderzoekt merkt de ING het volgende op:
66% van de mensen in Europa zegt ooit te hebben gehoord van cryptocurrency. Minder dan 1 op de 10 (9%) bezit het. Een extra 16% zegt dat ze het in de toekomst denken te zullen bezitten, wat suggereert dat de opname meer dan verdubbelt. Aangezien een derde van de Europeanen (34%) nog nooit van cryptocurrency heeft gehoord, zou het groeipotentieel zelfs nog groter kunnen zijn.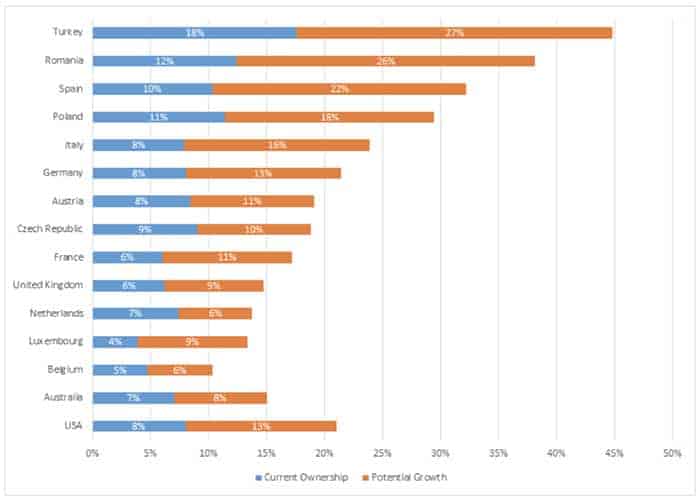 Ondertussen is naar schatting een derde van de mensen in Europa (35%) van mening dat cryptocurrencies als Bitcoin de toekomst van online uitgaven zijn. Dit totaal is niet verrassend een significante stijging vanaf 2015. Bovendien zou 30% van de ondervraagden overwegen om cryptocurrencies te gebruiken voor internationale online-aankopen.
Natuurlijk is niet elke Europeaan geïnteresseerd in cryptocurrency. Ongeveer de helft van de ondervraagden uitten hun hun afkeer voor het veranderen van de manier waarop ze momenteel betalen voor goederen en diensten, hoewel sommigen beweerden dat ze mogelijk iets als Bitcoin zouden gebruiken voor eenmalige betalingen.
15% van de ondervraagde Europeanen zei dat ze zouden overwegen om betaald te worden in Bitcoin of cryptocurrency.
"Bezit van cryptocurrencies zou in de toekomst meer dan verdubbelen"
De bevindingen van ING bracht Jessica Exton, een gedragswetenschapper bij de ING, tot de conclusie dat de interesse voor cryptocurrency naar alle waarschijnlijkheid met de tijd zal toenemen. Ze legde uit:
Cryptocurrency blijft voor velen een abstracte investering, maar er is misschien meer behoefte aan digitale currencies dan sommigen suggereren. Op basis van onze survey kan het bezit van cryptocurrencies in de toekomst meer dan verdubbelen, hoewel we niet weten wanneer.
Deze toegenomen belangstelling zal ook enige zorg wekken bij traditionele financiële instellingen. Zoals opgemerkt door Jonas Goltermann, developed markets economist bij de ING:
De impact van cryptocurrencies op de wereldeconomie is nog steeds vrij beperkt en, tenminste vanuit het oogpunt van monetair beleid en financiële stabiliteit , lijken centrale banken eerder nieuwsgierig dan bezorgd over de groei van cryptocurrencies. De resultaten van onze survey suggereren dat dit kan veranderen, omdat veel spaarders bereid lijken te zijn om crypto-investeringen in overweging te nemen. Als dat zou gebeuren, verwachten we dat beleidsmakers een actievere interesse zullen hebben in deze instrumenten en hoe deze de rest van de economie beïnvloeden.