Als je op deze website komt, dan ligt het voor de hand dat je investeert in cryptocurrencies. Als je op dit artikel klikt, dan is het ook waarschijnlijk dat je psychologie interessant vindt. Redacteurs bij de op wetenschap georiënteerde The Conversation vinden beide ook interessant. Ze hebben onderzoek gedaan naar de correlatie tussen 'dark tetrad-persoonlijkheidseigenschappen' en investeren in crypto. De conclusie is opvallend.
'Donkere' persoonlijkheid
Met 'dark tetrad' wordt een cluster persoonlijkheidskenmerken bedoeld, om precies te zijn machiavellisme, narcisme en psychopathie. Sadisme is er ook onderdeel van, alhoewel het niet direct binnen het trio van eigenschappen past. Het zijn persoonlijkheidskenmerken die over het algemeen een negatief effect op de omgeving hebben.
Crypto-investeerders blijken eerder psychopatisch te zijn dan andere mensen, volgens de auteurs. De genoemde vier kenmerken zijn slechte eigenschappen, omdat het te maken heeft met extreem egoïsme, een groot gebrek aan inlevingsvermogen, gebruik maken van anderen en het nemen van overdreven grote risico's.
De gemiddelde koper van cryptocurrencies is volgens de schrijvers sneller (dan nodig) positief, ze geloven sneller in complottheorieën en ze handelen emotioneel. Dat laatste leidt sneller tot FOMO (fear of missing out). Sommige kopers hebben minder vertrouwen in de overheid, wat de onderzoekers vermoedelijk hebben gekoppeld aan geloven in complottheorieën. Alles bij elkaar leidt tot een overkoepelende houding tot cryptocurrencies.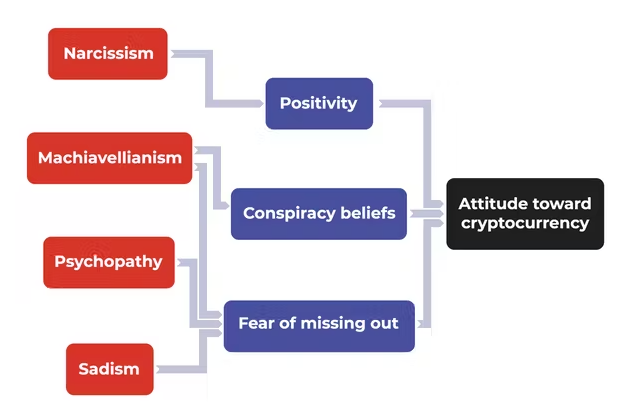 Dit is hoe de onderzoekers de vier eigenschappen hebben gekoppeld aan cryptocurrency. Afbeelding met dank aan The Conversation.
Veel kanttekeningen
Het moet gezegd worden dat het onderzoek een erg eenzijdig beeld geeft van de situatie. Er vallen als snel een aantal kanttekeningen te plaatsen. Zo wordt gezegd dat crypto-investeerders sneller 'slecht' zijn, omdat cryptovaluta erg risicovol zijn. Tegelijkertijd hebben we een inflatie die officieel bijna 10% is, en in werkelijkheid vermoedelijk aardig boven de 10% zal liggen. Daarnaast bestaat er natuurlijk een verschil tussen 'blue chip-crypto's' die daadwerkelijk nut hebben in de wereld en de eerste de beste shitcoin.
Het nemen van risico is juist erg belangrijk. Helemaal géén risico nemen is namelijk vaak een groter gevaar dan wel risico nemen. Risicomanagement is belangrijk, daarom moet je ook niet meer risico nemen dan je je kunt veroorloven. In een Deep Dive over risico leggen we dit uitgebreider uit.
Daarnaast lijkt het erop dat de verschillende karaktereigenschappen op één hoop zijn gegooid. Zo wordt uitvergrote positiviteit genoemd, maar ook het geloven in complottheorieën. Over het algemeen zijn dat twee dingen die niet goed samengaan. Dat hoeft niet per se te betekenen dat het een slecht onderzoek is, maar het wekt wel de indruk.
Verder kun je beargumenteren dat 566 deelnemers voor een onderzoek van dit kaliber ietwat klein is. Conclusies zoals deze kunnen grote gevolgen hebben, daarom zouden de auteurs wat beter mogen kijken naar de context. Elke investeerder heeft te maken met andere omstandigheden, die kunnen leiden tot het nemen van meer of minder risico. Daarnaast zijn risicomanagement en objectiviteit belangrijke onderdelen van investeren, het is niet duidelijk of die aspecten wel of niet gepeild zijn.
Er valt wat te zeggen voor het onderzoek, de kans is groot dat er inderdaad enige correlatie is. Maar om iemand het stempeltje psychopaat (of sociopaat, narcist of sadist) te geven heb je meer informatie nodig. Met name context dus.
Crypto Insiders Premium houdt je op het rechte pad
Wil jij meer leren over crypto, het investeren erin en de onderliggende technologie? Bekijk dan eens onze Premium omgeving waarin je allerlei educatieve content vindt, vragen kan stellen aan analisten en dagelijks interessante koersanalyses ontvangt. Kom 30 dagen gratis rondkijken.