Tot nu toe is de metaverse vooral gevuld met mensen die vermaak willen, investeringen onderzoeken, iets nieuws uit willen proberen of wegens artistieke bezigheden bezig zijn in de online wereld. Maar daar gaat binnenkort verandering in komen, als het aan het Natural History Museum of Los Angeles County ligt. Het museum wil virtuele dieren uit de ijstijd in de metaverse tentoonstellen.
Dieren kijken in de metaverse
Dat komt doordat er nog geen modellen van de dieren te vinden zijn in de metaverse. Het team van het museum onderzoekt hoe Augmented Reality (AR) en Virtual Reality (VR) invloed hebben op het leerproces, daarom kan de metaverse van pas komen. Het team heeft samengewerkt met onderzoekers en ontwerpers van de University of Southern California (USC) om accurate modellen te maken met behulp van paleontologisch onderzoek.
Dat is een uitdaging, want de informatie die er is over de dieren is niet altijd compleet genoeg. Van sommige dieren is een volledig skelet en zelfs goed bewaarde vacht ontdekt, maar dat geldt niet voor alle dieren. Voor sommige modellen zijn dus artistieke interpretaties gebruikt, zoals voor de vacht van de Mastodon, een soort mammoet. Daar zijn naast skeletten alleen een paar haren gevonden. Er is dus geen duidelijk beeld van hoe de vacht er in werkelijkheid uit zal hebben gezien.
De modellen hebben een lage resolutie. Deze keuze stelt de onderzoekers in staat om wetenschappelijk accuraat te blijven, en het maakt het mogelijk om de modellen te gebruiken met telefoons met een beperkte rekenkracht. De modellen zijn al te gebruiken met behulp van een aantal apps.
Snapchat
Als je Snapchat hebt, kun je de onderstaande Snapcodes gebruiken om de modellen te bekijken in AR.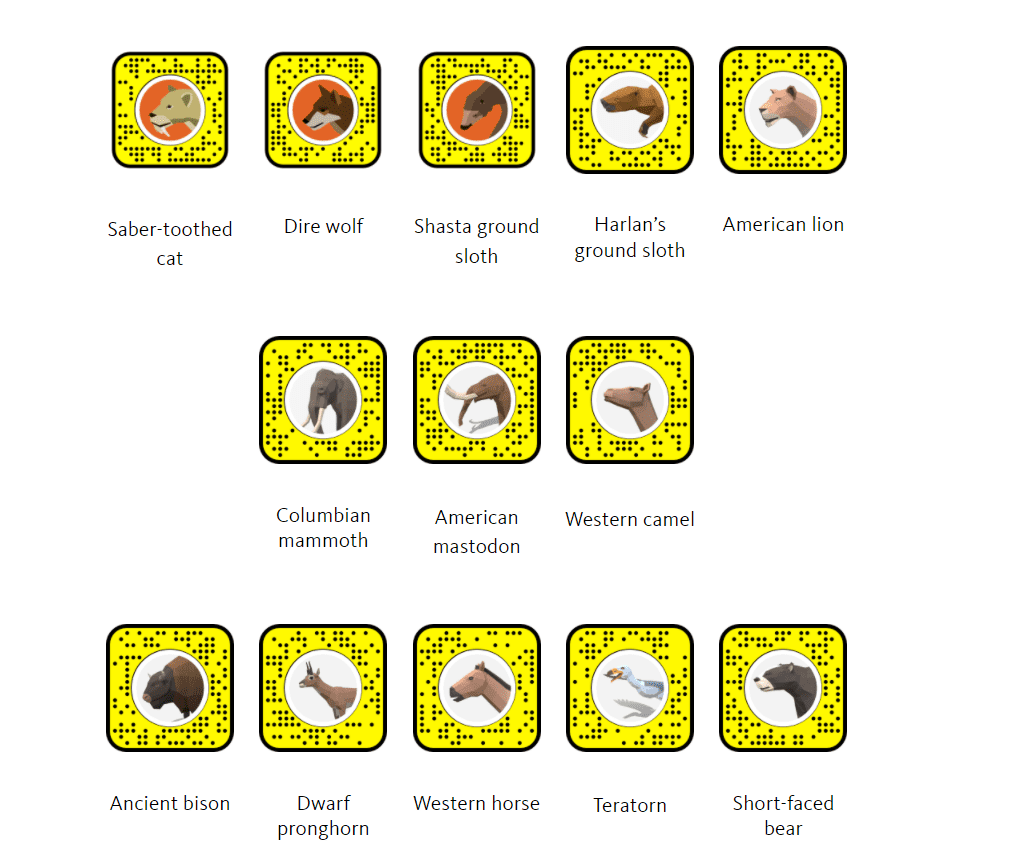 Instagram
Ook Instagram heeft de mogelijkheid om ze in AR te bekijken. Als je op 'Add to story' en 'Camera' klikt zie je de AR-effecten rechts naast de opneem-knop. Als je daar op klikt zie je de Effectengalerij. Daar kun je op de digitale modellen klikken.
Sketchfab
Als je een iPhone of iPad hebt kun je de gratis Sketchfab-app downloaden. Zoeken op 'La Brea' is genoeg om de modellen te vinden bij de collectie 'La Brea Tar Pits low poly Ice Age animals' van het NHM. De AR-knop rechtsboven gebruik je om het dier in Augmented Reality te bekijken.