Vorige week hebben we het uitgebreid over CBDC's gehad, oftewel Central Bank Digital Currencies. Dit onderwerp is misschien wel net zo groot als deze 'cryptocurrencies' zelf ook zullen zijn. Het zou namelijk kunnen dat het meer gevolgen zal hebben dan je zou denken. Tijd voor een tweede deel over de toekomst van fiat-valuta dus.
De vorige Deep Dive ging met name over waarom centrale banken überhaupt valuta zoals de euro en de dollar willen 'digitaliseren'. Digitaal is de euro natuurlijk al grotendeels. Het komt erop neer dat het in theorie mogelijkheden biedt om de snelheid van transacties op te voeren en om criminele activiteiten te traceren. Echter is de ontwikkeling veel breder te benaderen dan slechts dat.
Toch wel een bubbel?
We leven in een grote, complexe wereld waarin ons van alles kan overkomen. We hebben al regelmatig besproken hoe de volgende crash vermoedelijk gigantisch gaat zijn, en hoe financiële markten zelfs ná de Corona-crash van maart 2020 zich nog meer in bubbel-territorium bevinden. Ook andere investeerders, waaronder de legendarische Michael Burry (van The Big Short), Jeremy Grantham en Rich Bernstein, denken dat de bubbel gigantisch is. Bubbels hebben met name te maken met sentiment. Hoe groot de zeepbel is blijft wederom een relatief onderwerp. Wel kunnen we naar bijvoorbeeld de price-to-earnings-ratio's van aandelen kijken. Die is in het geval van de veelgekochte S&P 500-index maar twee keer in de geschiedenis hoger geweest dan nu (ongeveer 38%). In beide gevallen waren de toppen vlak na de Dot.Com-bubbel en na de kredietcrisis van 2008. Toen zijn de omzetcijfers hard gedaald, wat vermoedelijk de hoge P/E-cijfers verklaart.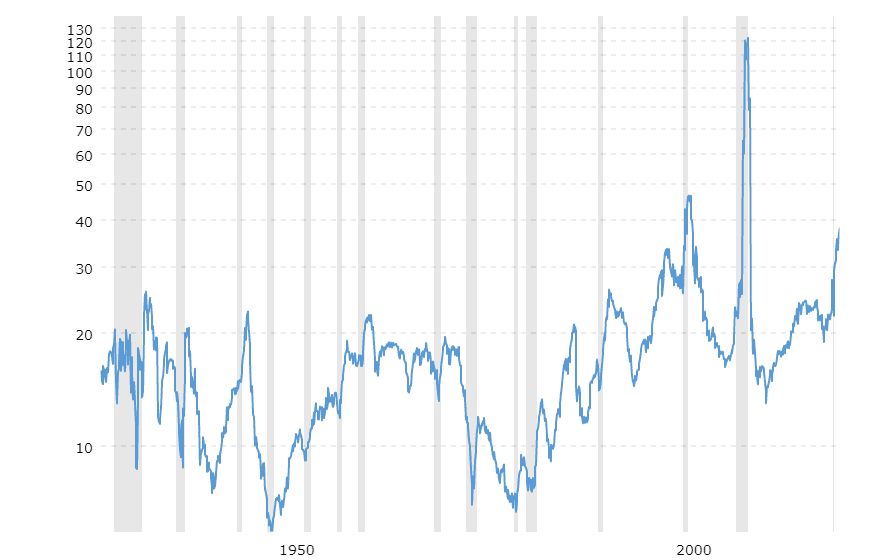 Tijdens 2008 verdubbelde het officiële werkloosheidscijfer in Nederland van nog geen 4% naar 8%, en baanzekerheid was op veel plekken beperkt. Als de volgende crash groter wordt, dan kun je verwachten dat de gevolgen voor de arbeidsmarkt enorm zullen zijn. Mensen zullen op grote schaal ontslagen worden en bedrijven zullen moeite hebben om klanten te vinden. Maar er bestaat een kans dat er een soort oplossing is.
Toen de economische gevolgen van Corona het meest extreem waren kregen veel mensen en bedrijven vanuit de overheid financiële hulp. Zonder de overheid hadden veel mensen hun rekeningen niet kunnen betalen; velen konden hun werk niet doen door de lockdowns. Sommige landen waren hier een stuk radicaler in, zoals de Verenigde Staten. Daar kregen alle mensen een aantal 'stimulus checks', eenmalige bedragen direct van de overheid op hun bankrekening. Voor veel andere landen, waaronder Nederland, gold dat je alleen financiële hulp kreeg als je dat ook echt nodig had.
Universal Basic Income
In de volgende crisis is het aannemelijk dat de overheid mensen op een meer expliciete manier zal steunen, namelijk in de vorm van Universal Basic Income (UBI). Dat zal de financiële problemen gedeeltelijk kunnen verhelpen. Daarnaast is het vertrouwen in de overheid de afgelopen twee jaar sowieso al erg laag, ook in Nederland. UBI kan een goede manier zijn om dit op te lossen. Gratis geld voor iedereen dus.
Wellicht duurt het nog een bepaalde periode voordat de crisis in volle gang is en voordat het duidelijk is dat financiële markten in een enorme bubbel zaten. Maar het is aannemelijk dat deze ergens de komende jaren wel vorm zal nemen, en dat UBI hier een oplossing voor zal zijn. Hoe dit vormgegeven zal worden? Dat hangt waarschijnlijk af van de ernst van de crisis, om welk land het gaat en wellicht ook van je eigen financiële positie. Het zou kunnen dat het letterlijk aan iedereen zal worden uitgekeerd, zonder kleine lettertjes. Het zou ook kunnen dat het een soort grotere uitkering voor bijvoorbeeld mensen met een laag inkomen wordt. Dat zou de economie een flinke boost geven. Het is ook mogelijk dat de UBI via bedrijven zijn weg vindt naar werknemers, zodat mensen niet werkloos thuis komen te zitten en zodat bedrijven kunnen blijven bestaan.
CBDC's zijn ideaal voor het uitgeven van Universal Basic Income. Het zou in theorie buiten het bestaande bankensysteem om kunnen, omdat je slechts een wallet nodig hebt. Die kun je bijvoorbeeld koppelen aan een persoonsbewijs. Dan heb je helemaal geen bank nodig. Dat betekent dat Europese UBI-gerechtigden direct bij de Europese Centrale Bank (ECB) een rekening zouden kunnen krijgen, of bij de nationale centrale bank. Voor Nederland is dit De Nederlandse Bank, en België heeft de Nationale Bank van België.
Gratis geld en inflatie
Momenteel kampen we met enorme inflatie, maar over het algemeen zorgt een financiële crisis ervoor dat de inflatie flink daalt. Inflatie is immers een hoge vraag naar bepaalde producten of een overschot aan valuta. Tijdens een crisis is er juist een tekort aan cash. De vraag naar producten daalt vaak zo hard dat de inflatie (lees: hoge prijzen) in zekere zin is opgelost. Een goede indicator hiervoor is de olieprijs. Als deze te hard stijgt kan het recessies in de hand werken. Mensen gaan namelijk minder uitgeven omdat ze bijvoorbeeld brandstof moeten betalen.
Grappig is dat TradingView de data die onder andere de Federal Reserve op zijn website plaatst ook aanbiedt. Je kunt dan sommige indicatoren van TradingView prima gebruiken met de economische data. Zo blijkt de Relative Strength Index (RSI) relatief betrouwbaar te zijn wat inflatie betreft. Is de inflatie lange tijd erg hoog, dan kun je op zijn minst een 'correctie' in inflatie verwachten. Hieronder vind je de CPI van de Verenigde Staten samen met de RSI, die geeft het meest duidelijke beeld.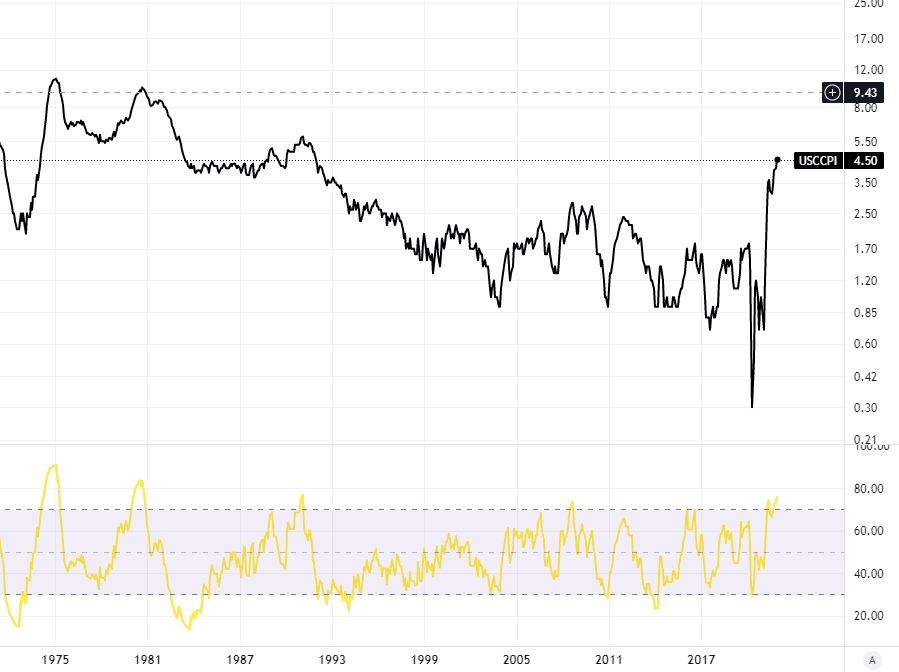 Toch zou UBI ook een probleem kunnen vormen. De afgelopen twee jaar was daar een uitstekend voorbeeld van, toen hadden we ook al UBI-achtige financiële ondersteuning. In het begin was de inflatie nauwelijks zichtbaar. Toch stegen bepaalde producten zoals hout, fitnessmateriaal en bepaalde elektronica hard in prijs. Nu is het duidelijk geworden dat er wel degelijk significante inflatie is.
Vermoedelijk heeft dit naast met de hoge vraag naar goederen ook te maken met de forse fiscale en monetaire hulp van respectievelijk overheden en centrale banken. Als mensen op grote schaal van de overheid of de centrale bank hulp zouden krijgen, dan bestaat er een significante kans dat het inflatie op den duur in de hand werkt. Daarbij is het belangrijk dat CBDC's gewoon aangepaste versies van fiat-valuta zijn. In tegenstelling tot andere crypto's zal er geen maximale voorraad zijn, euro's op een CBDC-netwerk kunnen dus gewoon bijgeprint worden.