Vorige week hebben we besproken waar traditionele financiële markten naartoe lijken te gaan en wat de gevolgen kunnen zijn voor cryptocurrencies. Voor veel bulls zal dat wellicht een koude douche zijn geweest, maar voordat we weer luidkeels over de potentie van cryptocurrencies kunnen praten is het van belang om de risicovolle wereld goed in kaart te brengen. Niet alleen in waarde dalende cryptovaluta kunnen risico's vormen, ook stijgende crypto's kunnen ontwrichtende werkingen hebben. Hopelijk zal dit deel de laatste koude douche zijn.
Zoals we in deel 1 hebben besproken zijn cryptovaluta voor nu met name een zet rondom liquiditeit (wellicht rondom een overschot hiervan). Maar op de lange termijn is een ander aspect belangrijker: digitale valuta zijn een hedge tegen nationale valuta, en het concurreert in principe met bijvoorbeeld goud. Veel van ons vragen zich af waarom er zoveel geld wordt geprint, is dat niet onverantwoordelijk? En heeft het überhaupt wel praktisch nut? Of je nou van het argument bent dat kwantitatieve versoepeling voor (hyper)inflatie zal zorgen of dat het er uitsluitend voor zal zorgen dat de prijzen van financiële producten tot in de eeuwigheid zullen stijgen maakt niet uit, beide zijn sociaal slecht te verantwoorden. Stel, we krijgen geen inflatie en in plaats daarvan blijven aandelen, obligaties, huizenprijzen en cryptocurrencies stijgen zoals ze dat de afgelopen decennia deden, dan betekent dat dat salarissen niet of nauwelijks zullen stijgen terwijl bijvoorbeeld reguliere woningen onbetaalbaar worden.
De acties van (met name) centrale banken zijn duidelijk te zien in de money supply (M2). Dit is een belangrijke maatstaf voor met name inflatieverwachtingen en meet een relatief brede definitie van 'geld'. Sinds maart 2020 gaat de lijn bijna recht omhoog, goed voor een stijging van zo'n 33%. Sinds het bestaan van de grafiek is het nog nooit zo hard in korte tijd gestegen.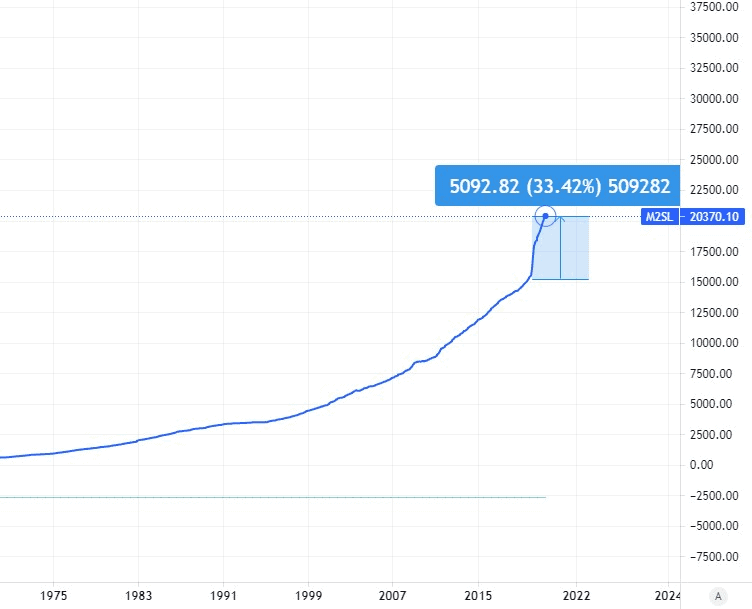 Verschillende instituten op Wall Street hebben de situatie al door en zijn familiewoningen aan hun portfolio's aan het toevoegen, terwijl eigenaar van een huis zijn voor veel mensen een belangrijk onderdeel vormt van hun bestaan. Je kunt je afvragen hoe lang de bevolking dat zal accepteren. Als je even rondvraagt, dan kom je erachter dat de gemiddelde Millenial een flinke studieschuld heeft terwijl ze geen hypotheek kunnen krijgen.
Iets vergelijkbaars geldt voor het bedrag dat overheden kunnen lenen. De Australische centrale bank is eerder dit jaar begonnen met yield curve control, waarmee het praktisch alle overheidsobligaties opkoopt die instituten niet meer willen. Daardoor kan de overheid in theorie blijven lenen wat het nodig heeft, maar hoe lang gaat dat goed?
Stel we krijgen wél inflatie, dan kun je je afvragen of centrale banken wel in staat gaan zijn om de druk op de ketel op een gecontroleerde manier te laten ontsnappen. In andere landen waar inflatie duidelijk aanwezig is of was, zoals in China, Rusland, Iran en sinds kort Turkije, is duidelijk te zien dat dit extreem moeilijk is. Legendarische investeerders als Michael Burry gaan zelfs zo ver om de VS te vergelijken met de Weimar-republiek, die door hyperinflatie aan zijn einde kwam. Sommigen beargumenteren dat dit de voornaamste oorzaak was van het ontstaan van Nazi-Duitsland. Of het ooit zover zal komen valt te bezien, maar wel is duidelijk dat beide mogelijkheden allesbehalve productief zullen zijn.
Het hele concept van cryptocurrencies is gebaseerd op revolutie, het concurreert immers met het concept van fiat-valuta en het doel is om het huidige financiële systeem volledig om te gooien. Het is weliswaar zo dat overheden graag gemakkelijk hun schuld af kunnen betalen, maar ze zullen nog liever willen dat hun valuta iets waard zijn. Dat verbetert het vertrouwen in de overheid en kan het zijn eigen activiteiten veroorloven. Je kunt je dus afvragen wat overheden zullen doen als inwoners cryptovaluta meer vertrouwen hebben in cryptovaluta dan in nationale valuta. In Turkije geldt dat inwoners bijvoorbeeld worden opgedragen om hun goud en dollars te verkopen voor de Turkse lira, in verband met nationale trots.
Eerder deze week heeft de voorzitter van de Amerikaanse Securities and Exchange Commission duidelijk laten weten dat het bovenop de markt zit om ervoor te zorgen dat er niets gebeurt wat niet de bedoeling is. Bovendien werd er gewerkt aan een wetsvoorstel dat het hebben en gebruiken van crypto in de VS praktisch onmogelijk zou maken. De kans is klein dat een land waarin crypto zó belangrijk begint te worden dergelijke maatregelen in zal voeren, maar het is niet meer dan logisch dat er wel degelijk zéér strenge regels gemaakt zullen worden. In hoeverre retail-investeerders die regels acceptabel vinden is nog maar de vraag. Hoe groot de verschillen tussen de VS en Europa zullen zijn kun je je afvragen.
Grote veranderingen gaan alleen goed zolang het overgrote deel van de bevolking én de overheid het ermee eens zijn. Sommige economen komen nu al tot de absurde conclusie dat cryptocurrencies tot hyperinflatie zullen leiden. Als zelfs de oplossing van het probleem door invloedrijke personen kan worden gezien als de oorzaak van het probleem, wat zal de gemiddelde persoon denken van cryptocurrencies als er een keer een monetair 'ongelukje' speelt en crypto's harder stijgen dan wat velen voor mogelijk zouden houden? En hoe groot zullen de gevolgen zijn?
Een belangrijk kenmerk van veel cryptocurrencies is de relatief hoge mate van transparantie. Helaas werkt dit twee kanten op. Het voordeel is uiteraard dat instituten en gebruikers zich verantwoordelijk moeten gedragen om geen doelwit van gefrustreerde medemensen te worden. Maar als jij in één klap schathemeltje rijk wordt terwijl dit publiekelijk te aanschouwen is omdat het op een blockchain staat en je buurman wordt zelfs in absolute zin (bijvoorbeeld door inflatie) een stuk armer, zouden er dan geen sociale gevolgen kunnen zijn? Als je nu op Twitter rondkijkt zie je zat accounts van mensen met voor- en achternaam, een duidelijke profielfoto en walletadressen voor donaties. Transparantie is alleen nuttig in een wereld waarin mensen op een verantwoordelijke manier met elkaar om kunnen gaan. Mensen zijn erg snel jaloers. Als je om je heen vraagt wat mensen van miljardairs als Bill Gates en Elon Musk vinden, dan gaan er niet alleen de meest bizarre complottheorieën rond, je hoort ook geregeld het argument 'zij hebben wel geld en ik niet'.
Een paar jaar geleden werden mensen voor gek verklaard als ze begonnen over een vernieuwd financieel systeem, over inflatie (en al helemaal hyperinflatie) en over Bitcoin dat enorm in waarde zou gaan toenemen. Wie had gedacht dat je met een leuke verzameling elektronen op een oude harde schijf een huis kunt kopen? Wat is nog gek? Wat is onmogelijk? Allemaal belangrijke vragen waar mensen te weinig rekening mee houden.