Centrale banken hebben zichzelf hard in hun voet geschoten. Rentes staan op nul of bijna op nul, de 'printer' draait op volle toeren en voor veel centrale banken geldt dat deze nog wel even zal blijven draaien. De markt voor overheidsobligaties speelt hierin een enorme rol, en deze zal in de nabije toekomst nóg onaantrekkelijker worden.
In de tweede Deep Dive hebben we besproken waar kwantitatieve versoepeling (QE) op de lange termijn tot kan leiden: enorme inflatie van financiële producten, of enorme inflatie van álles. Echter weet macro-analist Steven van Metre uitstekend uit te leggen hoe de constructie over het algemeen werkt — in ieder geval in de Verenigde Staten. Het proces houdt in de VS met name in dat overheidsobligaties en bonds op hypotheekschuld dat bij commerciële banken liggen wordt opgekocht door de centrale bank. Dit is min of meer wat elke centrale bank doet. De commerciële bank krijgt hier een reserve asset voor terug. Dit is een vorm van onderpand dat geen risico met zich meebrengt — een centrale bank kan immers uitsluitend 'failliet' gaan doordat men het vertrouwen in de valuta verliest. Het meeste geld zit dus opgesloten in het bankensysteem, daarom kan het in theorie niet voor inflatie zorgen. Het zorgt er bovendien voor dat het staatschuldpapier, dat veelal wordt gebruikt als onderpand, schaarser wordt. Instituten hebben dit nodig om tegen een zo laag mogelijke rente te lenen. Centrale banken kunnen op deze manier de rente op indirecte wijze nog verder verlagen. Dat is ook nodig, want anders is het mogelijk dat de schuld niet meer afbetaald kan worden.
Video: Steven van Metre gaat in op de werking van kwantitatieve versoepeling
Maar daar zit een groot en groeiend probleem: rentes zijn nu duidelijk zó laag dat het extreem onaantrekkelijk wordt om (vanuit een rendementsperspectief) overheidsobligaties te kopen. Uiteraard kan de waarde van de schuld dalen, maar doorgaans is dit erg weinig. Bovendien kunnen we wel zeggen 'QE zorgt niet voor inflatie', maar waarom zijn financiële producten (zoals veel aandelen en huizen) dan tegenwoordig zo duur? Is dat geen inflatie? Jazeker, dat kun je zien als een vorm van inflatie.
Real Vision-cofounder en Macro Insiders-auteur Raoul Pal heeft onlangs zijn visie op de markt aangepast, wat hij beschrijft in zijn theorie over de 'exponential age'. Het viel hem op dat de meeste assets gedeeld op de balans van de centrale bank van een bepaald land niet in waarde zijn gestegen — de prijs van een bepaald financieel product is dus een functie van wat de centrale bank doet. De MSCI World-index voor wereldwijde aandelen is daardoor plat, net als de S&P 500 en zelfs huizenprijzen. De enige klassen die in waarde zijn gestegen zijn de Nasdaq en de markt voor cryptocurrencies. Het netwerkeffect is hier de belangrijkste factor in.
Afbeelding 1: De waarde van de S&P 500 is simpelweg een functie van de balans van de Federal Reserve. Bron: Real Vision Finance.
Dat betekent niet alleen dat cryptocurrencies in de komende jaren een uitstekende investering kunnen vormen. Als de wereld blijft zoals het de afgelopen jaren is gebleven, dan zullen we geen tot weinig inflatie zien. Dat rentes laag zullen blijven is bijna in steen gegraveerd. Niet alleen is het zéér onwaarschijnlijk dat de markt geen enorme deuk op zal lopen als centrale banken rentes laten stijgen en/of hun balans verkleinen, overheden zullen hun staatsschuld simpelweg niet meer kunnen betalen. Daar betalen ze immers rente over.
We hebben het eerder al gehad over yield curve control. Om je brein even te refreshen, dit houdt in dat de centrale bank alle obligaties opkoopt die investeerders niet meer willen. Als rentes op de lange termijn niet zullen stijgen en overheidsbonds geen verplichte kost worden voor instituten met een bepaalde hoeveelheid schuld, dan zullen centrale banken wel moeten beginnen met deze draconische maatregel. Verschillende landen, waaronder zelfs Australië, zijn hier al mee begonnen. In principe kan dit lang goed gaan. In verband met aspecten zoals overheidsschulden is de kans groot dat bijna elk land hier wel aan zal beginnen.
Het zou goed kunnen dat de nominale rentes van overheidsbonds eerst flink negatief zullen gaan, bijvoorbeeld als gevolg van een liquiditeitsprobleem en een dreigende financiële crisis. Maar er zal een punt zijn waarop ze zelfs voor de mensen die weten waarom ze (ondanks de negatieve rentes) obligaties kopen niet meer bereid zijn om de negatieve rentes te slikken. De markt voor overheidsbonds is gigantisch, zo groot zelfs dat uitsluitend de valutamarkt groter is. Hoe gigantisch is moeilijk in te schatten, maar de markt voor Amerikaanse overheidsobligaties was volgens de Dallas Federal Reserve afgelopen mei al bijna de 30 biljoen Amerikaanse dollar. Dat is de schuld van één enkel land. Stel je voor, vrijwel de gehele markt voor overheidsobligaties wordt wereldwijd onaantrekkelijk. Dat betekent dat biljoenen (omgerekend naar) dollars een thuis moeten vinden. Uiteraard is het totaal onlogisch dat alles daarvan naar de markt voor cryptovaluta zal vertrekken. Het hebben van bepaalde edelmetalen, vastgoed en aandelen kan voor veel partijen erg nuttig zijn. Toch is de markt voor cryptocurrencies met een waarde van 2,4 biljoen in totaal een stuk kleiner. Als een deel daarvan op deze markt zou landen, dan heeft dat enorme gevolgen. Na de huidige stierenmarkt is er dus al meer dan genoeg ruimte voor een nieuwe.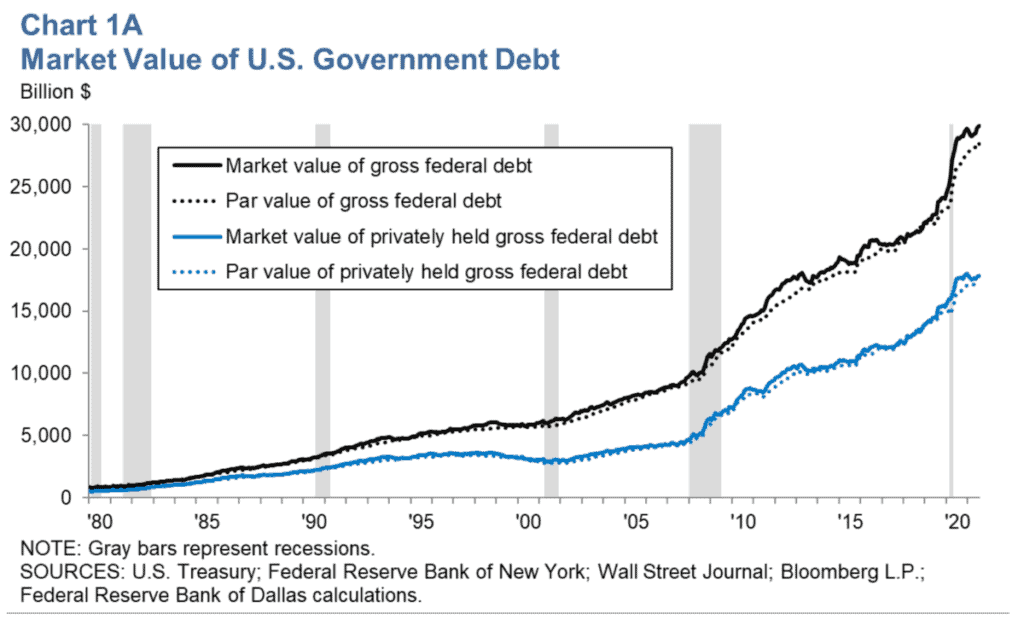 Afbeelding 2: De waarde van de overheidsschuld van de VS tikt bijna de 30 biljoen USD aan. Bron: Dallas Federal Reserve.
Als inflatie de komende jaren wél duidelijk aanwezig zal zijn, dan is de situatie niet anders voor de obligatiemarkt. Met de huidige rentes betekent dat dat niemand schuldpapier zal willen vasthouden, en in plaats daarvan uitwijken naar schaarse producten. Zaken zoals vastgoed, landbouwgrond en de grondstoffenmarkt zullen dan een stuk aantrekkelijker zijn. Cryptocurrencies zijn over het algemeen ook schaars, en in veel gevallen zelfs schaarser dan veel grondstoffen. Zelfs goud kent immers inflatie, maar cryptocurrencies waarvan de gehele theoretisch haalbare stock al in de markt aanwezig is hebben dat niet meer. Cryptocurrencies waarvan een deel wordt vernietigd hebben zelfs een sterk deflatie-aspect, en kunnen dus nóg interessanter zijn in een wereld waarin fiat-valuta steeds minder waard worden.
Ik denk dat de kans bestaat dat cryptocurrencies iets zullen blijven met enig speculatief fundament, ze bestaan immers uitsluitend als de wereld enigszins functioneert. Hetzelfde geldt uiteraard voor praktisch alle immateriële producten, waaronder je Google- en Facebookaandelen. Dingen als goud en andere grondstoffen zullen dat minder hebben. In een toekomstige Deep Dive zullen we bespreken waarom cryptocurrencies in sommige gevallen juist betere investeringen kunnen zijn dan edelmetalen.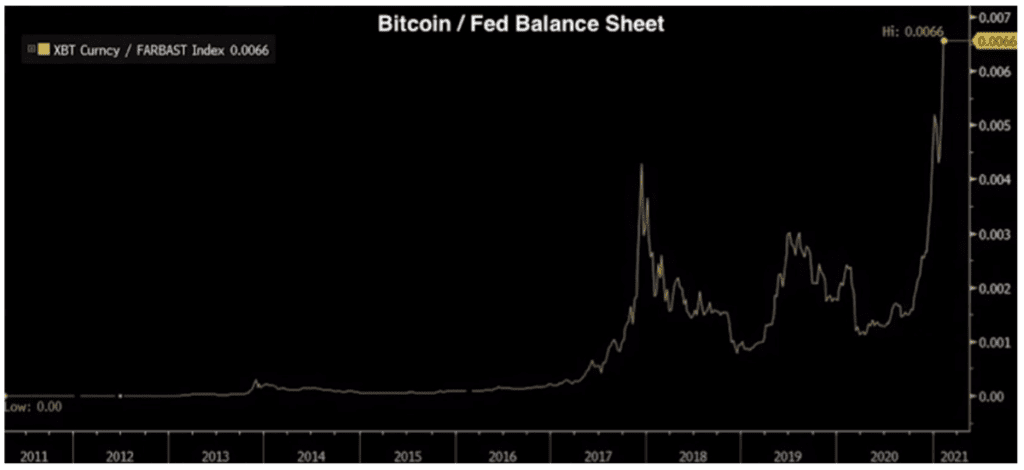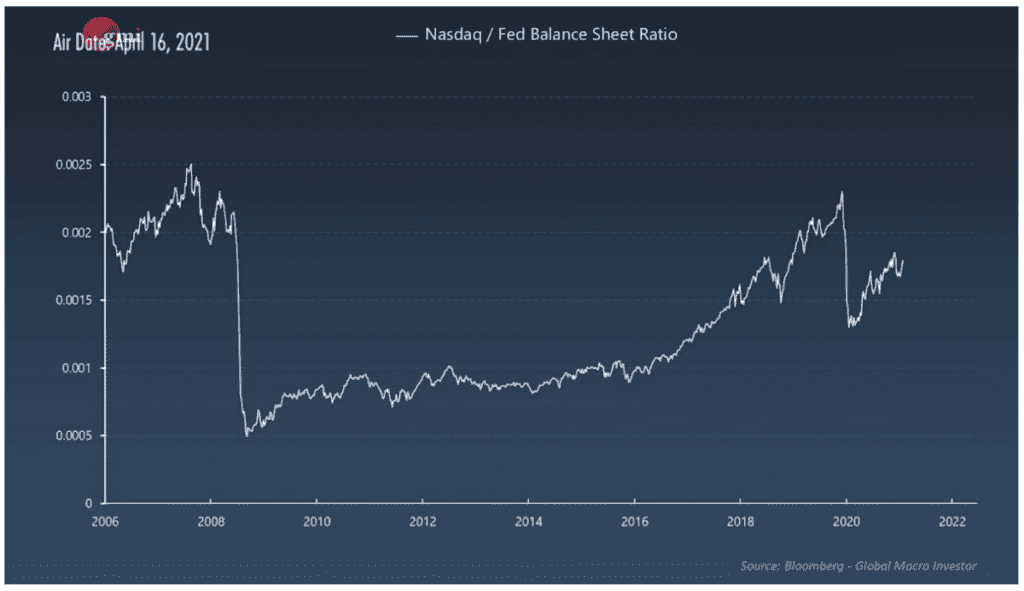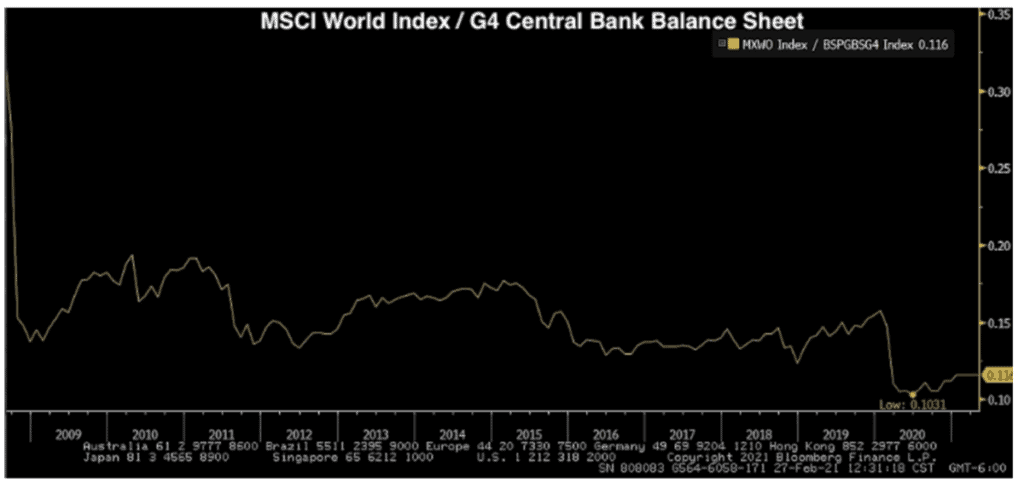 Afbeelding 3, 4 en 5: Bitcoin (lees: crypto in het algemeen) was als enige financiële product duidelijk winstgevend, als je de balans van de Federal Reserve meerekent. Ook de Nasdaq was positief, maar slechts beperkt.