Onlangs kregen we een vraag vanuit de community over of fiat-valuta in de toekomst nog bestaan. Tegenwoordig heeft letterlijk geen enkele fiat-valuta goud meer als onderliggende waarde, waardoor ze in principe vroeg of laat allemaal hun waarde verliezen. De vraag luidde als volgt: zijn fiat-stablecoins eigenlijk wel de toekomst? Of snijdt een cryptocurrency of een stablecoin die niet op fiat-valuta berust meer hout?
Concurrentie voor stablecoins
In feite zijn de crypto-varianten van de valuta van overheden al in ontwikkeling. Dat zijn CBDC's (Central Bank Digital Currencies). Het zijn vrijwel 'gewone' euro's, dollars en andere valuta, maar dan met cryptografische aspecten. Je kunt ze ook zien als verder gecentraliseerde stablecoins, of überhaupt als meer gecentraliseerde valuta. Je kunt ze immers niet buiten het financieel systeem gebruiken, in tegenstelling tot cash euro's en dollars. De afgelopen tijd werd de vraag of stablecoins überhaupt wel een onderdeel kunnen zijn van het financieel systeem verscheidene keren opgegooid. Dat zal voor een deel komen omdat centrale banken zelf al hun eigen fiat-crypto's uit willen brengen, en stablecoins van derde partijen kan ze daarbij in de weg lopen.
Het blijkt dat stablecoins juist waarde toe kunnen voegen aan het financieel systeem. Overheden en centrale banken zijn nu dus kennelijk van mening dat ze juist waarde toevoegen aan het systeem, vermoedelijk omdat het bijvoorbeeld het faillissementsrisico van banken verkleint.
Verder ligt het voor de hand dat CBDC's de macht van centrale banken en overheden verder vergroot. Het is bijvoorbeeld denkbaar dat consumenten direct bij de centrale bank een rekening krijgen, in plaats van dat ze die bij een commerciële bank hebben. Commerciële banken betalen inmiddels letterlijk rente over geld van deposito's dat ze niet kwijt kunnen, waardoor ze eigenlijk niet allemaal blij zijn met je geld. Dat zie je duidelijk aan de negatieve rentes die veel (Europese) banken tegenwoordig hanteren vanaf een bepaald bedrag. Hetzelfde kun je verwachten van rekeningen voor grote bedrijven. Hier hangt echter een iets andere dynamiek aan vast, omdat het geld van een groot bedrijf een ander risico met zich mee kan brengen of op een andere manier in de economie wordt besteed. Het faillissement van een groot bedrijf wordt bijvoorbeeld anders afgehandeld dan de buurman die geen cent meer heeft. Het zou dus kunnen dat centrale banken afzonderlijke CBDC-geldsystemen voor consumenten en grote bedrijven zullen maken.
Crypto concurrentie voor fiat?
Met het eindeloos printen van geld in het achterhoofd moeten we nagaan of dit ertoe kan leiden dat fiat-valuta in de toekomst nog wel bestaan. Als puntje bij paaltje komt heeft geen enkele fiat-valuta in de geschiedenis zijn waarde niet verloren. Met andere woorden; ze worden allemaal minder waard. Zelfs als overheden een goudstandaard hanteren; de geschiedenis wijst uit dat deze na verloop van tijd gewoonweg wordt losgelaten om geld bij te kunnen drukken.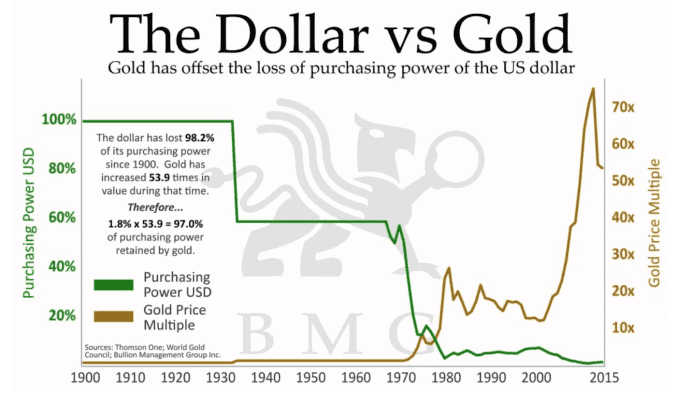 De Amerikaanse dollar is bijvoorbeeld 98,2% van zijn koopkracht verloren. Bron: ZeroHedge.
We hebben het eerder al kort gehad over de concurrentiepositie van reguliere valuta en cryptocurrencies, maar het is absoluut belangrijk om dit te herhalen. Nee, fiat-valuta gaan in de toekomst hoogstwaarschijnlijk niet verdwijnen. Althans, zolang landen een overheid hebben gaat dit niet gebeuren. Overheden bestaan namelijk voor een belangrijk deel omdat ze 'monetaire soevereiniteit' hebben. Oftewel, ze hebben zelf de touwtjes in handen wat het beleid van hun valuta betreft.
De belangrijkste reden waarom centrale banken grote hoeveelheden goud hebben is omdat dat meer mogelijkheden geeft wat soevereiniteit betreft. Weliswaar is het vaak de regel dat de centrale bank hier een goede positie voor moet hebben, zo was Turkije onlangs gedwongen om zijn goud te verkopen om valutareserves (lees: de Amerikaanse dollar) te vergroten. Alle dollars waren kennelijk al verkocht om de economie te steunen.
In principe hebben veel crypto's een vergelijkbare positie als goud in het financieel systeem. De voorraad van een bepaalde cryptovaluta is immers relatief of zelfs volledig beperkt. Toch kun je ervan uitgaan dat door hoe overheden in elkaar zitten cryptovaluta uiteindelijk fiat-valuta niet volledig over zullen nemen. Sterker nog, we kunnen je bijna garanderen dat als crypto écht groot wordt, overheden sancties op gaan leggen op het bezit van crypto. Je kunt je boodschappen volgens de overheid net zo goed betalen in euro's en dollars, en dat zullen ze ook vol blijven houden.
Er zijn verschillende manieren om crypto-hodlers praktisch te forceren om te verkopen. Allereerst kan een markt zó groot worden dat hij simpelweg instort op zijn eigen gewicht. Dat gebeurt met name bij een klassieke bubbel. Dat instorten kan een bepaalde reden hebben, maar dat hoeft niet.
Het zou ook kunnen dat de inflatie na verloop van tijd zó hard toeneemt dat centrale banken rentes juist hard laten stijgen. Het wordt dan veel moeilijker om geld te lenen, en sparen in een fiat-valuta kan aantrekkelijker worden. Je zou het niet zeggen, maar dit is precies wat er in de jaren '70 in de VS gebeurde. De centrale bank liet toen de rentes hard stijgen, totdat er weinig reden meer was om je geld in goud en zilver te stoppen en de dollar weer aantrekkelijker werd. Je zou ook kunnen denken aan accijnzen, net zoals je bijvoorbeeld hebt met tabak en alcohol. Helemaal naar 'nul' zal een fiat-valuta van een sterk, ontwikkeld land waarschijnlijk niet gaan.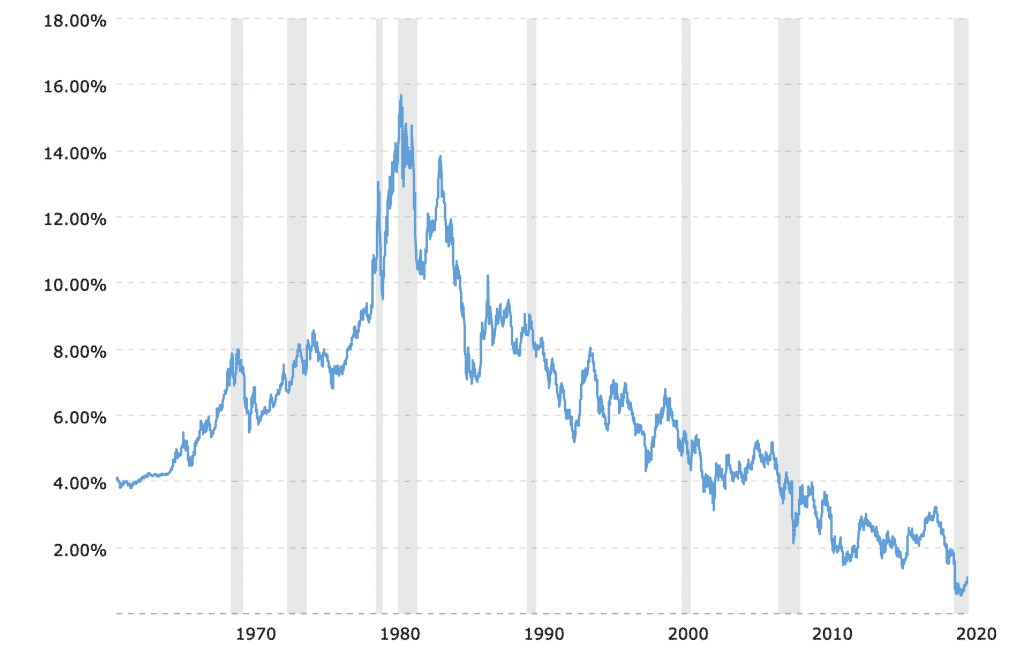 De rente van de Amerikaanse 10-year Treasury-obligatie, één van de meest belangrijke Amerikaanse overheidsbonds. Grafiek met dank aan Macrotrends.
Er blijven nog een heleboel vragen liggen, zoals CBDC's en stablecoins op elkaar in zullen werken. Vermoedelijk wordt de discussie rondom de toekomst van fiat-valuta, stablecoins en CBDC's weer één van meerdere Deep Dives. Al met al zitten we nog steeds opgesloten in een monetair experiment met al dat geprint, maar we weten wel dat de kans vrij groot is dat fiat-valuta zullen blijven bestaan. Bedankt aan Bram voor de interessante vraag, en voor de inspiratie voor verschillende artikelen!